It led me to rage tweet a thread of statistics on
#genderbias
in
#STEM
, and that thread blew up And then I got incredibly lucky when
@RoinnAnLuisigh
offered me the opportunity to turn it into a column. Working with her was AMAZING! 1000% fantastic
3/
The column that headlines this thread is the product of that series of events. We talk about women & URMs passively leaking out of the pipeline as if there is nothing we can do. As if those leaks are not caused by structural barriers and biases that create the
#leakypipeline
4/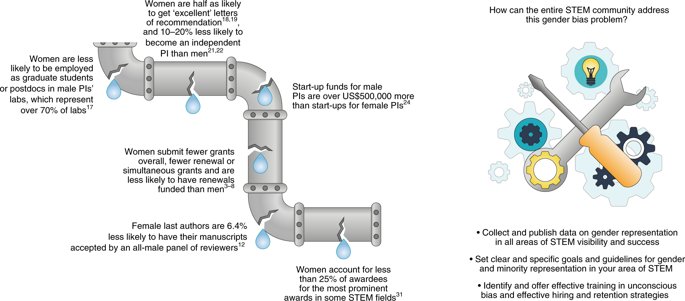 Here's some of the highlights of the column, starting from the premise that diverse groups are more productive and innovative than non-diverse groups. Lots of research shows this is true across companies and industries. If we want the best science, therefore, we NEED diversity
5/
Because we clearly haven't reached optimal diversity along any spectrum, as scientists, we should be using our own training to solve this problem. The data have been collected and published, at least on gender. We are still severely lacking on non-gender focused data.
6/
All we need to do is apply the same data-driven approach that guides our research to maximize the innovation and productivity of our scientific and academic community. Here are some data highlights from this column, focused on gender, Biology & Anthropology, & the USA
7/n
Authorship - In biology & molecular biology, with overall representation of 37–38% female authorship, these trends are driven by near gender parity in the 1st author position (43–45% female authors); however, women represent only 27–28% of last authors.
At the current rate of increase of 0.5% in female authors per year in these two fields, we will not reach gender parity in last author position for >50 years. Let that sink in.
10/
Manuscripts with female first authors are equally likely to be accepted as those with male first authors, papers with a male last or corresponding author are 3.0% and 3.7% more likely to be accepted than those with a female last or corresponding author, respectively.
11/
Moreover, for high-impact journals, the likelihood a woman will be published as the first, last or corresponding author decreases significantly as the impact factor of the journal increases.
12/
Reviewer gender also interacts with these probabilities in a significant way - all male review panels are significantly more likely to accept papers with male last/corresponding authors. Which is problematic because, for example at eLife, women represent ~25% of reviewers...13/
Female authors also get cited less. Guess we need to work on that self-citation ladies to boost our numbers.
14/
Many of us read the study showing that with the SAME CV, a female lab manager candidate was rated as less competent, less hireable, and offered ~4K less in starting salary than a male candidate, regardless of PI gender. But did you know that male PIs employ significantly
15/
Although women receive over 50% of Biology PhDs, they are vastly under-represented at the next level (associate professor). They are 10-20% less likely to become an independent PI than male biology PhDs.
17/
If they do, they're more likely to end up at teaching-focused institutions than R1 or PhD granting institutions. Women are equally likely to be tenured though IF they stick around AND apply for tenure.
18/
We all heard the story of this year's Nobel Winner Donna Strickland, who wasn't tenured because she never applied. As
@JacquelynGill
noted at the time, women tend to apply later for tenure or full professor than men bc of 'internal & external reasons'
chronicle.com/article/I-Neve…
19/
However, promotion depends on explicit criteria like publication & funding rates (we've seen are a problem) as well as other, subtler measures such as visibility and reputation. Women are less likely to be colloquium speakers at prestigious universities than men ...
20/
REGARDLESS of the pool of available speakers. The proportion of female speakers at Bio conferences is positively correlated with the proportion of female symposia organizers & when gender is explicitly taken into account during the inviting process. There's an easy fix!
21/
Ok. Here's some stats that REALLY bother me, probably because I didn't know them until I looked them up for this piece. I'm looking at you
#ecology
,
#genetics
,
#evolution
,
#Anthropology
- women account for >50% of early career awardees for students & postdoctoral fellows
22/
BUT less than 25% of the most prominent awards in these fields have been awarded to women. Since 2001, the numbers are 2 in Ecology, 2 in Anthropology, 3 in Genetics, & 5 in Evolution (range = 11.7-29.4% of awardees in 18 years). Don't look further back. It's much worse.
23/
Don't get me started on Teaching Evals. We all know those are gendered as hell and women and people of color get the brunt of the negative evals & they reveal nothing about teaching effectiveness. Go play around here for a bit -
benschmidt.org/profGender/#%7…
There's more in the column, but these are the main stats. Ok, so now what? We've just taken a DEEP dive into how these "leaks" in the pipeline are created. Women and people of color don't just fall out of STEM. So how do we stop this?
My shallow solutions, although I am FAR from an expert on these. There ARE experts out there. The literature is out there. You just have to apply your scientist brain and find it! But here are my thoughts. First, COLLECT the DATA! We have compelling data on gender...
but virtually none on other under-represented minorities - People of color, non-binary and LGBTQ+ individuals, religious or ethnic minorities, nationalities, etc. So Collect those data ya'll! Second, PUBLISH IT. Don't hide it because you're ashamed.
Publish it with others, and make the public declaration that "we're not doing great, but we vow to do better". Set clear, public targets with numbers, dates, etc. None of this "we will increase diversity". That's way too vague. We scientists never get funded with aims like that.
Identify effective resources, demand that training for unconscious bias show you what is their definition of success and how they achieve it. Then offer those trainings before hiring, recruiting students, at conferences. We KNOW how to do this you guys. Approach this like a grant
What are your SPECIFIC aims? What are your methods & how do you know they will work? Where are your preliminary data? How will you know you collected the data you need and have demonstrated your hypothesis?
My point here is, how will we be empowered by these data?
@McLNeuro
pointed out to me that we are literally the first, the first search committees, PIs, job candidates, editors, reviewers, award committees, to KNOW that these biases might be a problem. What are we going to do?
How will you compensate for potential pitfalls? We write those paragraphs for our grants, why can't we do it for this problem? We need the entire STEM community to actively lean into solving this gender bias problem, instead of asking the female part to solve it among themselves
What will you do? What commitments can you make in your lab, ]your department, university, society, journal, etc, to work on this problem? I'm not saying it will be easy, but our science isn't easy and we don't throw our hands up. If we can cure cancers, surely we can fix this
If you've read this far, here are the credits. First, although she's not on twitter, this column is dedicated to my PhD advisor, who planted the seeds you see in this column. She's an amazing woman & a tireless advocate for
#womeninStem
.
Was talking to
@bergeycm
about what this means in hard terms. Think about it. As an African-American NIH applicant, 1 of 10 grants will be rejected bc of your race. As a woman, 1 in 20 last author manuscript submissions will be rejected bc of your gender.
Assuming you submit 2 NIH grants a year or 2-4 manuscripts, that's one every 4-5 years bc of who you are. So during the tenure clock or the course of a PhD, that's one.
Put another way, female postdocs have to work 50% harder to get an excellent letter of rec for that TT job application. We have to send out 15 more emails per 100 to get a collaboration going.
All of that on top of the extra work asked of women & POC in terms of committee work (bc we need diversity on ALL the committees but just ask our token woman or POC to do it) & emotional labor we do.
How many women faculty keep tissues in their office bc of crying students? Answer: basically all. A friend once calculated she spends ~5 hrs a week across the semester on average doing emotional labor helping the students in her department. That's...half a day. A week.