[
#IsraelElections2019
thread] Elections are a democratic exercise in some places, but used by Israel as a tool of exclusion: over 4.5 million Palestinians living completely under Israeli control do not have the right to vote in Israeli elections.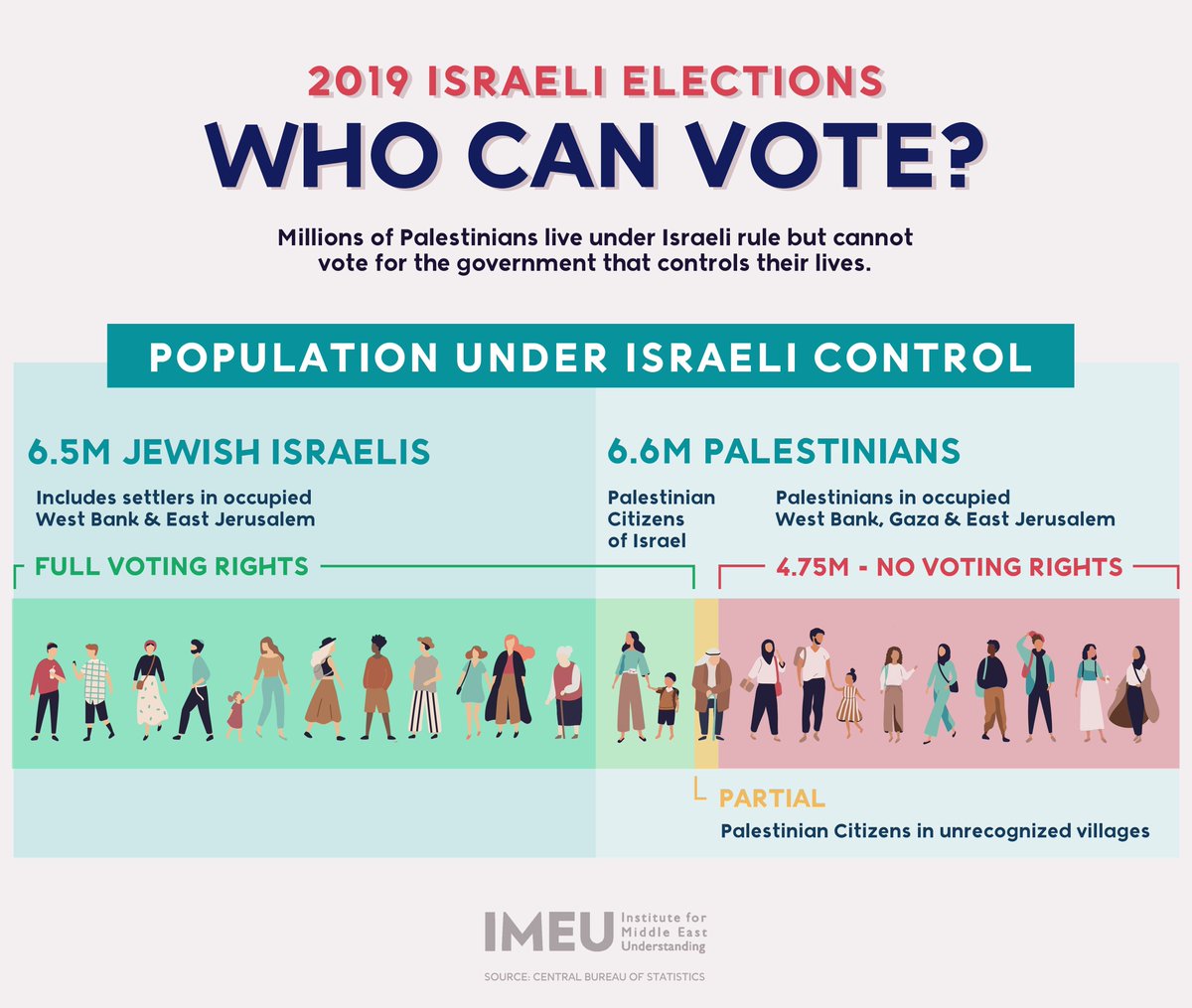 However, Israelis living in illegal colonial settlements in the West Bank get to vote. They are expected to vote in numbers today for one of the many far-right candidates who support illegal settlements, or who call for annexing them, as Netanyahu has.
Palestinian citizens of Israel, some 20% of the population, are able to vote in the elections, but they are systematically discriminated against, including on issues of political representation.
The Nation-State Law and over 60 other discriminatory laws formalise what Netanyahu and many other Israeli politicians have no problem saying: that Israel is NOT a state for all its citizens.
theguardian.com/world/2019/mar…
As
@yarahawari
explains, this has led some Palestinian citizens of Israel to boycott the elections, refusing to give legitimacy to a system which fundamentally is built on their exclusion:
middleeasteye.net/opinion/palest…
The majority of Palestinians in the world are refugees, denied the
#RightOfReturn
to their homes from which they were forcibly displaced in 1948. This group of Palestinians continue to be impacted by Israel's regime, but also have no say in the elections.
.
@HagaiElAd
reminds us that "Together with the systemic overtaking of lands and the imposition of restrictions on freedom of movement, the denial of political rights was one of the cornerstones of apartheid South Africa. That country, too, considered itself a democracy."
Ronnie Kasrils, legendary South African freedom fighter, has also mentioned this in his recent op-ed: "Netanyahu's Likud is desperately courting extremist parties, and abandoning any pretext of negotiating with the Palestinians…"
theguardian.com/commentisfree/…
"…His most serious opponent is a general accused of war crimes in Gaza. As long as a repressive apartheid-like regime rules, things will only worsen for Palestinians and Israelis too."
Kasrils, like us, believes that there is a crucial role for people of conscience around the world in times like these, to stand up for human rights, justice, freedom, and equality…
…and to build an international solidarity movement that will have the force to bring an end to oppression wherever we see it, from South Africa, to Palestine, to Colombia and beyond.
Be a part of that movement. Join us:
secure.waronwant.org/page/18669/don…