A thread on 'race and crime' in London and recent speech to the Howard league by met chief....
But first some personal background so you see how much skin I have in the game
My adopted 'nephew' was stabbed just two weeks ago.My step brother got stabbed on way 2 school a couple years ago
My homie from nursery is dead and 1st time I saw someone get chopped up I was 12/13
Despite being a straight A student, having a mum that loved me and many male role models by 16/17 I carried my knife to football training
So I think I *might* understand the problem a little better than the met do
Cressida Dick last week called for 'teenage thugs' to get tougher sentences. Numerous PHD's have shown this does not reduce crime
Just to be clear who she meant she pointed out that there have been 25 killings by teenagers in London this year. 21 'black' 4 'Asian'
The fact that the met are emphasising the race and continent of origin (4gens removed) of citizens tells its own story
There have been 117 murders in London this year 25 of teenagers. We may ask why emphasise teenagers at all? Seeing as less than 20%?
Let's remember that violent working class youth gangs stabbing eachother has been around in this country for well over a century
Historically by far the worst violence in Britain has been in Northern Ireland and Glasgow (neither exactly packed with black ppl!)
Naturally the much worse violence in Belfast and Glasgow has never been explained by skin colour
Remember the ice cream murders 6 ppl burned to death in their homes? Glasgow long been worse than London.
As someone who is half Scottish i find this attempt to racialise the crime of a tiny % of 'black' Londoners particularly crude
The attempts to solve the problem in Glasgow where multi-faceted and not just focused on locking up more kids
actiononviolence.org.uk
So where does this leave us with London? Is there really a 'black' crime problem? Let's looks closer...
There are many different black communities in London so if blackness is the common cause the crime should affect all of them equally no?
In fact if blackness is the cause the blackest londoners (west Africans) should be the most criminal right? Does the data show this?
No in fact quite the opposite, the oldest group of black migrants to London (Caribbeans) r the ones most affected by this issue
Along with families from places with serious conflict like Somalia for example.
How are British west africans (the biggest black community) doing? Shall we have a look?
The link between expulsion from school and prison is SO direct that former head of the prison service said...
When we expell kids from school we may as well give them a prion sentence then and there
In recent years especially British African kids r no more likely to be expelled from school than white kids
Black African kids also do better on average since 2013 in GCSE's than the national average and better than 'white' kids
This academic success of African 'immigrant' children is particularly impressive for two reasons
Firstly african kids are concentrated in Hackney and Peckham etc (the hood) yet are still doing very well in school
Also national studies have shown that teachers consistently assess African kids as being far less smart than their tests show they r
Even in relation to Caribbeans.
If we was not so addicted to social darwinism West African kids might serve as an example to be imitated by other working class kids...
But then we would have to recognise that Black African kids r doing better in English schools than their supposed betters. So nope.
How are the stats for British Caribbeans as it relates to school expulsion?
since ethnic data started getting recorded British Caribbeans ALWAYS at at least 3x as likely to be expelled as white kids...
In any given year they might be 6x as likely to be expelled as white kids or now 'Africans' (including mixed heritage Caribbeans like me)
How come 'white' boys in east Glasgow are far more likely to to kill than the children of Ghanaian civil servants if blackness is the issu?
But obviously if we recognise that class is a FAR bigger predictor in this kind of violence than race we'd have to explain more
and explain how African kids in the same council estates as white Brits & Caribbeans r doing generally so much better.
When there are examples of black excellence is race emphasised?
Britain's brainiest family is black (the Imafidons) was race emphasises in the reporting? (do a search)
Joshua Beckford 6 years old from Tottenham studying philosophy at Oxford. His black dad taught him, was race emphasised in reporting?
England under 17 & under 20' both just won world cups both teams massively disproportionately 'black' was race emphasise in reporting?
The METs own reports to parliament make it clear that they understand the causes of crime quite well I will post one later when at laptop
You will see the METS own report explicitly denies a social darwinian racial explanation for crime. Yet MRS dick and media still emphasise
By emphasising race we can avoid talking about the british class system of course...
by emphasising skin colour (ahistorically) we are actually not helping those specific communities most affected by these issues
For example when its pointed out that black brits are 7x as likely to be incarcerated the figure is likely to be far higher for Caribbeans
Would be interesting to see how much more likely a white kid from east glasgow is to go jail than one in Hampstead?
We already know that parts of Glasgow are so deprived that ppl live 20+ years less than the national average.
Britain's already imprisons ppl 2x as much as Germany 30/40 as much as France. 82% prison population growth is 30 years. 50% more women.
Britain's closest ally tried this 'tough on crime' approach and it's still by far the most violent industrial country.
The Met obviously knows this so if they are perusing the same strategy we can all conclude the aim is NOT to actually to solve the issue
And in all of this what about the millions of black, white and Asian teenagers living in concur estates that did not kill any1 this year?
Those that just wana finish school, get some kind of work and are shit scared of a tiny % of their peers?
I have a programme I'd like to propose that would cost a fraction of prison (for all the market lot) gonna talk to some teachers...
End of thread. You lot have a nice day.
One final thing actually. I am obviously not against all random stop and search I accept that 4now this has to be part of a wider strategy
I am against the idea that random Ghanaian kids who r not even generally getting suspended from school should be targeted cos 'black'
I have a bag more obviously but I'm sure these shall suffice for now. Happy reading
Some additions to yesterday's thread:
Historically rooting the differential outcomes for 'Africans' and Caribbeans in the U.K. is not that complex...
Before I do so let's remember that historically grounding things is only considered 'excuse' making for certain people...
Also to be frank how someone can look at what i've done with my life knowing my upbringing and claim In 'excuse making' is loool
If we want to understand the poverty and violence of Glasgow, Belfast or former mining towns of the north we would historically explain..
So on to British Caribbeans:
In the 50's and 60's the govts and police did many reports on Caribbean migrants (cited in Gilroy and Paul)
Their general conclusions were clear: 95% employment and no more likely to commit crime than any others. So what changed?
Was there a genetic mutation with my pops generation? The ones born here that grew in the 70's and 80'?
Taking into account the specific history of the Caribbean too of course but clearly the problems were not 'imported'
Except for the shower man dem that were in Brixton and elsewhere in the 90's
West Africans just by virtue of *generally* coming later did not spend a generation fighting NF & Teddy boys...
Did not live through SUS laws and the violence and de-industrialisation up and down the country in the 80's etc etc
So the histories, stigmas and challenges are quite different. However....
British Caribbeans have always been far more overrepresented in 'British' cultural an sporting greatness than in prisons. But hey...
As well as massive contributions to changing the post war political landscape (see Gilroy, Hall, Carnival, Hackney empire etc)
So by many measures despite serious challenges we are actually doing very very well. Some can only see the badness though.
80% + of Black Londoners live in environments 'similar' to East Glasgow. There is nothing mystical going on.
Sunday Chronicle talking about 'the savagery of hooligan gangs' May 1916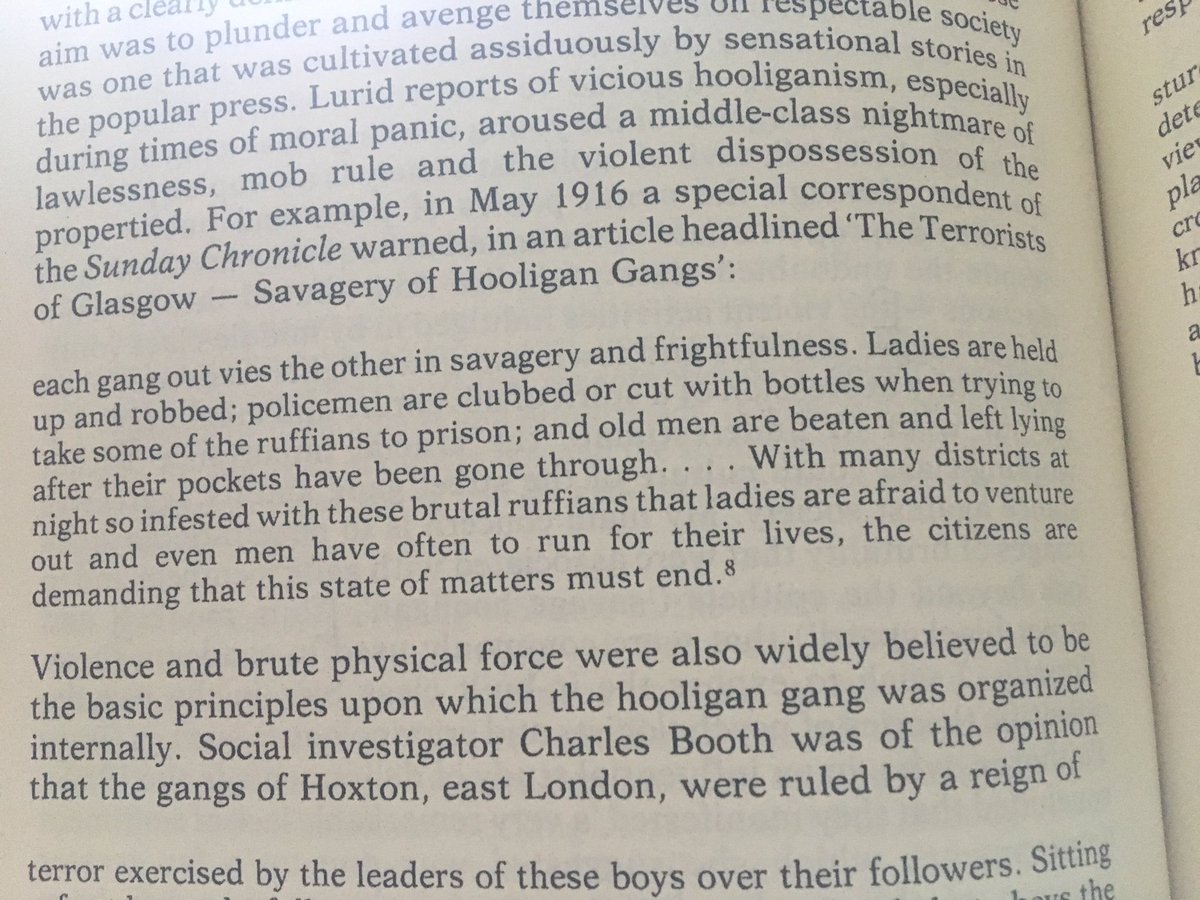 London echo february 1898 talking about street gangs with knifes and guns in London, Birmingham, Manny, Liverpool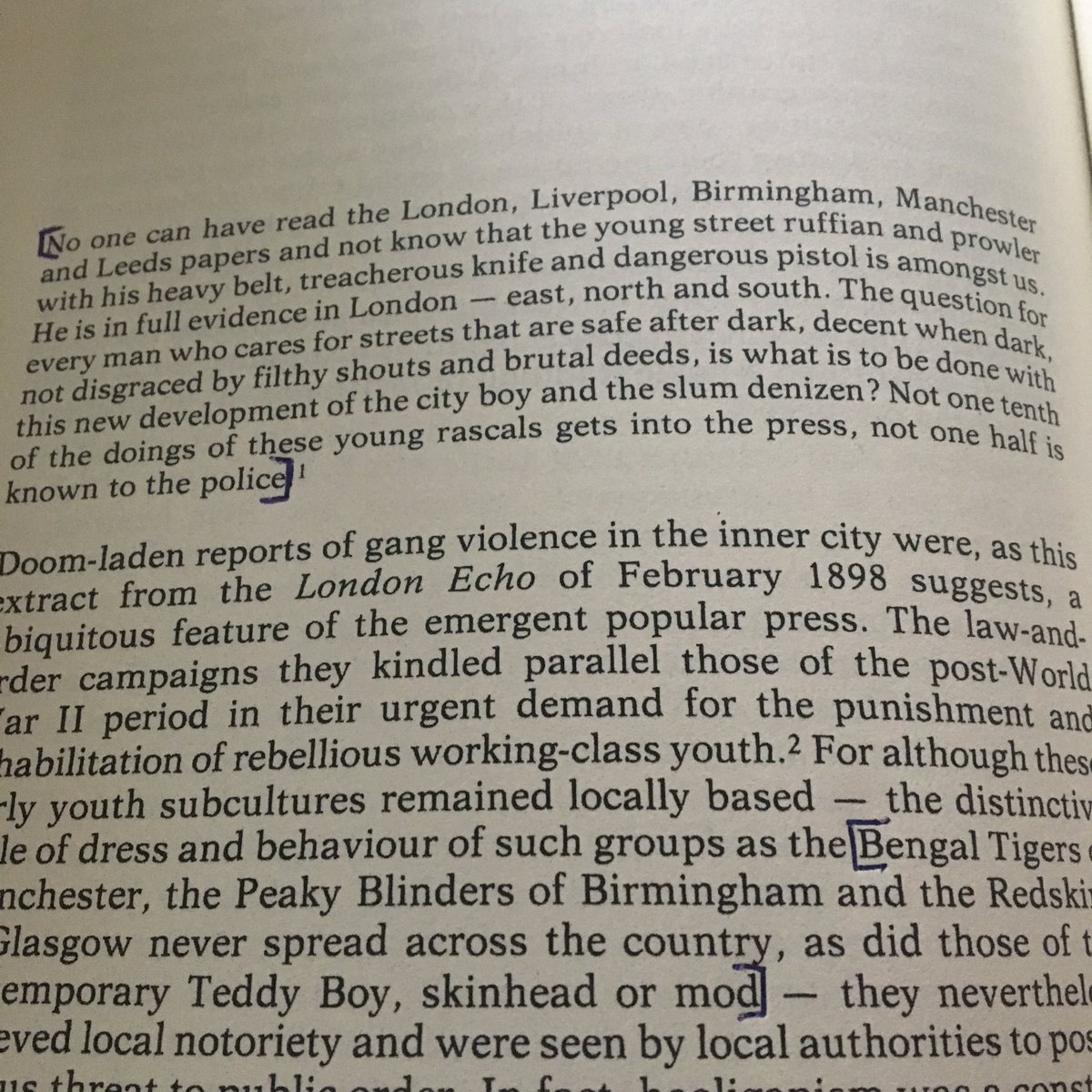 Surely British citizens - even Conservatives - would hope that the Chief of the MET has some historical knowledge of the problem/challenge?