Unrolled thread from @SethAbramson
720 subscribers
MAJOR BREAKING NEWS: President Trump Accidentally Admits on Twitter to Committing Obstruction of Justice

(The dates and statements check out. This analysis from MSNBC is correct.)
2/
This is why the point I made earlier today—see tweet below—was critical: Trump has never before acknowledged that he knew Flynn committed a crime at the time he spoke to Comey.
He said it now to look like a law-abiding citizen—but ended up establishing that he's a criminal.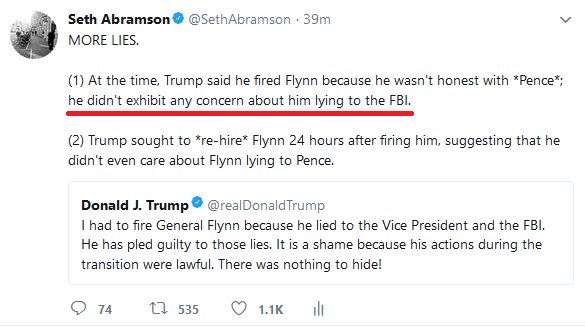 3/
So Trump's OFFICIAL position—and remember, the White House has said presidential tweets are OFFICIAL presidential declarations—is that he knew his NSA had committed a federal felony punishable by five years in prison at the time he tried to influence the FBI to drop the case.
4/
We always knew Trump's Twitter account would end him—I said 10 months ago his lawyers had to get him off Twitter immediately, and that his Twitter feed included tweets that were evidence of criminal behavior—and now here we are.
An amazing, historic catch by
@matthewamiller
.
5/
Please remember: the Republican Party OFFICIALLY established—in 1998—that Obstruction of Justice is an IMPEACHABLE offense.
President Trump just admitted to an IMPEACHABLE offense to 42 million Americans.
Nothing like this has ever happened in our history. It's mind-blowing.
6/
Trump also said he wanted to *re-hire* Flynn back a day after he fired him, a statement that now seems absolutely stunning given that (as he's now admitted) he knew Flynn had committed a serious federal felony at that point.
7/
I'm going to state this as simply as possible: it is a CRIME, and well-established grounds for IMPEACHMENT, to fire your FBI Director because he refuses to drop a federal criminal case you know (and have now publicly admitted) was and is fully justified.
8/
Trump fired Comey—he said it himself, to Lester Holt, on NBC—because of Comey's handling of the "Russia thing."
The pending Russia-related criminal investigation that Comey had refused to drop was the one Trump has now *admitted* Comey was justified to pursue.
OBSTRUCTION.
This content can be removed from Twitter at anytime, get a PDF archive by mail!
This is a Premium feature, you will be asked to pay 20$ for a one year Premium membership with unlimited archiving.