(THREAD) We now know that there's a *second* memo—one members of the media and law enforcement have seen—that alleges clandestine and possibly illicit behavior by Trump. This thread contains everything you need to know about the Shearer Memo. I hope you'll share this with others.

1/
Unlike Steele, Cody Shearer—a former journalist—doesn't have a background in espionage. Moreover, he's an avowed activist with known ties to the Clintons. For this reason, his research on Trump was originally viewed with skepticism by media and the FBI. Then something changed.
2/
As we consider the Shearer Memo, we must *avoid* the logic fallacy that Trump and Nunes would like us to fall into—what logicians call the "genetic fallacy." The genetic fallacy occurs when one bases conclusions solely on where information came from, not whether it's accurate.
3/
Steele's an ex-MI6 Russia desk chief with the best sources in Russia a Western spy could develop—so there's reason to think his intel is largely accurate. That *doesn't* me that I or anyone else interested in his dossier don't think the FBI should seek to corroborate his work.
4/
The same goes for Shearer—in reverse. There's every reason to think he had partisan motives in conducting oppo research on Trump, but so too does *every* such researcher even loosely connected to a political entity or party. The question always remains: is the intel accurate?
5/
Inaccurate intel is easily dismissed by those who appear in it, as even if it's taken seriously it usually makes time, place, and other errors that let it be disproven with documents, alibis, and more. Yet Trump and Nunes are acting like they're *terrified* of Shearer's memo.
6/
We know that the memo—which was first reported on by The Guardian—makes allegations regarding Trump's financial dealings and personal conduct. Had Trump released his tax returns, he'd have a much, much easier time responding to any allegations regarding his business dealings.
7/
Instead, Trump refused to release his tax returns and refutes allegations about his business deals in one of three ways: (1) ignoring them; (2) using a blanket term (e.g., "hoax") to dismiss them without dealing with their particulars; or (3) trying to destroy their authors.
8/
With Shearer, it seems Trump will select Option #3—trying to destroy Shearer and anyone associated with him, including a mere courier of his memo (Obama's Libya envoy—a former aide to potential 2020 presidential candidate John Kerry). And he's willing to risk a *lot* to do so.
9/
Nunes, Trump's stooge in Congress and an ex-member of his presidential transition—therefore, a man who should be *nowhere near any aspect of the Trump-Russia probe*—lacks the jurisdiction to use the Intel Committee to oversee the State Department, but he's going to try anyway.
10/
Note that Nunes' plan isn't to address any aspect of the Shearer Memo itself—the same trick he played with the Steele Dossier. Instead, he tries to smear the memo not just by smearing its author but by smearing anyone who ever looked at it, passed it on, or took it seriously.
11/
In this way, Trump and Nunes dismiss and discredit intelligence without ever asking *whether it's accurate*.
By implying that even handling this intelligence is something akin to a major federal felony, they leave the impression that *no one* could believe such allegations.
12/
The problem Trump and Nunes keep running into is that very smart, professional people *keep believing these allegations*. It's not because they're all part of a big left-wing conspiracy—it's because they avoid the genetic fallacy and simply ask whether the intel's *accurate*.
13/
Thus: "The Guardian has been told the FBI investigation is still assessing details in the memo and is pursuing intriguing leads. One source with knowledge of the inquiry said the fact the FBI is still working on it suggests investigators have taken an aspect of it seriously."
14/
Federal investigators get a *lot* of tips. Most can be dismissed out-of-hand because they don't track with the intel investigators already have. New intel doesn't get pursued *unless it tracks with existing intel held by investigators and—as importantly—known to be accurate*.
15/
So the FBI received the Shearer Memo in October 2016. And it's still being looked at by the FBI in *February 2018*. That's stunning. Apparently *16 months* of FBI investigators looking at the Memo have not yet managed to discredit it to the point at which it can be discarded.
16/
And here's the best part: we *know* why the FBI is still looking at the Shearer Memo 16 months on. The reason? Though it was compiled via a wholly separate research process, and with different methods and sources, it makes *many of the same allegations as the Steele dossier*.
17/
That's right: every indication is the Shearer Memo confirms many parts of the Steele Dossier—and in this way helps to deteriorate the fanciful Trump-Nunes argument that the FBI has never corroborated any part of Steele's research or had any reason to consider it corroborated.
18/
What Nunes will hang his hat on—in trying to oversee someone at the State Department passing the Shearer Memo along—is that Jonathan Winer (Obama's Libya envoy) received the memo from Shearer and passed it on to Steele, who then passed it on to the FBI (at the FBI's request).
19/
The FBI asked Steele to turn over any docs he had relevant to his work. At that time, he had the Shearer Memo—which had nothing to do (i.e., had in no way informed) his own research—so he passed it over and candidly said it confirmed his research but he couldn't vouch for it.
20/
Almost certainly, Nunes—who *should* be asking why active FBI agents were leaking to Rudy Giuliani in October '16, by Giuliani's own admission on national television—will try to allege that Winer violated the Hatch Act by participating in political activity. And that's bogus.
21/
It's bogus because the allegations in the Shearer Memo—like the allegations in the Steele Dossier—are *not* opposition research in the way we've traditionally understood it. Why? They suggest criminal conduct and the possibility Trump has been compromised by a foreign power.
22/
Anyone passing on the Shearer Memo—or for that matter, the Steele Dossier—to the appropriate authorities so it can be investigated and corroborated by trained professionals is a *whistleblower*. Rudy's pals in the New York office of the FBI were partisan punks with an agenda.
23/
If Winer knew Steele was working with the FBI—and he almost *certainly* knew Steele had partnered with them *before*—passing on Shearer's memo was ensuring that it got properly investigated. Meanwhile, the FBI leaks to Rudy comprised exclusively *knowingly false* information.
24/
So, compare:
(1)
A civilian passes on info he can't vouch for—but that looks serious—to the appropriate authorities. That's okay.
(2)
The appropriate authorities pass on information they know to be false to a Trump advisor to aid a disinformation campaign. That's not okay.
25/
Devin Nunes—a Trump agent in Congress—is going to investigate the former and not the latter.
That's *stunning*—particularly given that he *does* have oversight powers over the latter situation, and clearly does *not* have oversight powers over the former.
26/
So here's what the Shearer memo says, per The Guardian (a top UK outlet): "[It] alleges Trump was compromised during a 2013 trip to Moscow that involved lewd acts in a five-star hotel. The Shearer memo cites an unnamed source within Russia's FSB, the state security service."
27/
This means the "salacious" allegation on pg. 1 of the Steele dossier has now been confirmed many, *many* times over.
Steele's sources say it's true. Shearer's sources say it's true. A Trump Org employee, Kata Sarka, and a Ritz Moscow guest can all confirm major parts of it.
28/
The CIA and two EU intel agencies have confirmed it. Schiller confirms a major part of the story (that a Russian offered to send women to Trump's room—presumably the same ones seen in the lobby—arguing about going up to his room—by a Ritz Moscow guest and Trump Org employee).
29/
Kata Sarka's story—told before the Steele dossier came out—confirms Trump is lying about how careful he was (as to his bedroom conduct) while in Moscow. And we know the best friend of the Russian who offered Trump prostitutes runs—wait for it—Moscow's largest online brothel.
30/
We know from Stormy Daniels that Trump engages in extramarital sexual exploits without any care at all for whether they can be used to blackmail him in the future. And we know that—when blackmailed—he pays his blackmailers and generously. And we know Putin collects kompromat.
31/
So yes, as I've been saying since January 2017, the Trump sex tapes—beyond any reasonable doubt—exist. And Putin is holding them over Trump. But he may also be holding much more over Trump, as both Steele's and Shearer's research suggest Trump is involved in financial crimes.
32/
Every indication we have—from lies Trump told under oath about Felix Sater, to comments about Russia made by both Don and Eric Trump before the campaign, to *two* letters-of-intent we *know* Trump signed to build Trump Tower Moscow—is Trump's illicit deals are with Russians.
33/
While one could wish these new allegations came from someone besides Shearer, they track with so much *known data* that of *course* the FBI is going to still be looking at them 16 months later. Federal investigators do *not* indulge the genetic fallacy; they're professionals.
34/
Moreover, The Guardian reports "there's no evidence the Clinton campaign was aware of the Shearer memo." *And* it reports that "other people who know Shearer say he's not just a Democratic party hack—and there is no evidence his memo was sought by Clinton campaign officials."
35/
Just as Nunes said Steele was working for the DNC—though Glenn Simpson (Fusion GPS) said, under penalty of criminal prosecution, Steele *didn't know* who he was doing research for—he will now try to claim the Clintons were behind the Shearer memo. We've no indication of that.
36/
And while he's no Steele, The Guardian *further* notes that, "per sources, while Shearer lacks the precision and polish of a seasoned former spy like Steele, he has been described as having a large network of sources around the world and the financial means to pursue leads."
37/
Where's this going? Well, per Natasha Bertrand, the Grassley/Graham letter trying to get the DOJ to prosecute Steele alleged that "Clinton associates fed Mr. Steele's accusations" against Trump. So the new line will be that Steele—former MI6!—*plagiarized* Shearer's findings.
38/
Of all the sorry-ass conspiracy theories the GOP has come up with, the allegation that the former Russia desk chief for MI6 had to crib notes from a Clinton associate to conduct research for Fusion GPS ranks right near the top. This is an *insult* to Americans' intelligence.
39/
The other knock on Shearer—but *is it* a knock, really?—is that when his sources told him Putin was blackmailing Trump he tried to go to the media with it. Well of course he did! Wouldn't you? It's a major national security risk—so going to both the media and FBI makes sense.
40/
From the excellent
@NatashaBertrand
and her article in The Atlantic (
theatlantic.com/politics/archi…
):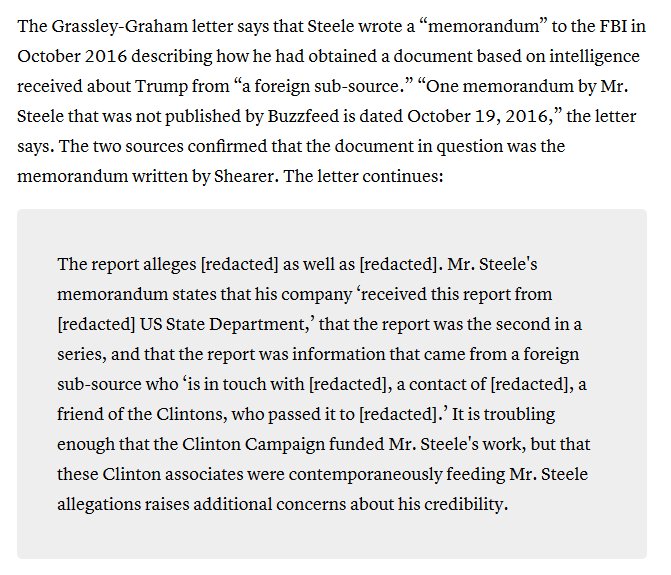 41/
Again, *none* of this conduct is shady—this is *exactly* what responsible whistle-blowing looks like. This is how responsible citizens act.
Compare that to the president and his stooges in Congress calling for the imprisonment of FBI officials and trying to destroy the FBI.
42/
So yeah, Trump and Nunes should go ahead and make the Shearer Memo as famous as the Steele Dossier. By attacking its author and anyone who ever handled it in a way that *screams consciousness of guilt*, they'll confirm by frantic coverup the very intel they seek to discredit.
43/
Look, here's the upshot: Trump did very bad things. I don't think anyone on Mueller's team thinks this is, finally, an Obstruction case. Trump let himself get blackmailed by Putin and lied about it. Did illicit deals, lied about them. Paid his debts with a pro-Russia policy.
44/
It'd be much easier if Americans could just accept and agree that Trump's a moral troglodyte who's 100% venal. Then we could, as a nation, trust in the army of law enforcement that's diligently looking at this internationally significant and watched case—and brace for impact.
45/
You're going to hear a lot about the Shearer memo in the coming weeks, and I know I'll be writing more about it. For now, think of it this way: the best minds working on the Trump-Russia case consider it important, and partial confirmation of existing—incriminating—data. /end