There have been many attacks on the
#ACA
from the GOP over the years, and many of these have undermined, sabotaged and weakened it. Two of the biggest and most damaging attacks were the
#RiskCorridorMassacre
(spearheaded by
@marcorubio
) and the mandate repeal.
2/
The
#RiskCorridorMassacre
led or contributed to a domino effect of over a dozen insurers going belly-up, kicking over 800K off their policies, reducing competition, putting hundreds out of work and causing mass confusion while driving up rates.
acasignups.net/16/08/31/retur…
3/
The effects of the mandate repeal last December are already being felt somewhat this year...around 3-4% of the 2018 rate hikes were caused by carriers THINKNG Republicans MIGHT kill the mandate.
acasignups.net/17/11/01/and-i…
4/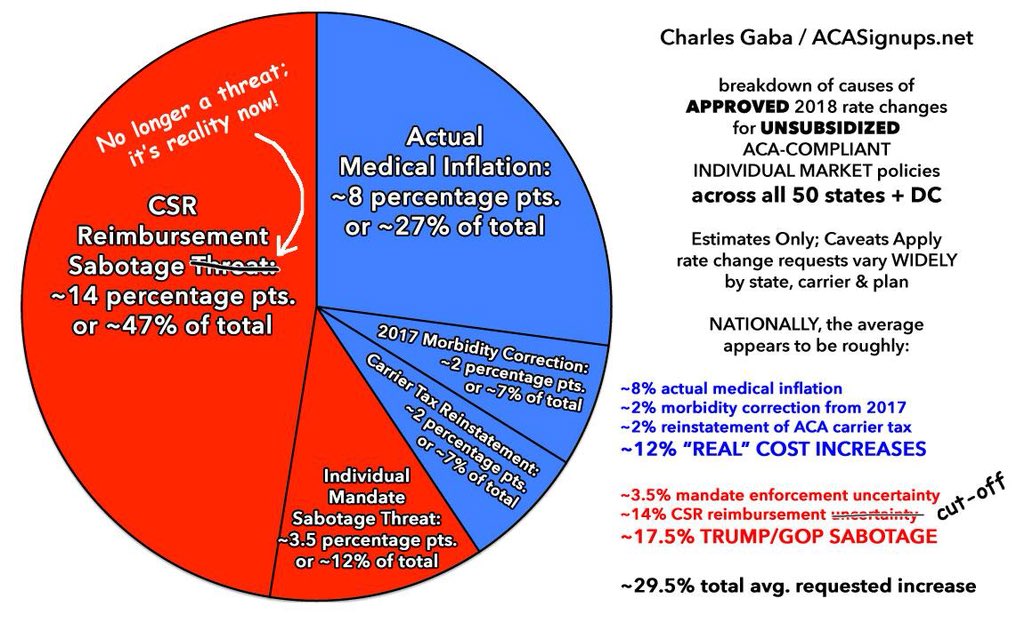 Of course, there was a THIRD major sabotage attack, also shown in that chart: The ~14% hike caused directly by Trump cutting off
#CSR
payments. This led to UNSUBSIDIZED rates skyrocketing...but due to how carriers loaded it, it also led to SUBSIDIZED rates DROPPING for most.
5/
The REST of the damage from he Mandate Repeal won't be felt until NEXT year, when people will enter the open enrollment period knowing they don't have to pay a penalty for skipping out. This is expected to lead to ANOTHER 10% spike...possible higher. 6/
acasignups.net/18/02/06/extre…
Bottom line is that in large part due to GOP mischief/sabotage, yes, the full, unsubsidized price of ACA policies has indeed gone up dramatically since PRE-ACA plans in 2013...84% thru 2017, plus another ~30% this year for the reasons just described. 7/
acasignups.net/17/08/22/aspes…
However, not all Of the problems with the ACA can be pinned on GOP sabotage. Many, but not all. There were several real problems as well, and the two biggest ones were pretty obvious. Here's a video explaining them along with a mess of other stuff: 8/
Since I'm guessing those reading this aren't gonna take 17 min. to watch the whole thing, here's the key slides to look for. The first big problem is actually a two-parter: The subsidies (tax credits) were simply a) not generous enough and b) aren't provided to enough people. 9/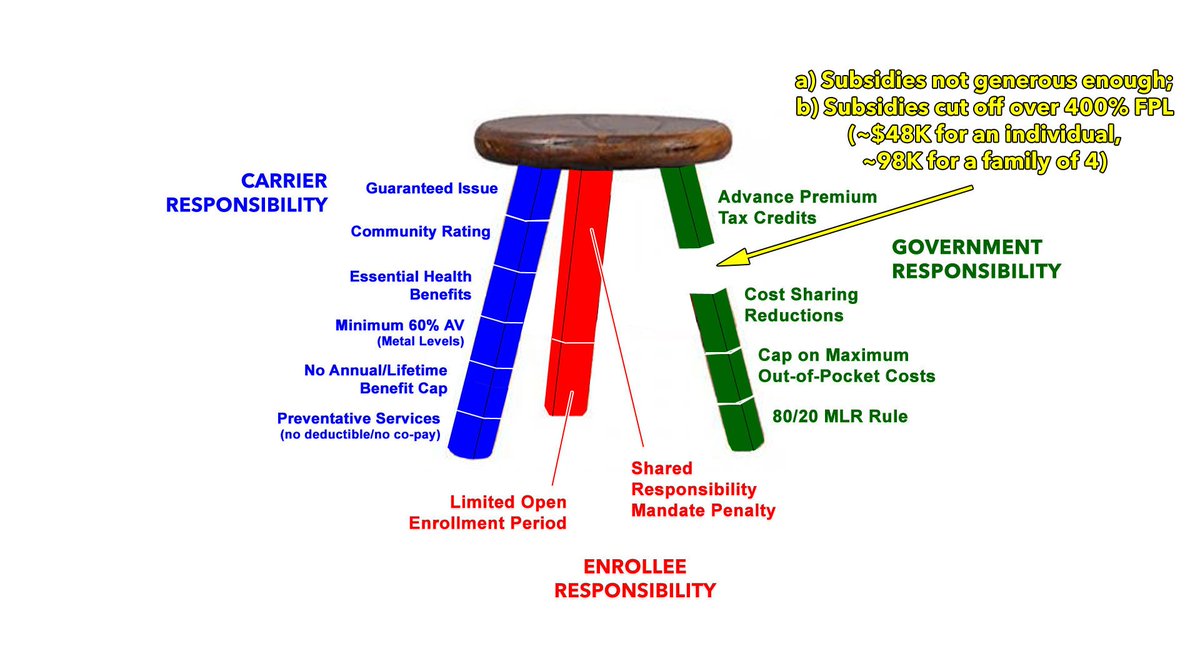 The GOOD news is that in response
#CSR
payments being cut off, the carriers responded with a clever workaround which ended up INCREASING the tax credits. This effectively "solved" the first half part of the problem in an ass-backwards, awkward manner. 10/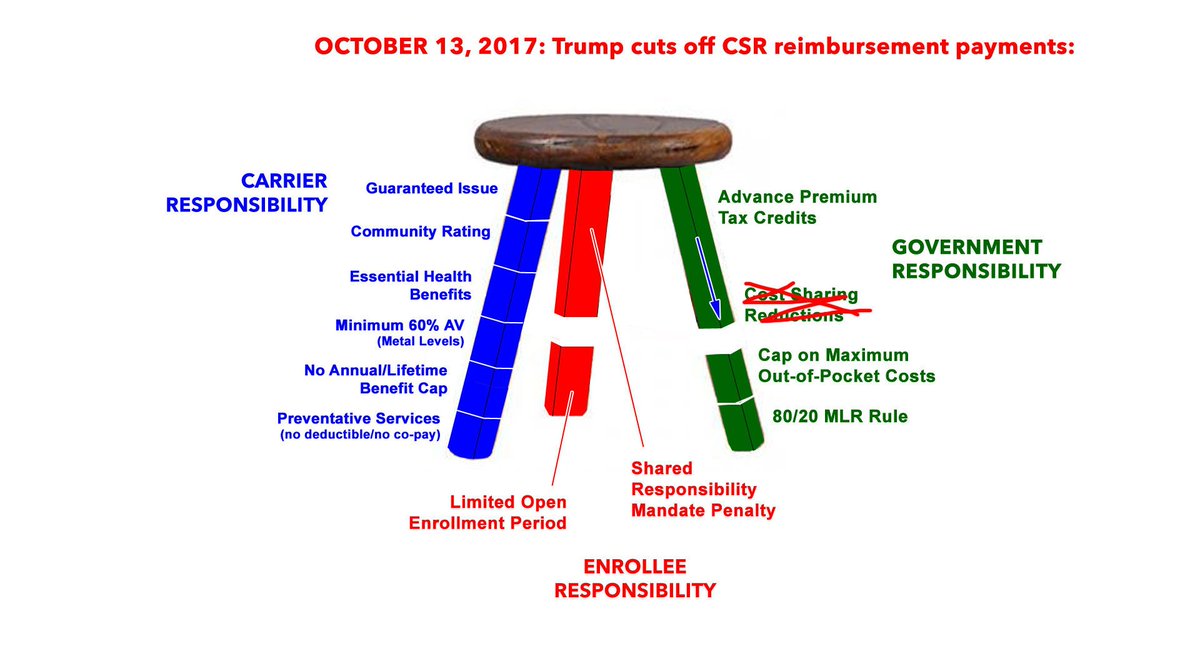 The BAD news is that the OTHER half of the problem remains: If you earn more than 400% of the Federal Poverty Line, you get bupkus. THIS is the core problem that Ms. Hurd is furious about in the NY Times article. 11/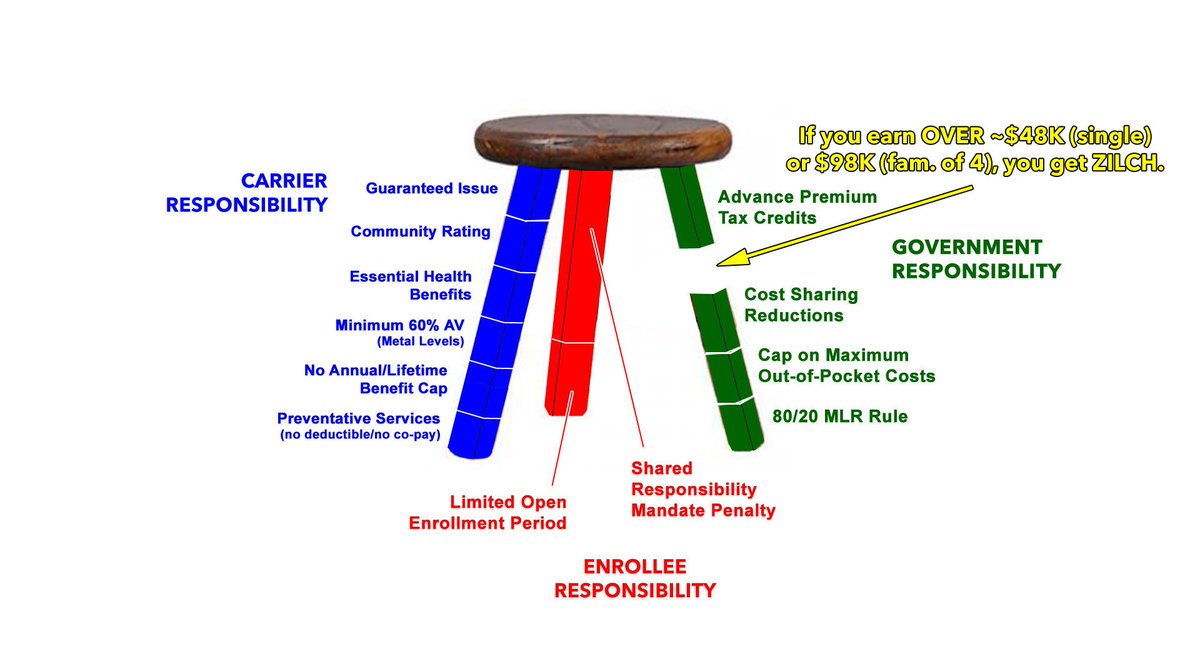 The end result of all this is that around 9 million people earning UNDER 400% FPL are mostly (mostly) doing pretty well on
#ACA
exchange policies…but around ~6-7 million earning OVER 400% are increasingly squeezed/screwed. 12/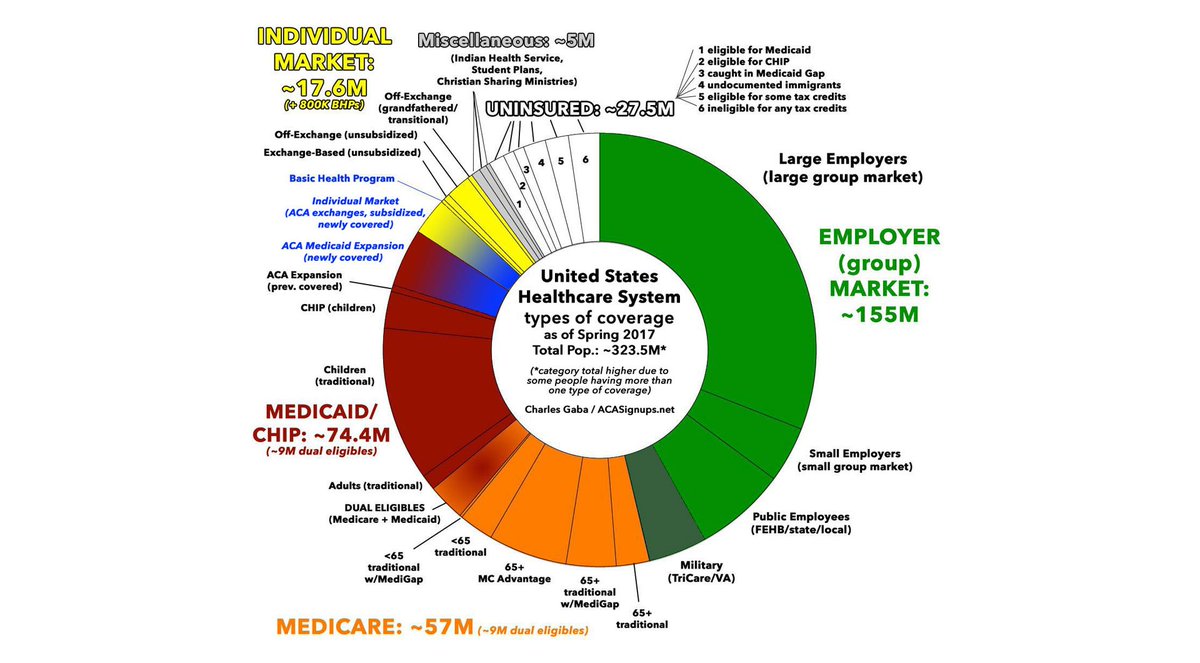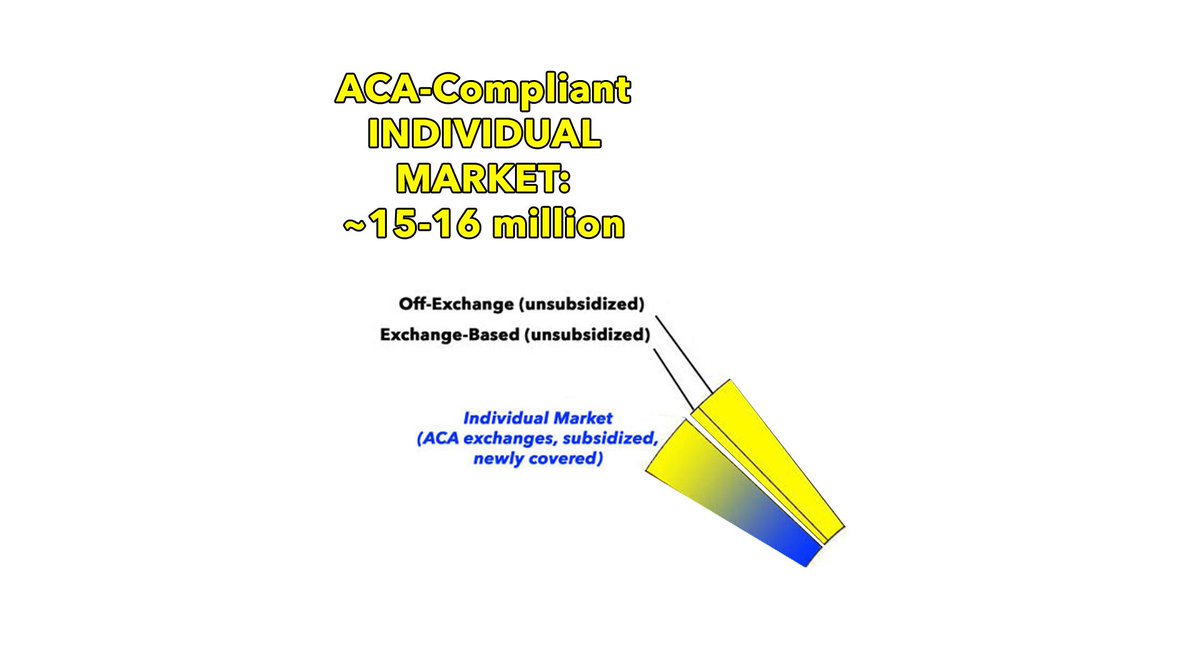 Last year the GOP caused a WHOLE lot of anger, confusion and fear by repeatedly trying to hack away at all three legs of the "stool". Not one of their plans improved the situation, and in the end they settled on killing off most of the red leg…the individual mandate. 13/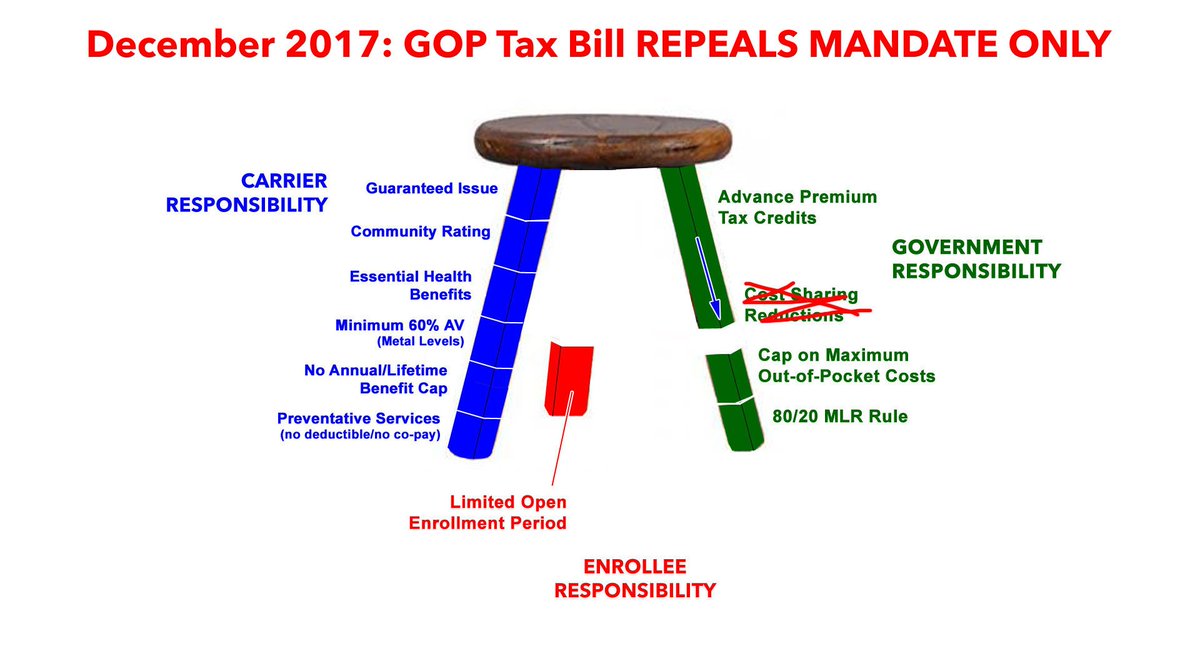 Of course, Trump is also trying to make things even WORSE *this* year by allowing
#Trumpcare
plans, which basically do the same sort of sabotage to the "legs" that the various GOP plans would have last year. 14/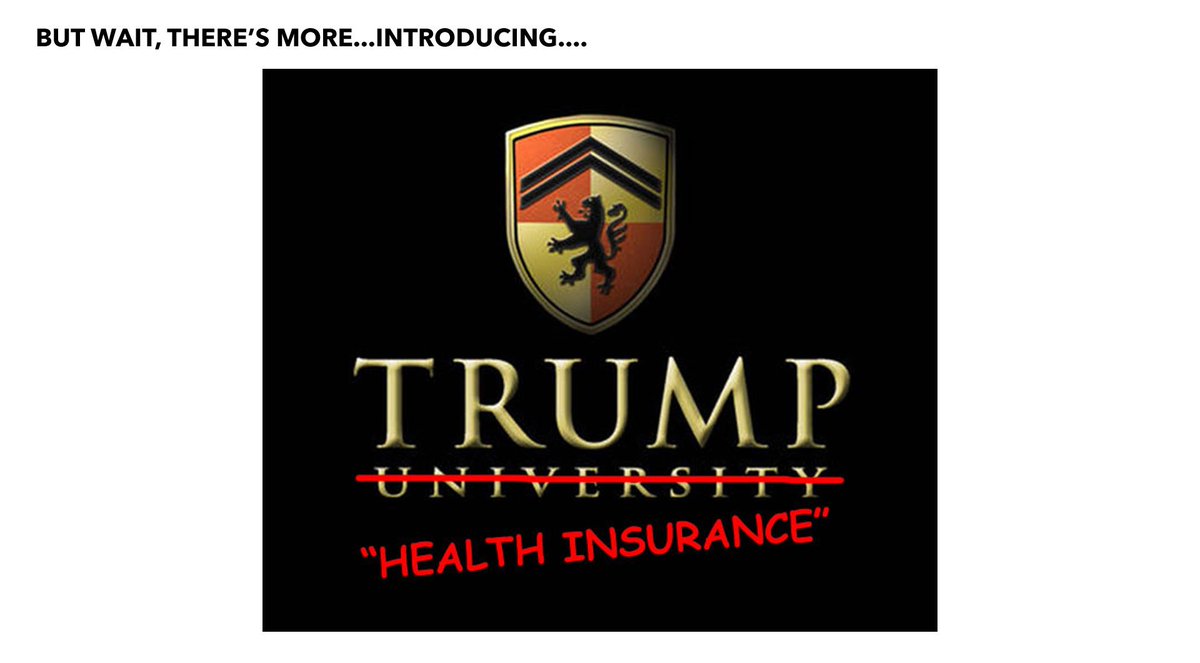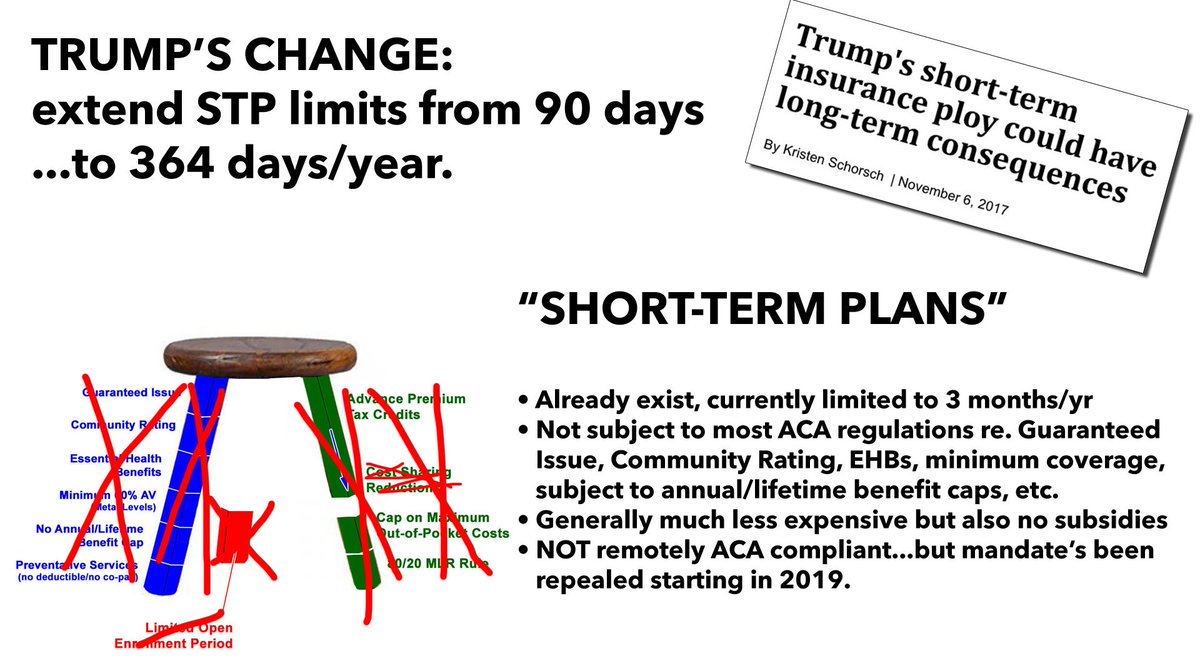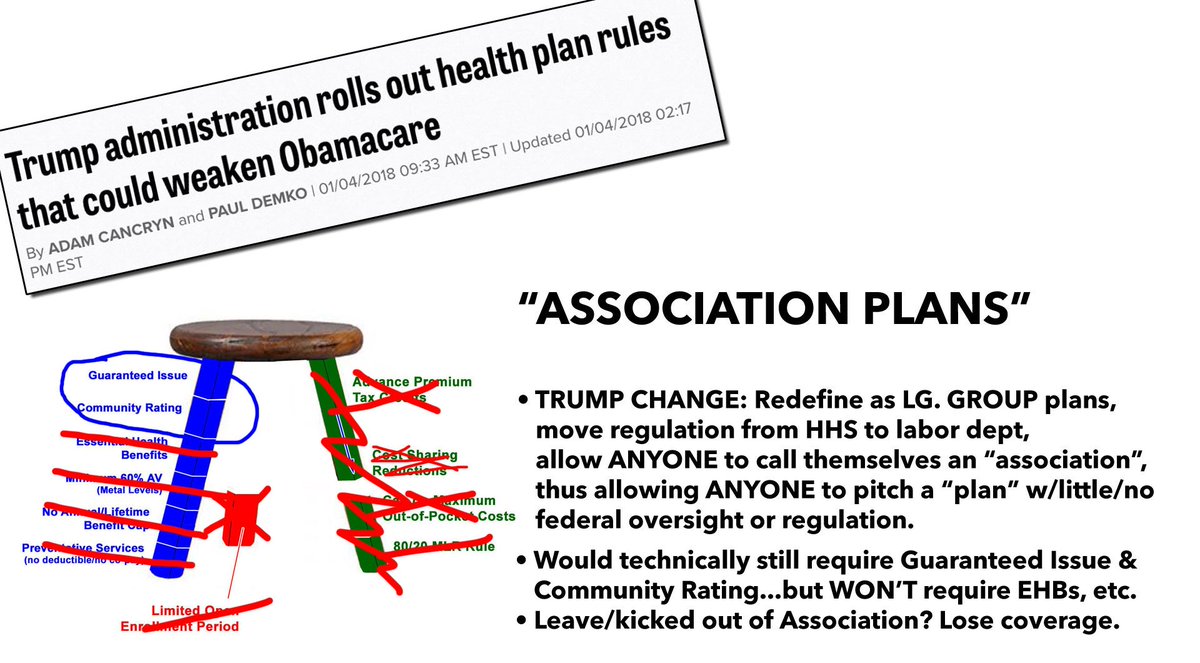 Meanwhile, the SECOND major flaw with the ACA has to do with the Individual Mandate…not that it existed at all, but that it was actually too SMALL to be fully effective. Many people paid the $700 penalty instead of paying several thousand $ for a policy. 15/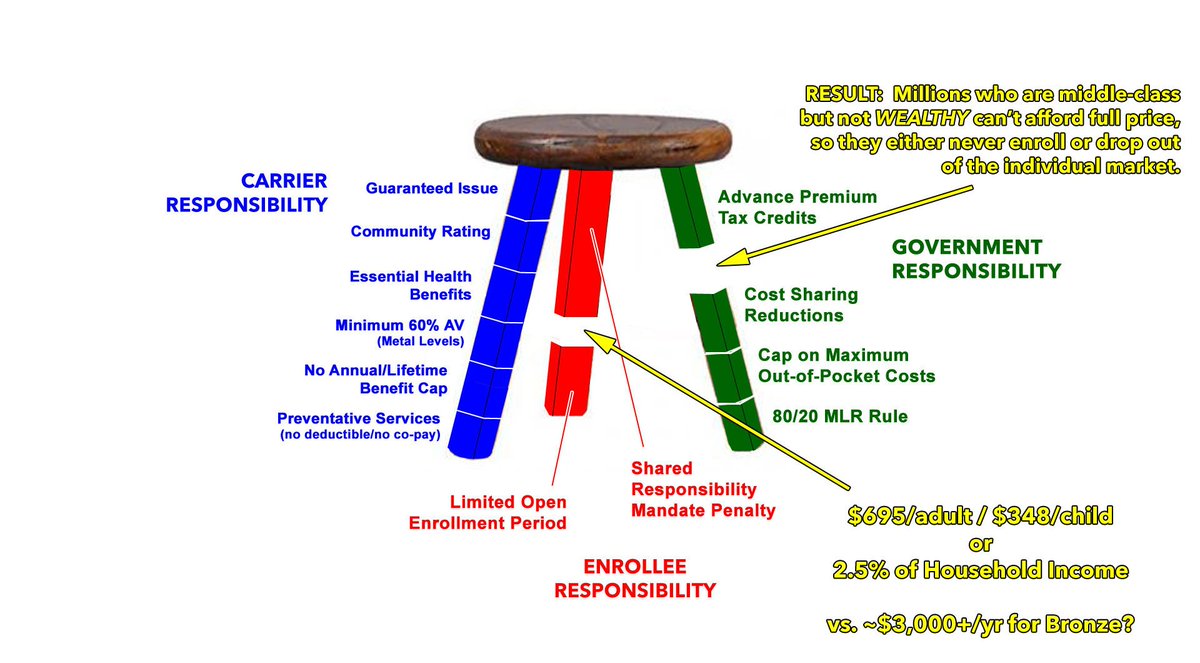 However, that second problem is kind of moot now, because the penalty drops to $0 per year starting next year; it's a done deal. So, let's go back to FIXING the problem for Ms. Hurd.
16/
There are several things which need to be done to a) repair the damage done by the GOP as well as b) repairing the *original* problems inherent in the ACA itself, but the single most obvious one would be to simply REMOVE THE 400% FPL SUBSIDY CAP.
17/
If you remove the 400% FPL cap, even without changing anything else about the ACA structure or subsidy formulas, Ms. Hurd would instantly see the premiums she pays plummet. By how much?
18/
Well, according to the article, she and her husband live in Merrimack, New Hampshire. They have one child, and the full-price cost for their previous policy (which I presume she was cool with) would've been $1,200/month this year.
19/
The article doesn't say how much the Hurds earn, but it's more than $82K/year (400% FPL for a family of 3). Let's say they earn $100K even. If so, at $1,200/month, they'd be paying 14.4% of their income on insurance premiums.
20/
So what happens if that 400% FPL cap is removed? Instead of having to pay 14.4% of their income, they'd receive subsidies covering anything over 9.6%. Instead of paying the full $1,200/mo, they'd receive about $400/month in tax credits, knocking it down by 1/3 to $800. 21/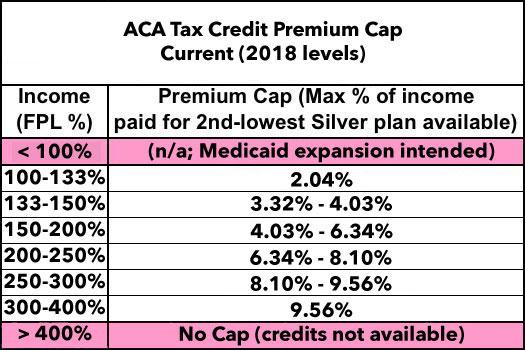 What about if they earn $120K/year? In that case, for the same policy, they'd get something like $244/month. Their tax credits would taper off to nothing at around $150,000/yr.
22/
Again, the tax credits would STILL drop off to nothing as your income went up—no, millionaires wouldn't be getting subsidies—but it would be a *gradual* drop instead of the "Subsidy Cliff" as it now stands. 23/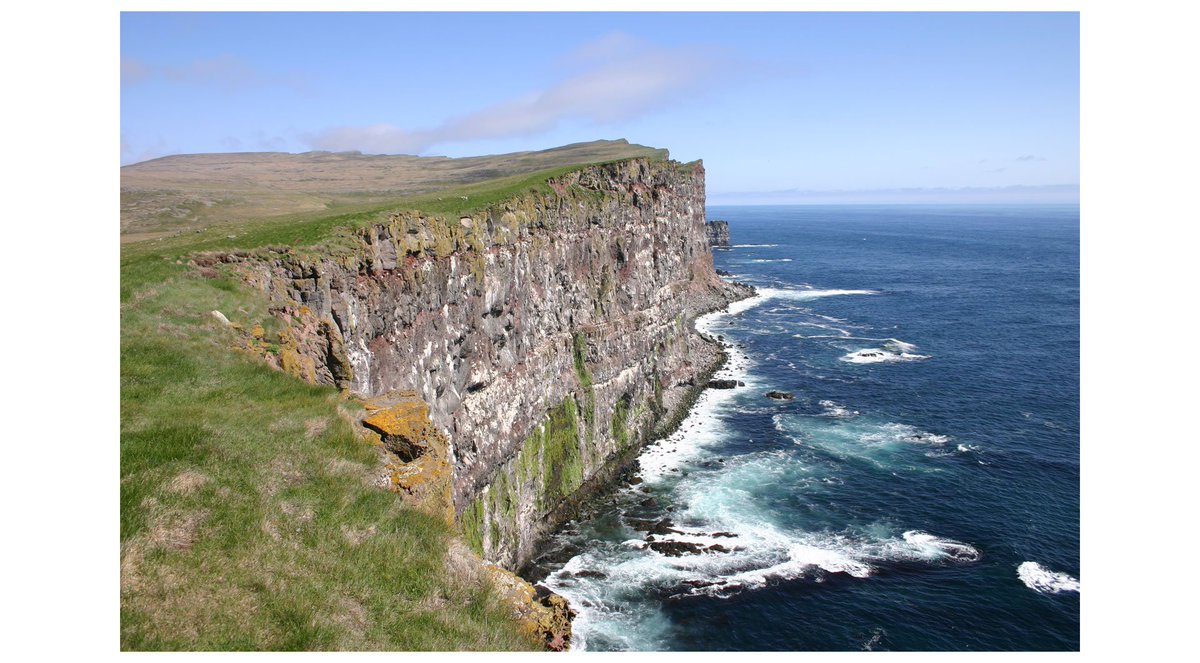 Basically, doing this would make life much easier for the 5-6 million paying full price today (the Mrs. Hurds of the country) while *also* making the ACA exchange policies affordable for several million *others* who've given up on coverage altogether, mandate or no.
24/
As it happens,
@SenFeinstein
and several other Democratic Senators ALREADY INTRODUCED A BILL TO DO EXACTLY THIS LAST SUMMER: S. 1307: 25/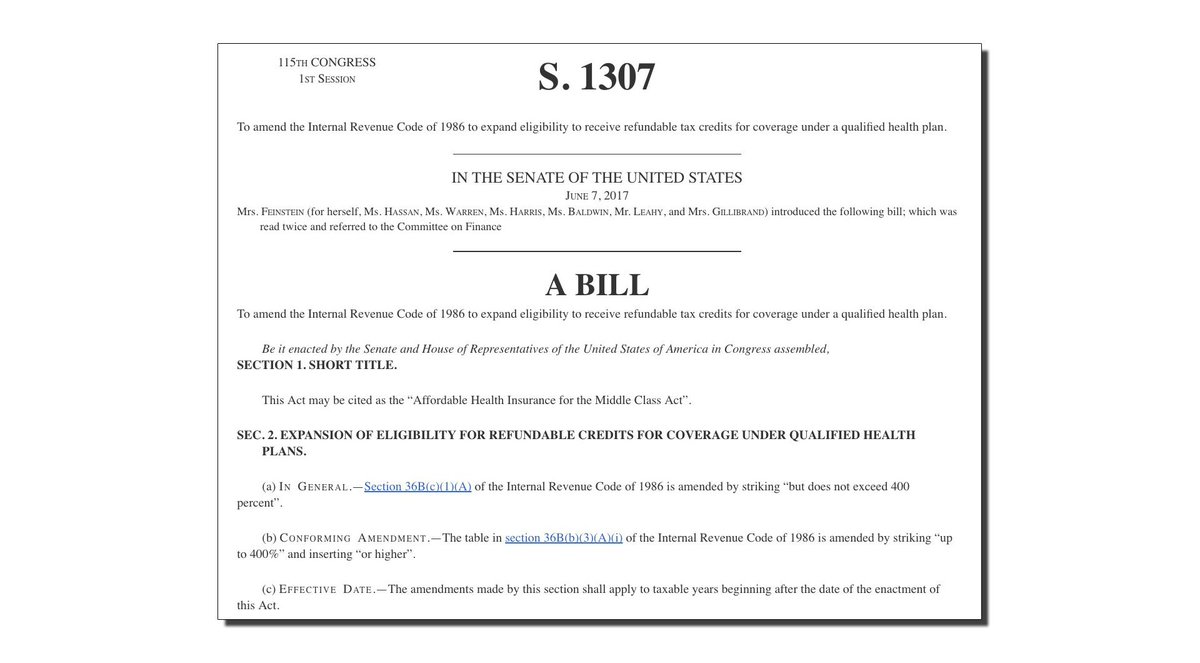 …which, of course, was promptly and utterly ignored by Mitch McConnell, Paul Ryan and the GOP. 26/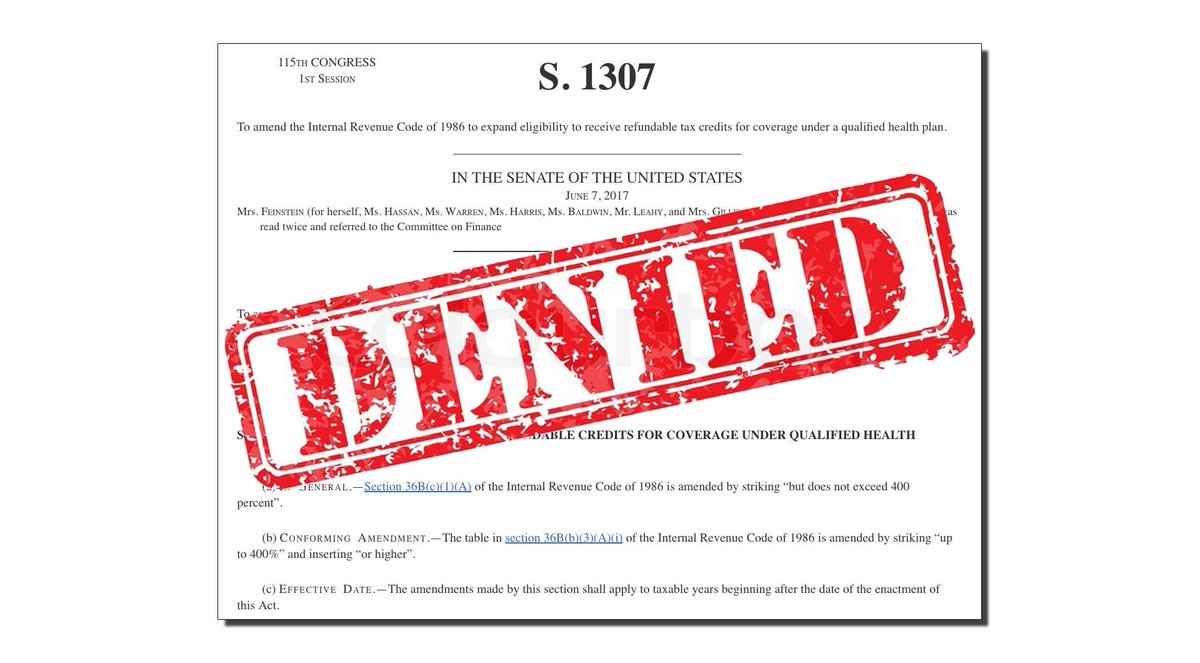 That's one reason why it's so vitally important to retake the House/Senate this fall. Even if you're hoping for a full-blown "Single Payer/Medicare for All" type of master plan, that's NOT going to happen any earlier than 2021 at earliest…but fixes like this are needed ASAP.
27/
Even if you think Trump would *sign* a SP plan under a Dem House/Senate (who knows?), it'd still take a few years to ramp up, so again, fixes like this are needed ASAP for 2019/2020/2021 at the very least.
28/