Sentencing hearing underway in SDNY court for former Trump fixer Michael Cohen. Here he is arriving at the courthouse with his sympathetic family. His attorney reportedly said Cohen decided to cooperate w/ FBI when he realized Trump was about to fire Mueller (via
@ShimonPro
@CNN
)

#BREAKING
Michael Cohen sentenced to 3 years in federal prison. SDNY judge orders him to surrender in March.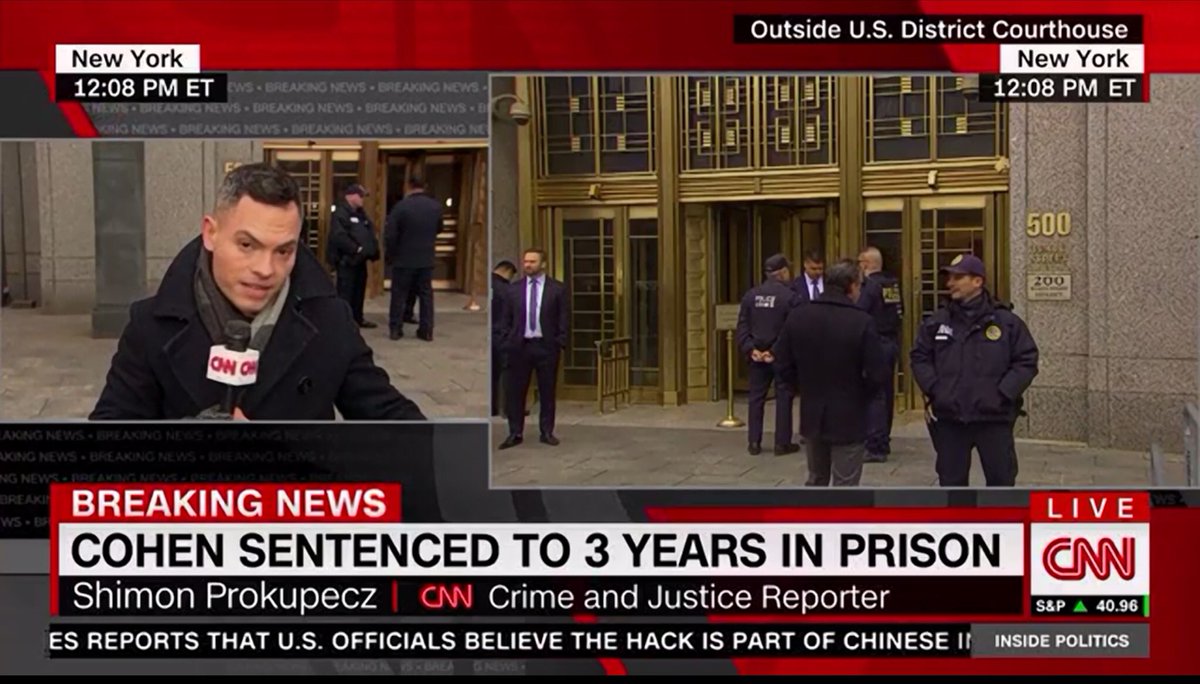 BOOM²: AMI (publisher of National Enquirer tabloid owned by Trump pal David Pecker) ADMITS to SDNY it made hush payment "in concert with [Trump's] presidential campaign" with the "principal purpose" being to influence the 2016 election. This corroborates Cohen. Trump is screwed.
It's remarkable that Cohen is going to jail for crimes directed by Trump. It's also remarkable that Trump isn't immediately indicted for crimes he ordered. Esp'ly when those crimes aimed to deceive the public to subvert our election. Justice demands Trump be accountable w/o delay
There's nothing normal about Trump or how to deal w/ him. Just as journalists can't merely quote him (b/c he deliberately lies & pushes baseless conspiracy theories), Mueller can't simply follow DOJ guidelines. POTUS directed serious crimes, including bank and wire fraud & more👇
THREAD re key issue of indicting a sitting president for crimes that go to obtaining the Presidency.
@neal_katyal
argues inter alia following DOJ guidelines NOT to indict would perversely make the Presidency itself a get-out-of-jail-free card for crimes committed to get there. 👇
BOOM³ >> Trump's legal jeopardy grows: TRUMP was the person in the room when Michael Cohen and David Pecker discussed AMI scheme to counter/conceal negative stories during the 2016 presidential election campaign. Trump undoubtedly directed this conspiracy.
nbcnews.com/politics/justi…
Here's the TRANSCRIPT:
@GStephanopoulos
talks to Michael Cohen, his first interview since being sentenced to 3 years in prison and implicating Trump in crimes related to the 2016 presidential election
abcnews.go.com/Politics/micha…