My article on mainstream accommodation of radical right politics by conventional gov. parties Fidesz and Smer, as well as counter-strategies of far-right 'originals' after 2015 is out (in German). Here a
#thread
with an English summary.
link.springer.com/article/10.100…
The essay builds and expands on insights developed in my book which has received the Gero Erdmann Comparative Area Studies Award 2018 from the Zeitschrift für Vergleichende Politikwissenschaft
@DVPW_Vergleich
routledge.com/Radical-Right-…
In the paper, I analyse how government parties in HU and SK, as well as far-right Jobbik, SNS and LSNS politicized and framed a "refugee crisis" in their online election campaigns after 2015. To "nail the frame to the wall", I use computer-assisted qualitative data analysis.
Using
@ches_data
I first show that in both SK and HU we observe spatial shifts to TAN-positions on immigration policy. Especially in SK anti-immigration stances basically became a valence issue position. In HU, data suggest that Fidesz even overtook Jobbik in this regard.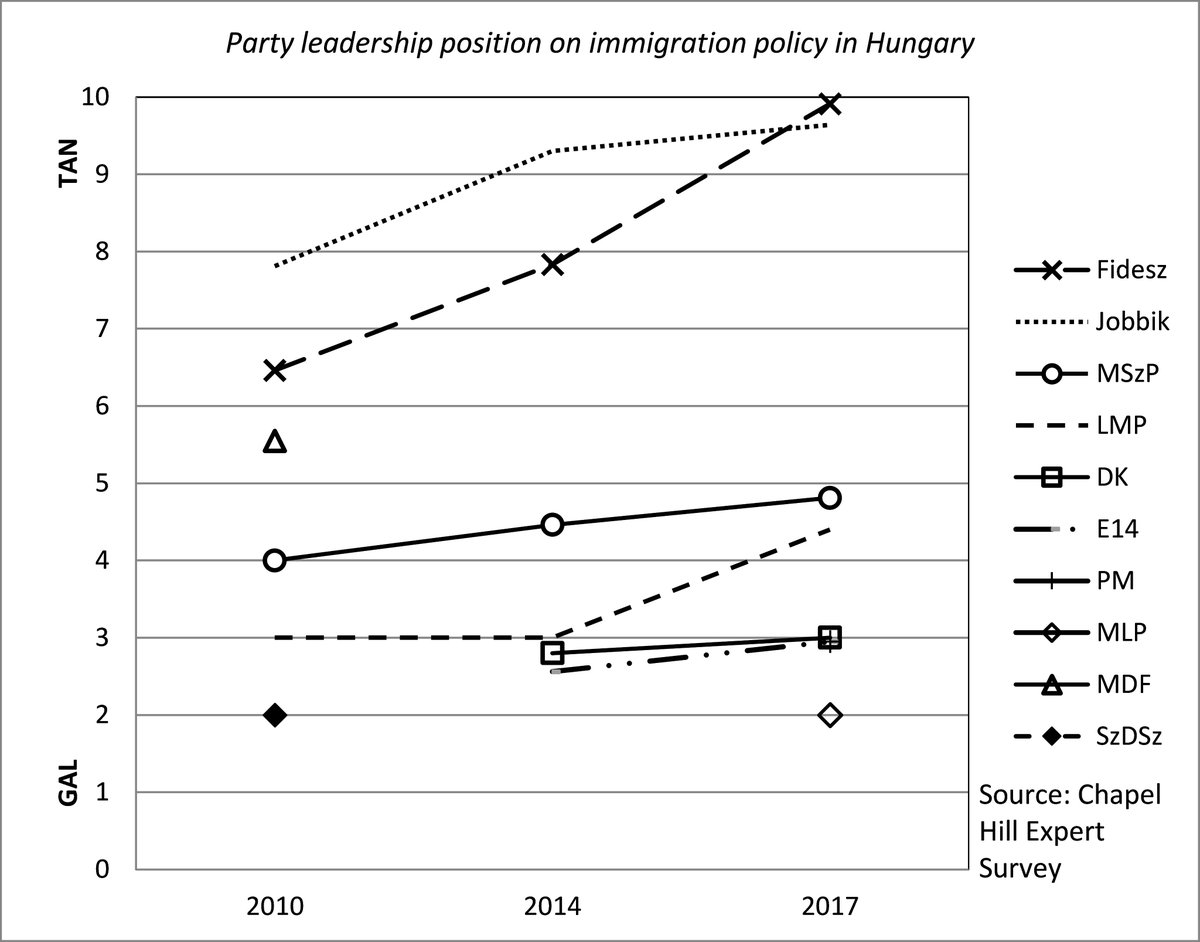 Note: This approach helps comparing claims across parties or time. It doesn't measure 'moderation'. Regardless of specific values, a discourse with 'only' 41% nativist claims remains nativist in holistic sense. And further claims beyond threat frames can be discriminatory too
We see that despite different dédiabolisation tactics, the discourses of radical right originals remain nativist. So how did these 'originals' manage to react to copying, or even a disctintive and broadly politicized nativist master frame of conventional competitors?
Many answers to this on demand and supply side, of course. From competition perspective, first, it remains relevant that accommodating both RR positions and narratives serves more the 'originals' than the (right and left) copies. It legitimizes the former in the mainstream.
Second: it is crucial to note that RR 'originals' rarely remain 'originals'. Or: they rarely stick to their 'original' frames. They can use a rich repertoire of entrepreneurial tactics: expand threat narratives to other issues or 'repackage' the justifying meaning behind nativism
In Slovakia, RR parties took advantage of Smer pushing the (relatively low) salience of asylum and expanded nativist threat scenarios to additional issues and soc-cult. 'Others'. This tactics was particularly used by the extreme right LSNS which surprisingly entered parl. 2016.
More research is needed on electoral effects, but it seems that LSNS largely used the 2010 tactics of Jobbik (see my book). Next to strong anti-establishment claims, it took advantage of normalisation of nativism and used related frames to justify its own racist anti-Roma supply.
Jobbik was faced with a different task, given its 'cuteness campaign' and the fact that Fidesz dominated the agenda with its own distinctive RR conspiracy myth. Yet my analysis shows that the 'cuteness' tactic of Jobbik was not limited to symbolic adjustment of political style.
Jobbik didn't challenge the contents of Fidesz claims per se. Instead it linked the anti-corruption issue shared with other opposition parties with its own framing of nativism. It portrayed its supply as a more efficient, honest and competent version of Fidesz' nativist policy
So what are the broader takeaways, also for 'the West'? We need to account for the narrative dimension of party competition (on both supply and demand side). Framing is not merely 'symbolic politics' but also part of cognitive issue supply of political parties.
Party competition is not only a contest over issues, but also a contest over their meaning. To understand RR agenda-setting and mainstreaming we need to analyse how RR originals and conventional parties compete over distinctive resonant interpretations of issues (frame ownership)
We also need to account for the ways RR 'originals' themselves react to accommodative strategies of conventional parties. There are trade-offs to their 'cuteness' campaigns, but these parties have a much broader repertoire of ways they can compete with conventional 'copies'.
They can expand a normalised frame to other issues and construct threat scenarios against further 'Others'. They can also 'repackage' the meaning behind nativism and, especially if it is mainstreamed, even attempt to portray nativist ideology as 'non-ideological' expert politics.
Thus, copying RR positions and frames by right or left actors is both electorally inefficient and negatively impacts liberal democratic principles. Mainstream normalisation makes it easier for RR 'originals' to turn against additional 'Others' and/or 'redefining' nativism.
Exploring these aspects is vital for understanding the contextually specific yet functionally equivalent processes of mainstreaming RR politics by RR 'originals' and conventional parties, and its impact on liberal democracy – not only in 'the East'.
onlinelibrary.wiley.com/doi/abs/10.111…
#End