#TweetStorm
-
#LTCG
Tax on Equity - Taxing Genuine Investors to get a best case 3000-5000 cr of Tax Revenue and losing 15 lakh crore Market Cap but not catching and penalizing Tax Evaders/Money Launderers does not seem Morally or Revenue Right.
#Tweetstorm
.
The Big Statement in
#Budget2018
3.67 Lakh Crores of Exempted
#LTCG
Tax in A Y 2017-2018 and 20k crores expected in tax revenue in 2019 and 40k crores in 2020.
Matching the 3.67 lakh crore number with Income Tax Website.
incometaxindia.gov.in/Pages/Direct-T…
Looks like 5 years data added as per Income Tax Website.
All Tax Payers – Range of Long Term Capital Gains Tax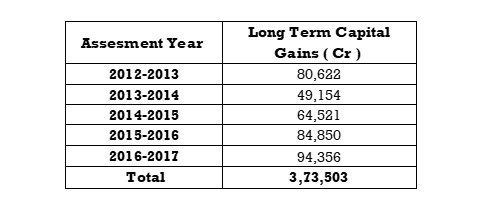 Conclusion
The data on Income Tax India website for LTCG is only for other asset classes.
Or the budget used a cumulative data of 5 years?
Or the data used in the budget for
#LTCG
for Equity is from the Income Tax and other agencies but not available on any public website
The LTCG tax estimate of 20000 cr and 40000 cr from next year does not add up as it expects 30-40% of all Volumes to be LTCG profit booking.

Expects 6-10% of Equity of Indian Markets to change hands!! The Public holding is less than 10% and another 6% through MF
Conclusion
As per us a practical estimate is if we grow Equities at 12-15% as per GDP and a starting market capitalization of 150 lakh crores and 2-4% of equity changing hands the government can barely get 3000-5000 cr of LTCG Tax annually. This is the best and linear case.
Conclusion
The broader markets have corrected 40% since the budget.Even if new investments become profitable there will be a lot of set-offs available for LTCG Loss for many years. LTCG revenues could become significant only after a decade of compounding.
A transaction of 4-5 lakh crores in a Total Market Capitalization 120 lakh crores would imply 4% of Equity of India being sold and LTCG booked.

Now if we consider 100% profit the Value of Trade becomes 7-8 lakh crores which would be 30% of all delivery volumes.
The Market Cap Loss of 5-15 lakh crores in lieu of best case revenue of 3000-5000 crores which will hardly be a few 100 cr this year reminds us of this saying – Khaya Piya Kuch Nahi Glass Toda Bara Anna.