[
#Thread
on Jamal Khashoggi] 1/ It's been a year since Jamal Khashoggi was killed, and the Saudi propaganda machine went into overdrive. As it's the anniversary, I wanted to share some strange findings from October 2018, and offer some new insights on the scale of disinformation
2/
An unusual aspect about the killing of
#JamalKhashoggi
killing was that it was one of the few times where a regime habitually lies only to actually admit later that it was more or less lying. This means we have a chunk of news we know is fake, and a chunk we know is true
3/
With this in mind, I sought to see whether the true story, or the false story, resonated more widely on Twitter. Was the Saudi propaganda or the truth spread more widely? After all, we do know that fake news spreads more quickly and widely...
#JamalKhashoggi
4/
Firstly. I wanted to see who was tweeting about Khashoggi. I found an archive of all trending hashtags. I listed any hashtag trending in October 2018 in an Arab speaking country that mentioned 'Khashoggi' (in English or Arabic). Why? I wanted to see where in the Arab world
5/
Jamal's name was trending. The logic, if his name was trending, it meant Twitter acknowledged that people were talking about him - a lot. The results were incredibly bizarre....
#JamalKhashoggi
6/
As you can see, the below table shows which Middle Eastern countries were talking about Jamal Khashoggi in October 2018 (according to Twitter trends -or rather Trendogate's archiver), Notice anything unusual?
#JamalKhashoggi
#Jamal_Khashoggi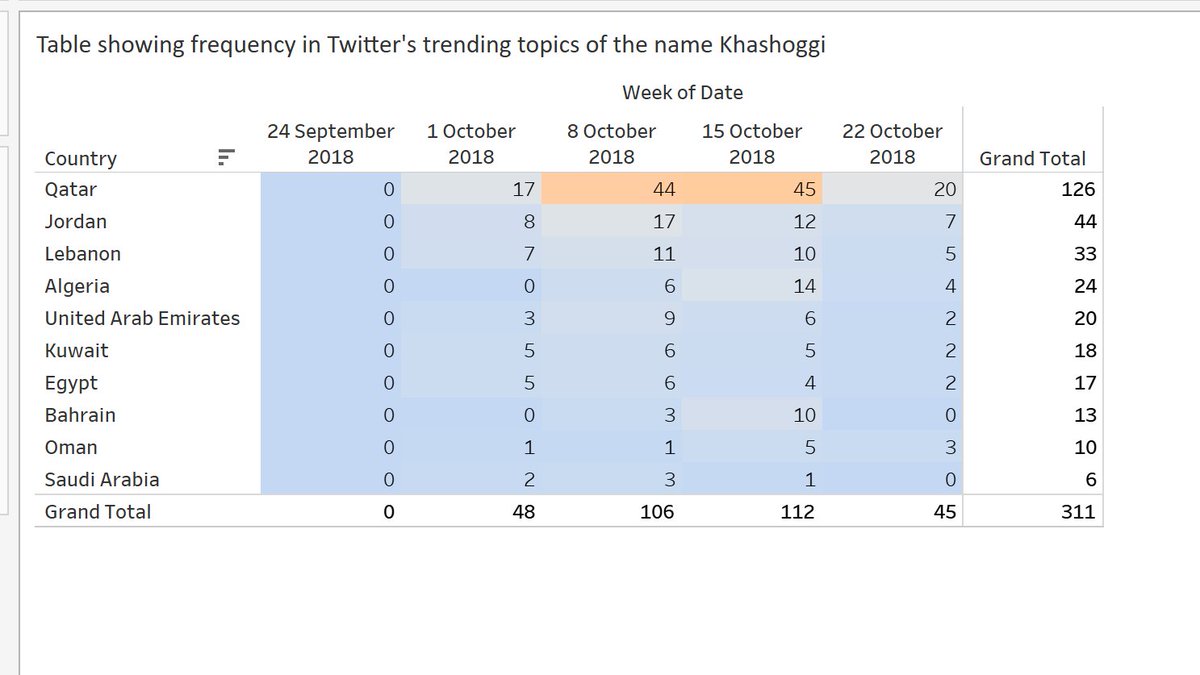 7/
That's right! Khashoggi's name appeared the most in Qatar. Unsurprising of course. It was during the blockade, and Qatar, home of the widely-watch Al Jazeera, naturally saw it as an opportunity to criticize Saudi - who had led the blockade. But that's not the strangest thing!
9/
Now some may reasonably argue that Saudis were not tweeting because they are generally fearful of reprisals. This is of course valid. However, such a fear would also exist in countries such as Bahrain, or even the UAE. But this argument makes an erroneous assumption...
10/
It assumes that Khashoggi's name trends the least in Saudi because people in Saudi are not talking about Khashoggi. Yet let's look at the data some more. Let's look at the data to see who is actually tweeting about Khashoggi. If it's not Saudi accounts, who is it?....
11/
Well I took a random sample of around 75,000 tweets and retweets from a sample of almost 3 million tweets on the
#Jamal_Khashoggi
Arabic hashtag. This was the most popular hashtag. It would most likely be a decent proxy for other hashtags mentioning Khashoggi.
12/
I then ranked these tweets according to the most popular. That is to say, which tweets in this subset of 75,000 had been retweeted the most. I did this, and removed any tweets that had less than 200 retweets. This left around 200 unique tweets representing 22,000 tweets
13/
I then coded these tweets to see if the most popular tweets reflected the Saudi-side of the story, or the other side. Remember, Khashoggi barely trended in Saudi, so we'd expect fewer perspectives from the Saudi angle, right? That would be logical right?
#JamalKhashoggi
14/
Wrong!! The vast majority of the tweets on the
#Jamal_Khashoggi
hashtag were pro-Saudi. And I really mean the vast majority. Of those 22,000 top tweets I mentioned, around 83% were pro-Saudi. Indeed, as you can see from the table - mostly propaganda...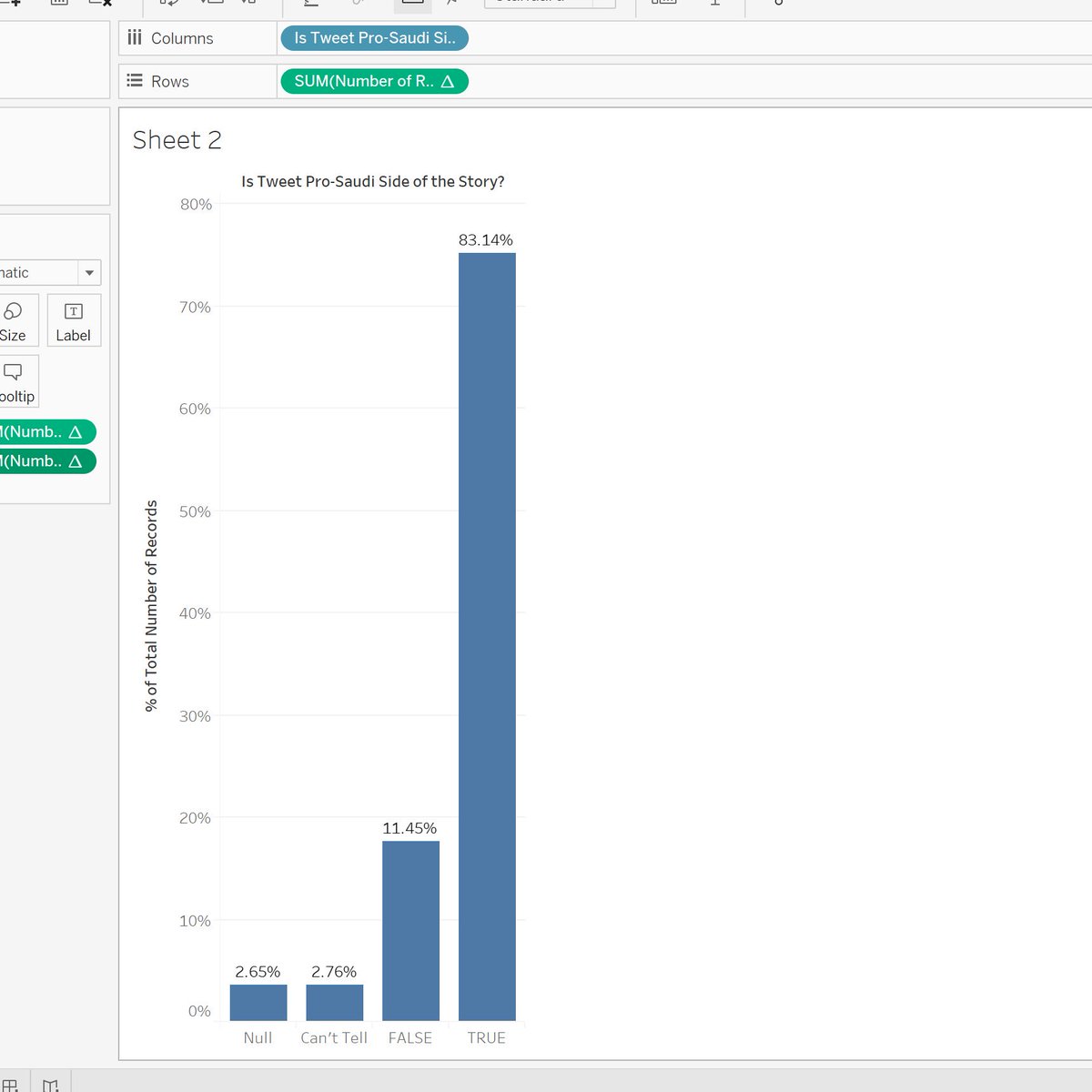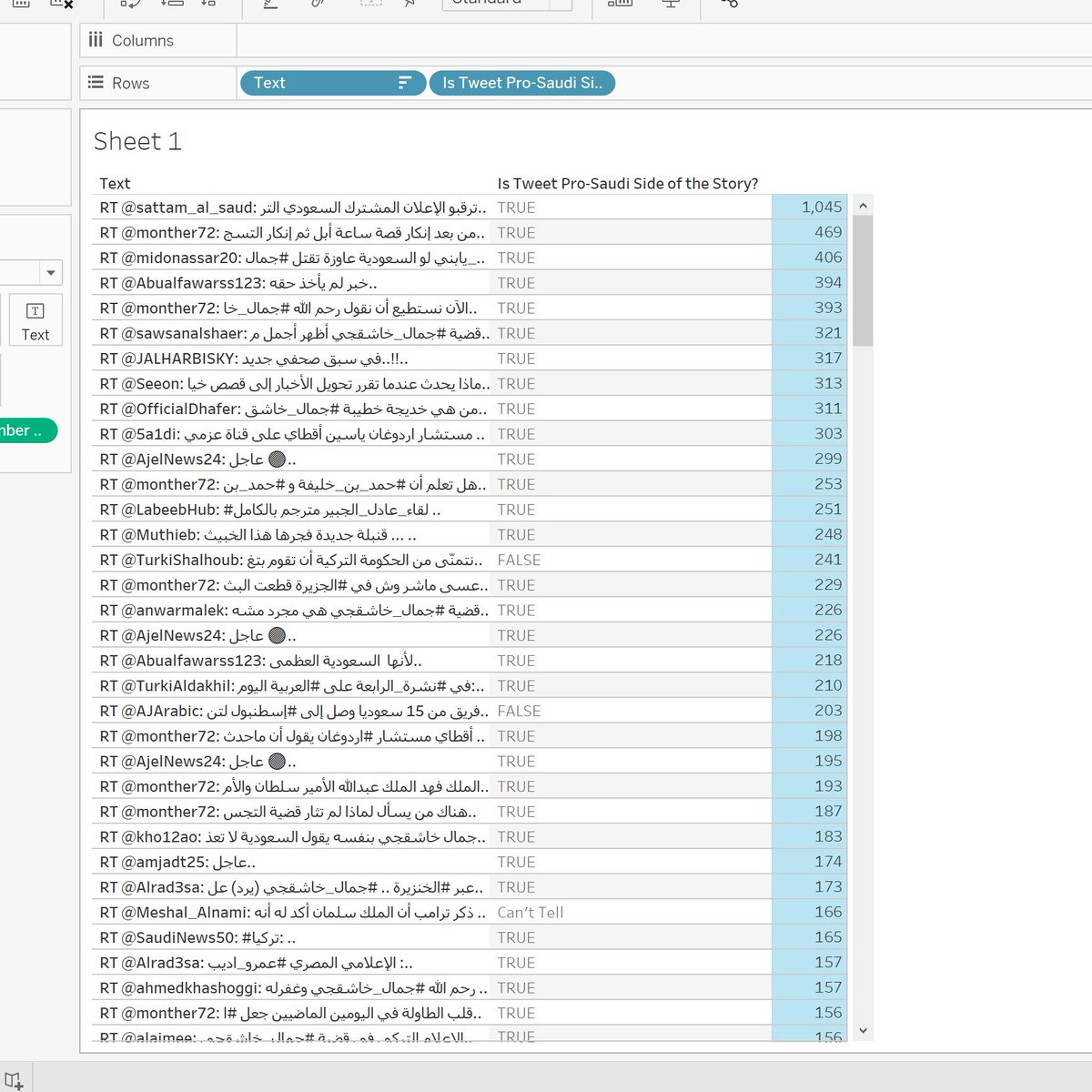 15/
What's more, one of the top tweets was this random Kuwaiti account with few followers called @midonassar22 . This was retweeted thousands of times, although that original team seems to have been deleted. However, if you paste in that tweet, you get lots of copy and paste
16/
Go on, try it.... Copy and paste this in the Twitter search bar, and then click 'latest'...See what happens "يابني لو السعودية عاوزة تقتل
#جمال_خاشقجي
كانت قتلته في اي حته تانية مش تستني لغاية لما يدخل السفارة بتاعتها و تقتله "....
18/
As if that wasn't weird enough, most of the user reported account locations in the sample were - you guessed it - from Saudi.
19/
Now unless there are inaccuracies in the Twitter archiving system I used, or by some coincidence Twitter's algorithm decided Saudis were talking SO MUCH about Khashoggi that it was no longer considered a novel trend, and thus demoted, something very odd happened...
20/
In short. In the month
#JamalKhashoggi
was killed, his name trended the least in Saudi, by a long way. Despite that, the majority of tweets on the
#Jamal_Khashoggi
hashtag were pro-Saudi, and with user locations in Saudi itself! If this is not an example of trend suppression
21/
then I am really not sure what it is. My experience would suggest there is some system that can prevent controversial topics trending in Saudi. Whether this is something that happens with Twitter complicity is unclear, as there could be cruder methods afoot. However, we do
22/
know that Twitter, despite their openness in some regards, are not firm enough on Twitter MENA in the UAE, or indeed, the country of one of Twitter's largest shareholders - Saudi Arabia. Anyway, it's shitty that
#JamalKhasshogi
's death was so polluted with Saudi propaganda
23/
It is perhaps poignant and fitting then that Khashoggi was killed around the time he was discussing with
@oamaz7
how to combat this army of electronic flies. Anyway, I wrote up some bits of this here>
jadaliyya.com/Details/38185
The coded tweets I did here is new. Anyway, hope
24/
you enjoyed this dark voyage into Twitter misinformation. I hope Jamal Khashoggi is resting in peace. I can't believe it's been a year. Keep fighting with writing all! Much love - fin -