Headline story: EAT fully upholds Employment Tribunal's findings from last November.
@Uber
drivers are workers, entitled to basic rights incl min wage
judiciary.gov.uk/wp-content/upl…
2/n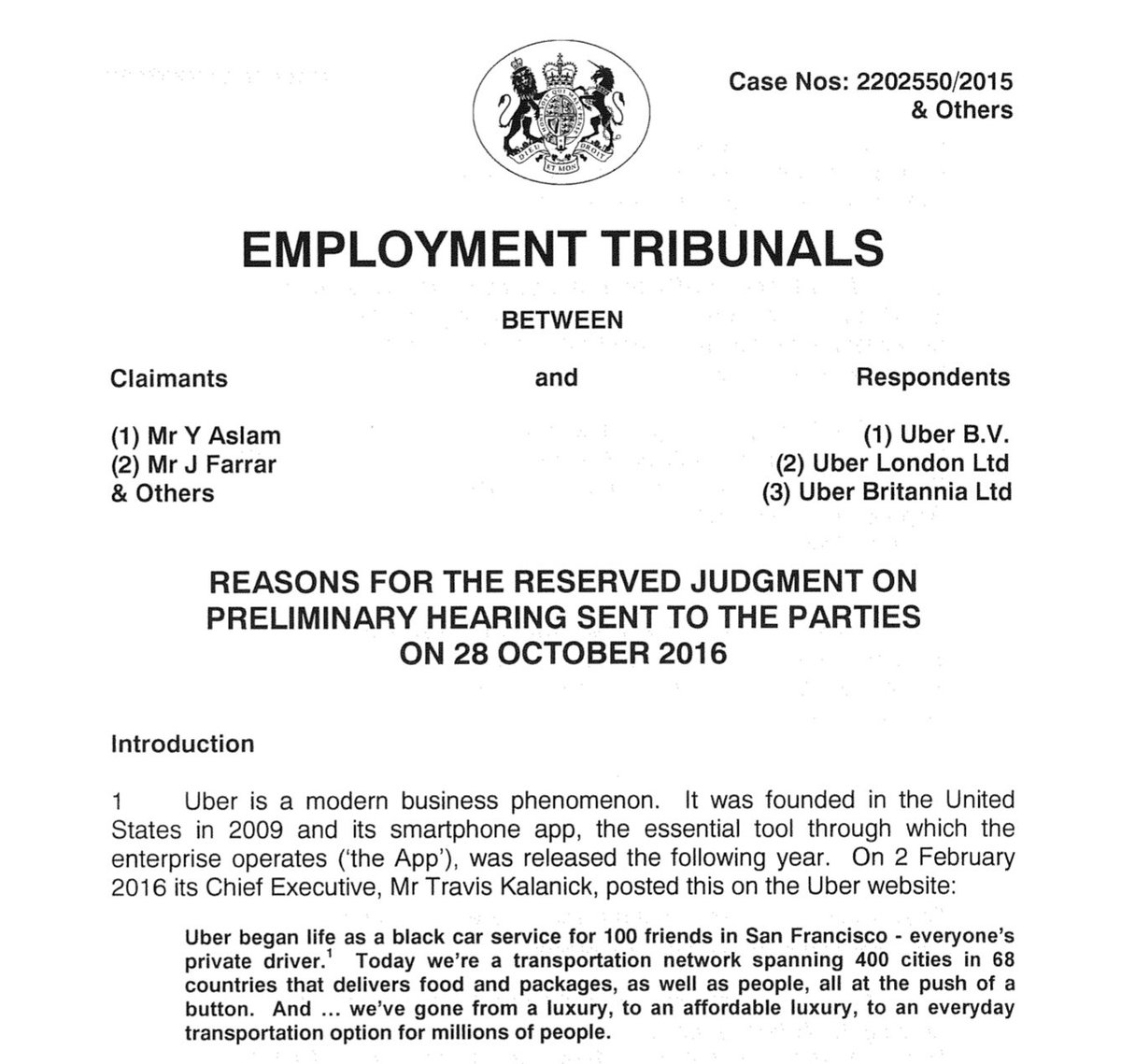 Decision starts with useful summary of key points (see my earlier comments here:
3/n
)
Her Honour Judge Eady QC the sets out the key facts, adopting the Employment Tribunal's approach (albeit with the Shakespearean flourish) 4/n


Finds clear personal service obligation, both during 'onboarding' and subsequent access to the app [10]-[11] 5/n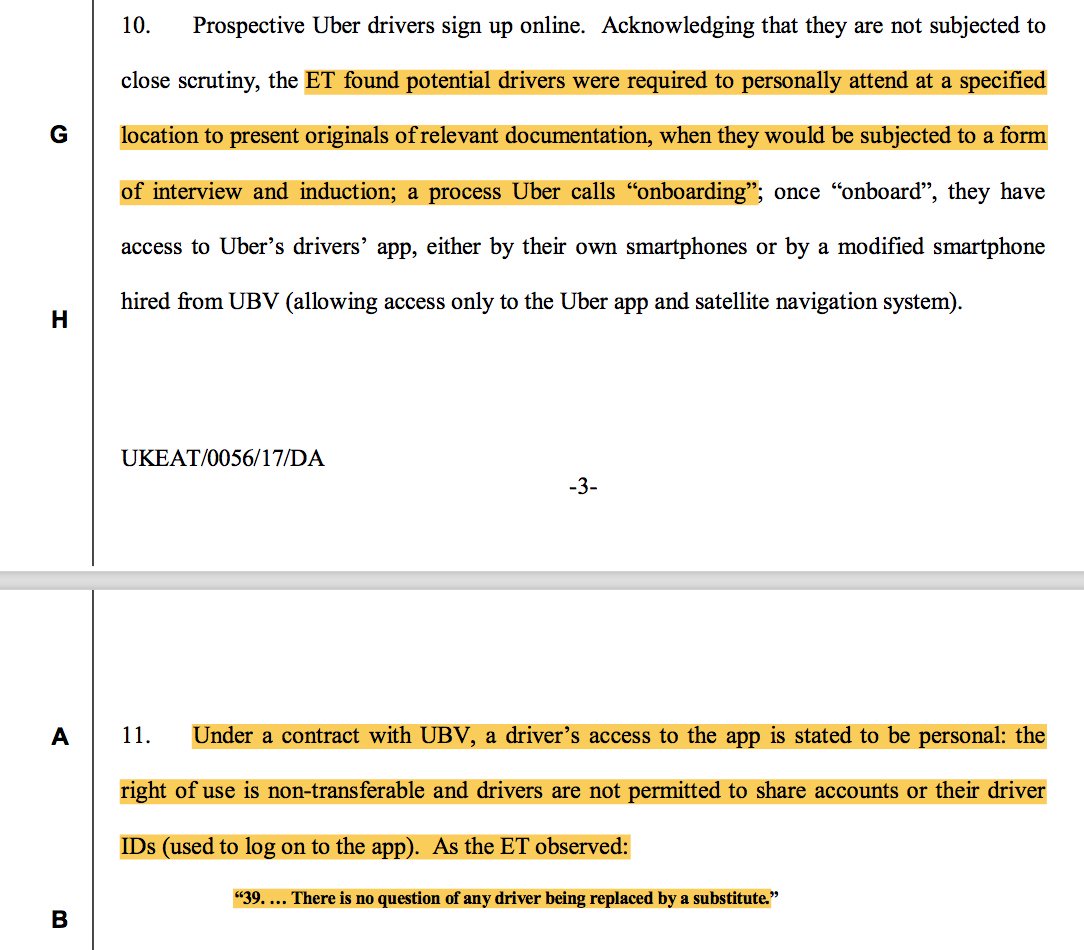 'Welcome Pack' with detailed instruction includes clear limitations on driver – passenger contact 6/n


Notion of 'recommendations' clashes with potential legal consequences: if not followed, 'may constitute a breach of your partner terms' 7/n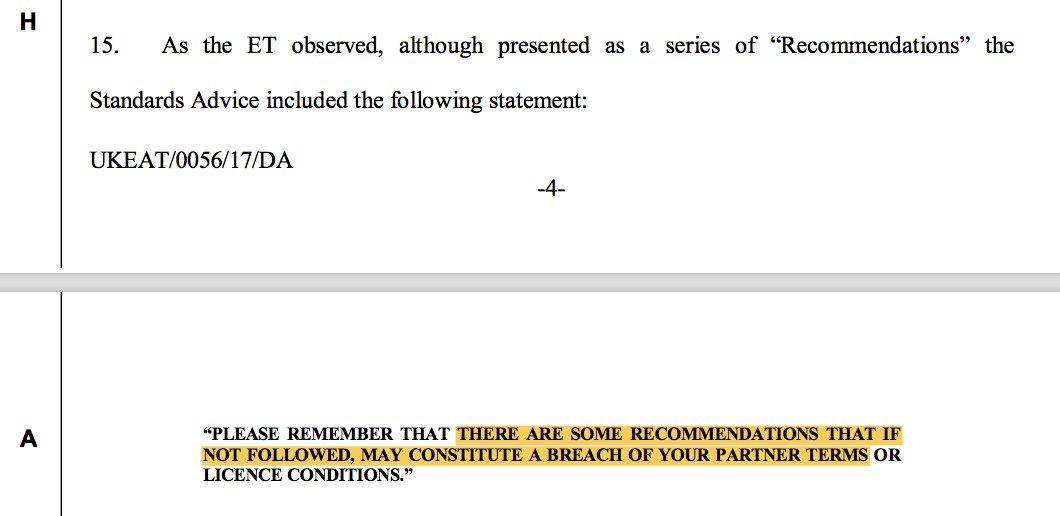 Oher elements of business model include stipulations as to which cars drivers can supply… 8/n


… the technical freedom to negotiate lower fares than those stipulated by the app … 9/n


… and app-generated invoices addressed to passengers on drivers' behalf. 10/n


Acceptance statistics render freedom to accept rides 'nominal', even though deactivation period lowered from 10 to 2 minutes
11/n
On control, EAT extensively cites ET 'examples of control being exercised by Uber over how drivers performed their work'… 12/n


… whilst also highlighting factors 'suggesting that the drivers operated as independent contractors' 13/n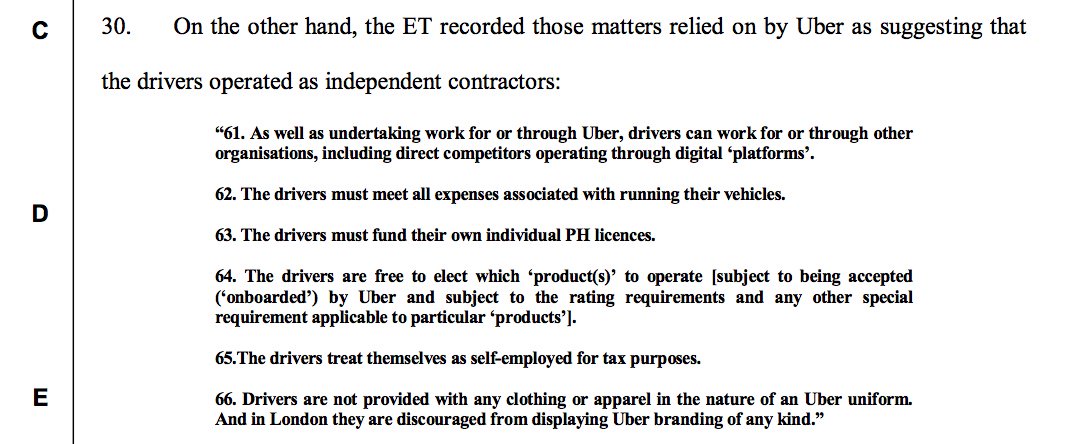 There follows an extensive discussion of Private Hire Licensing regime (of interest only to the bravest of lawyers…) 14/n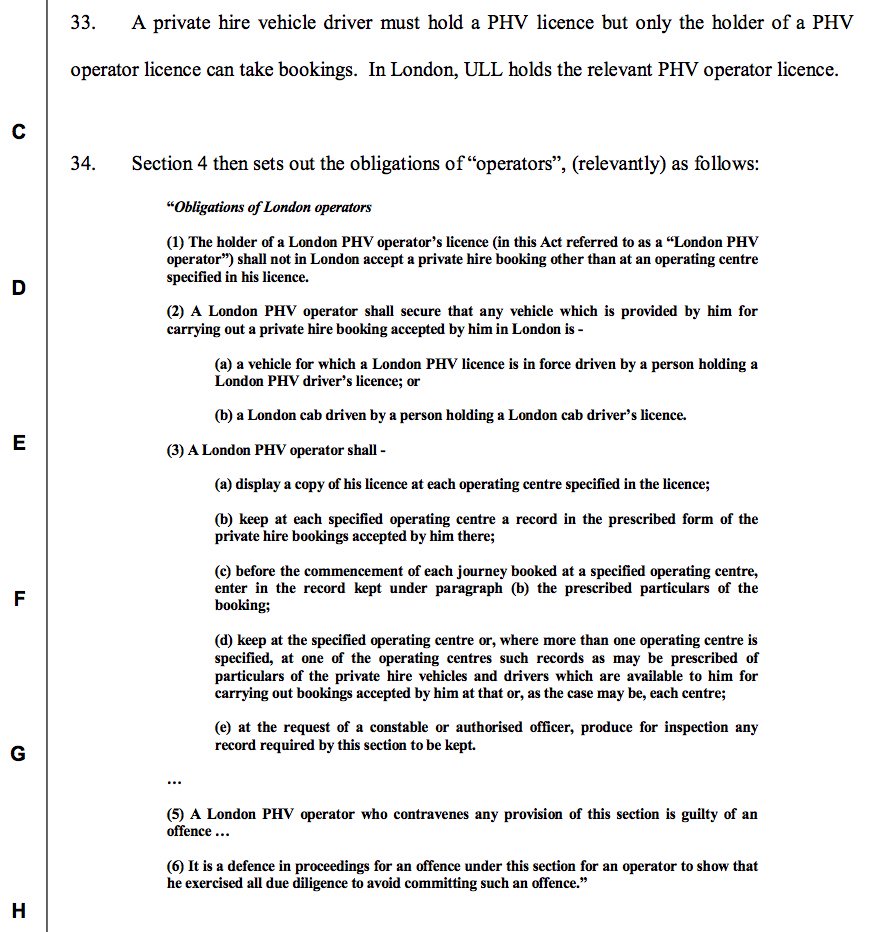 This is key to
@Uber
's appeal: in the absence of direct contracts, 'Uber says much is determined as a result of this regulatory framework' 15/n


Both drivers and customers contractually agree that
@Uber
does not provide transportation services, but is merely an agent. 16/n


Under those terms,
@Uber
'is a technology services provider that does not provide Transportation Services' 17/n


The problem w/ these provisions? ET found language in contractual documentation 'incompatible' with 'other materials emanating from Uber' 18/n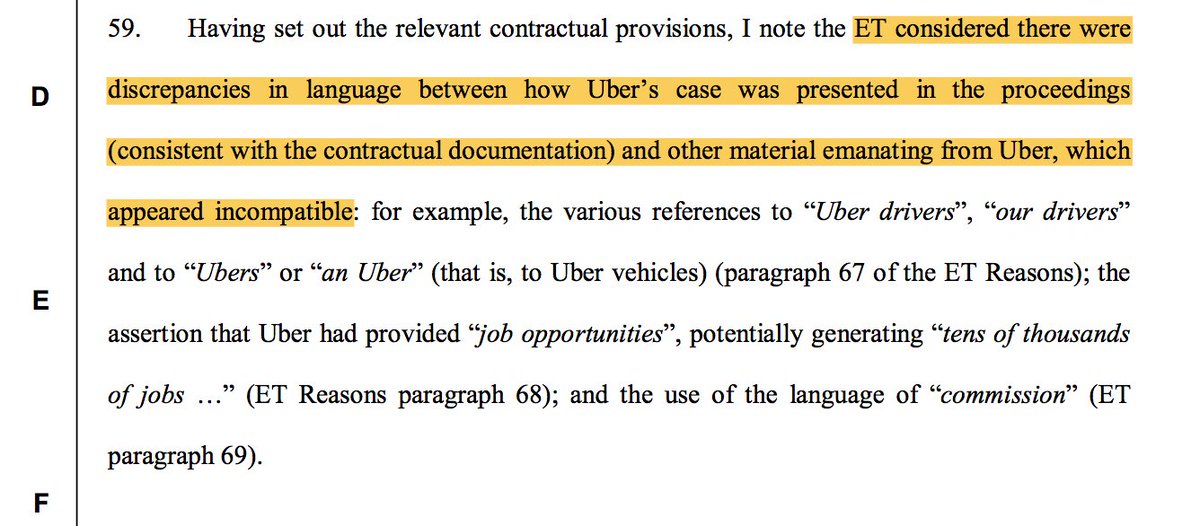 HHJ Eady then turns to the legal framework: worker status under s 230(3)(b)… 19/n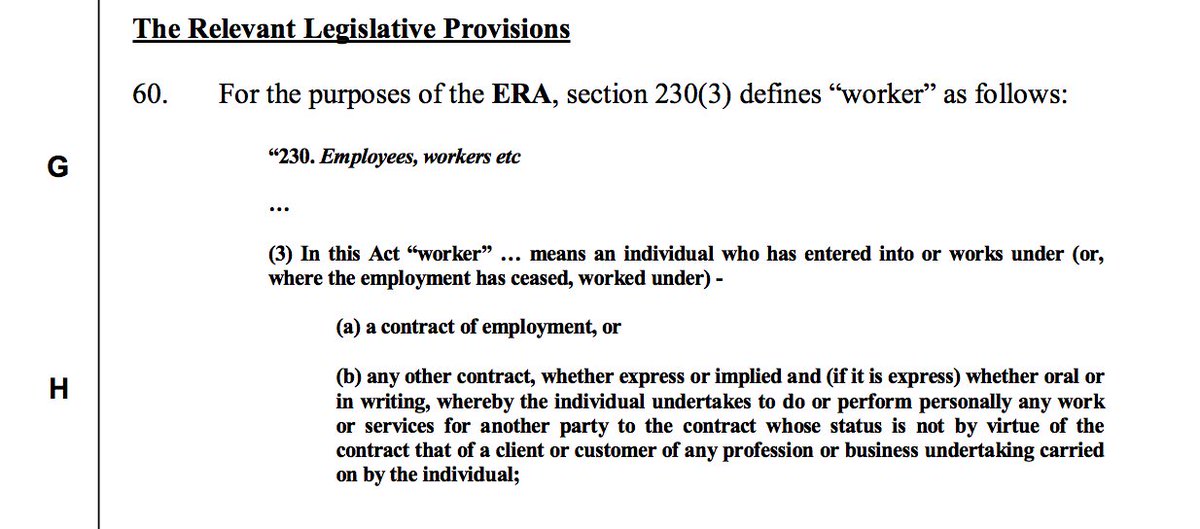 … and sets out the ET's (highly critical) findings and conclusions. 20/n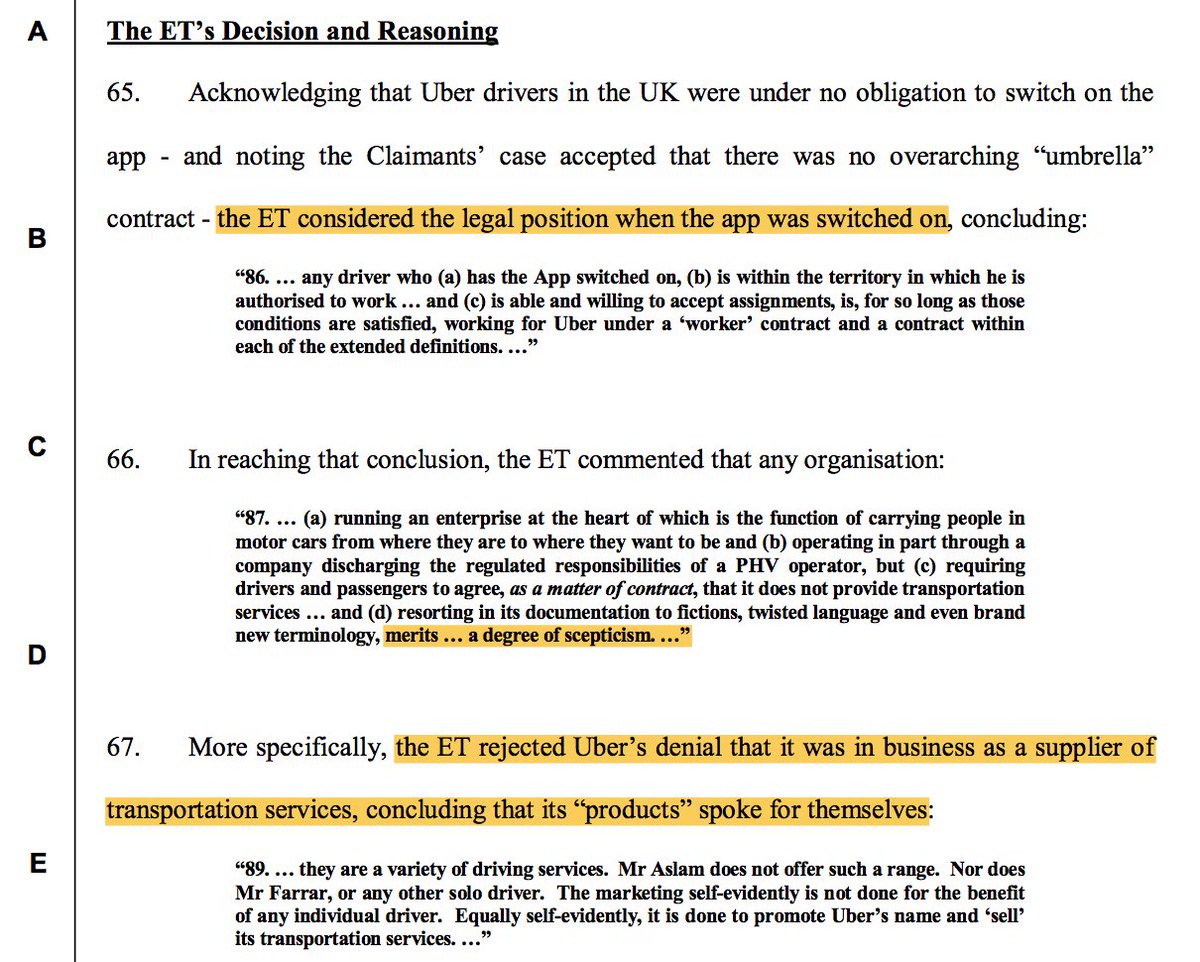 Reminder of ET finding that Uber was not working for drivers, but the other way round 22/n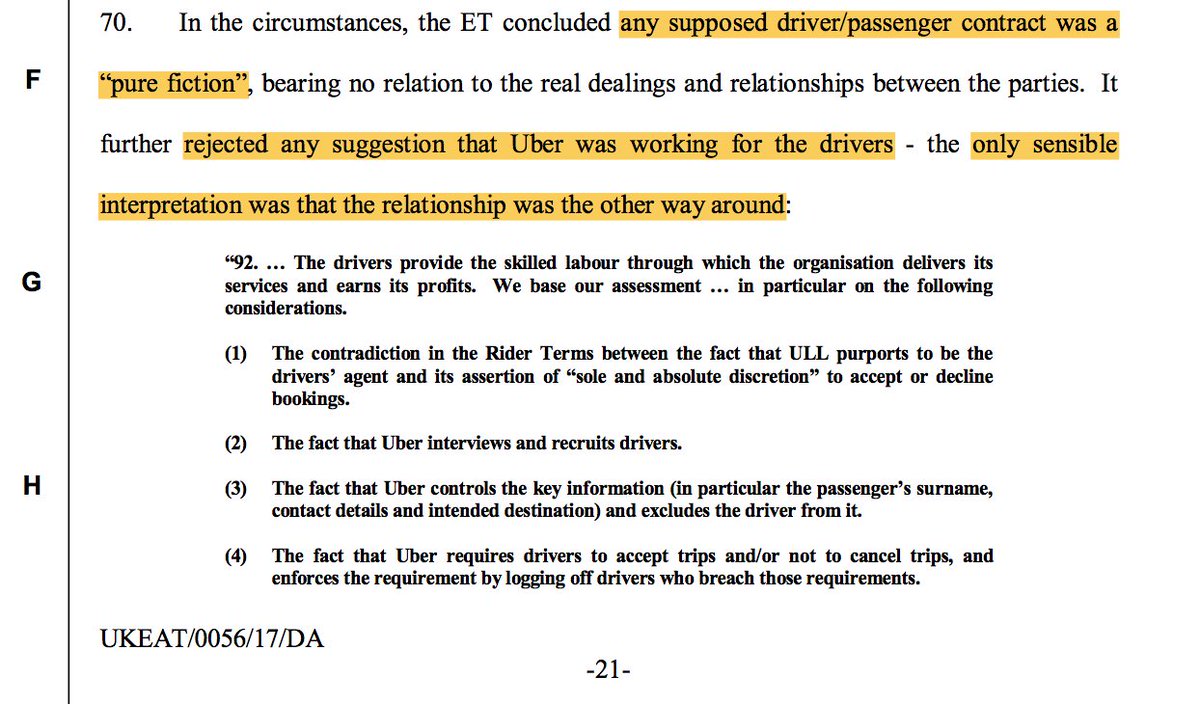 Reality diverges from contractual terms, hence ET allowed to disregard the latter (Autoclenz) 23/n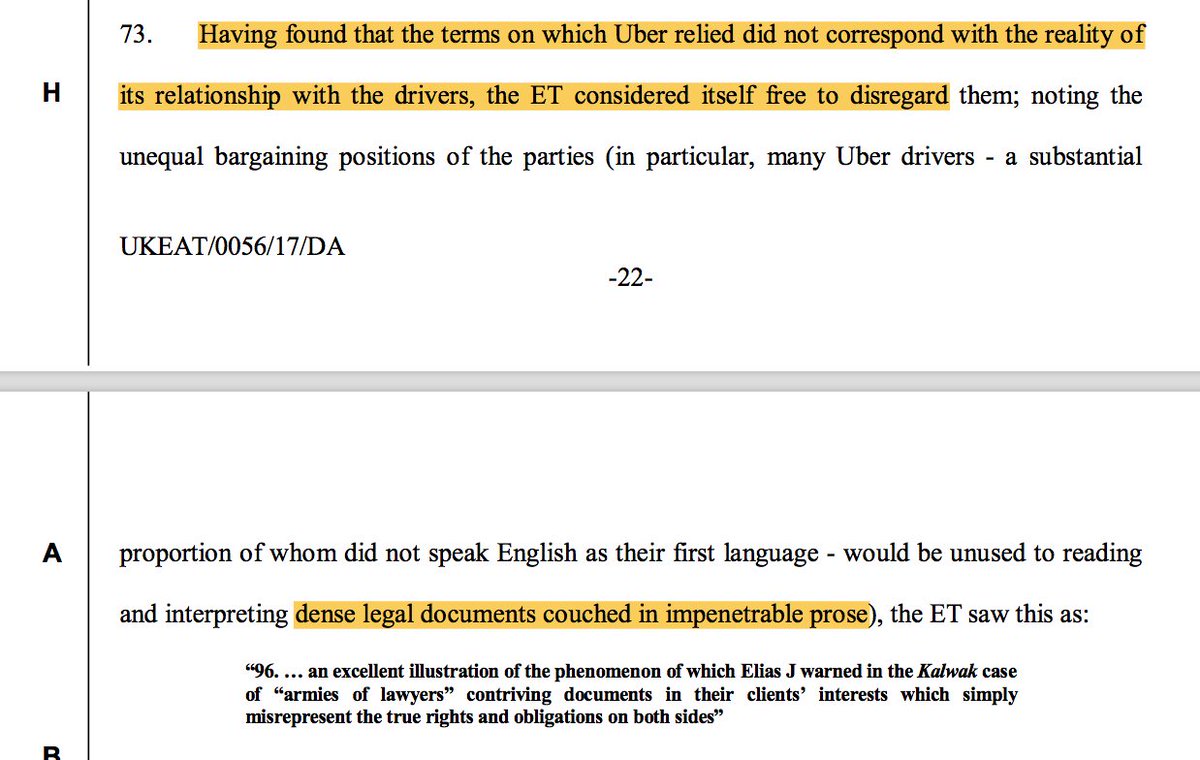 On to
@Uber
's challenge: app is 'a powerful piece of technology', ULL merely exists for regulatory purposes. Powerful legal implications: if true, agency (rather than employment) law applies. 24/n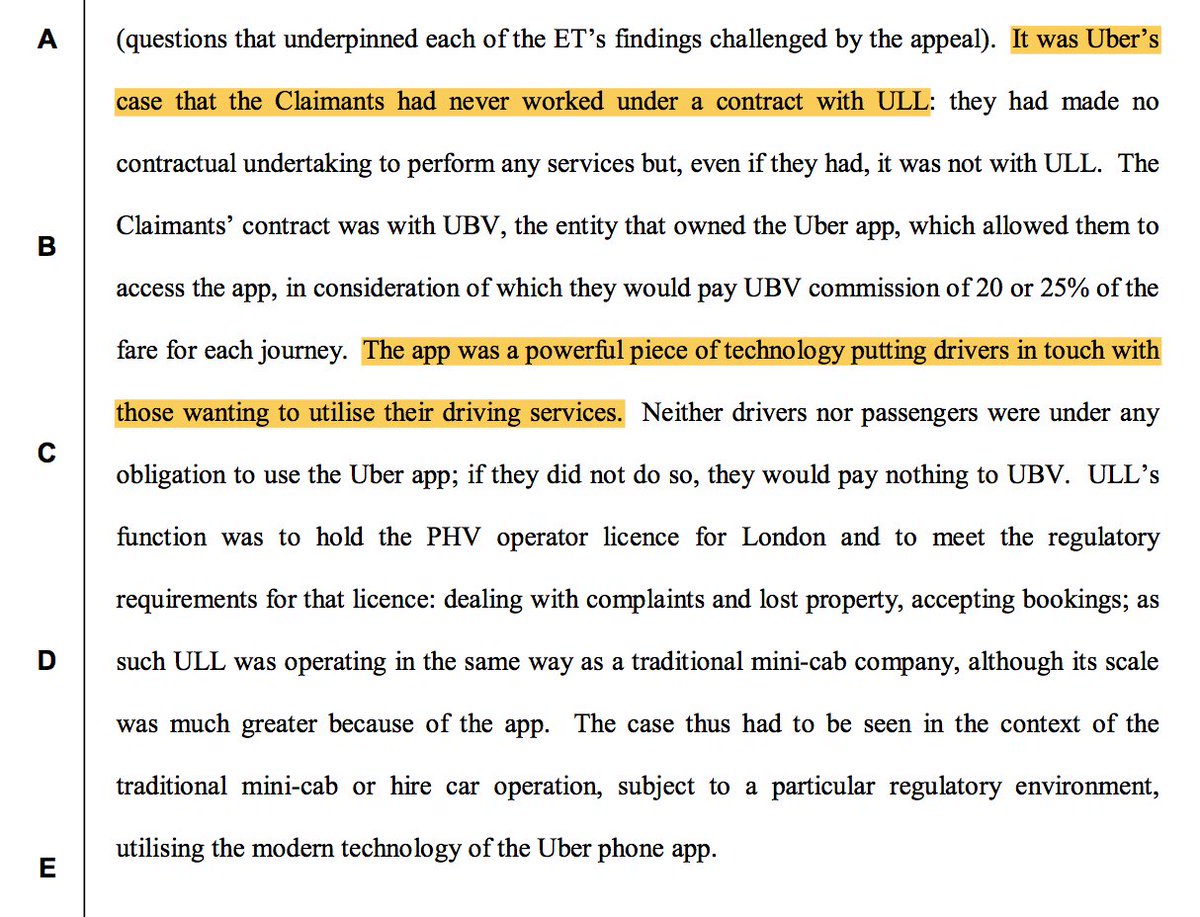 There follows a detailed discussion of min-cab cases, both from employment & VAT perspective: I'll spare you the detail; they go either way depending on facts. 25/n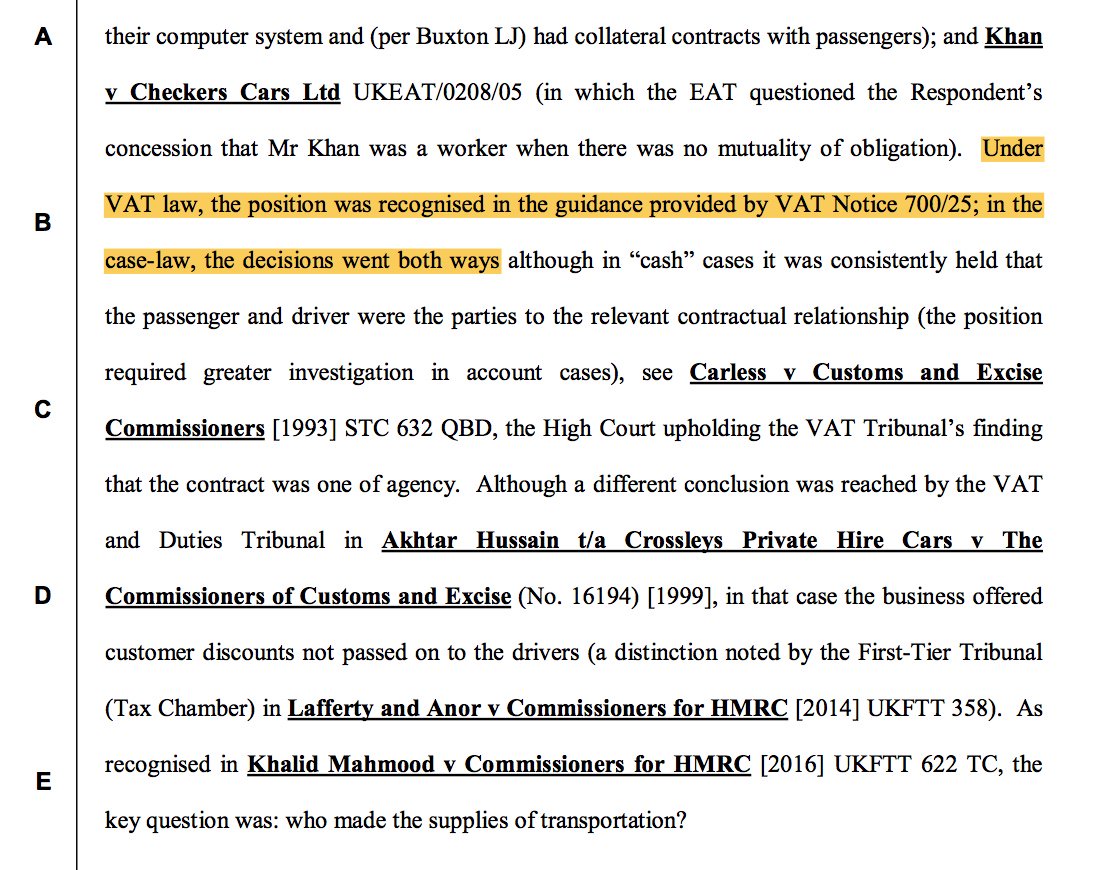 .
@Uber
relies on Royal Hong Kong Golf Club (1998 Privy Council) and more recently Stringfellows v Quashie (2012 EWCA) 26/n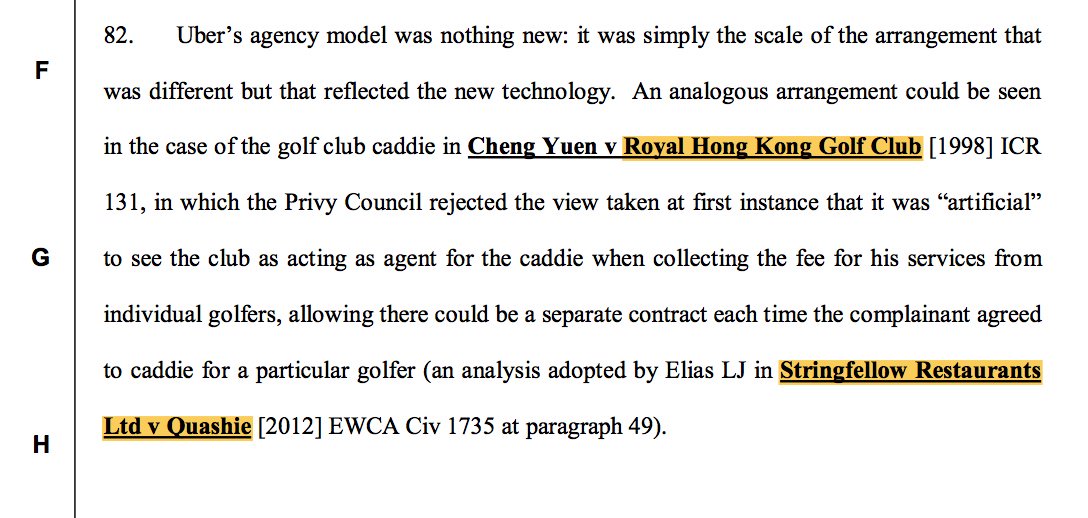 This is the heart of the argument: ET erred in rejecting agency analysis – 'Uber was simply [the drivers'] agent' 27/n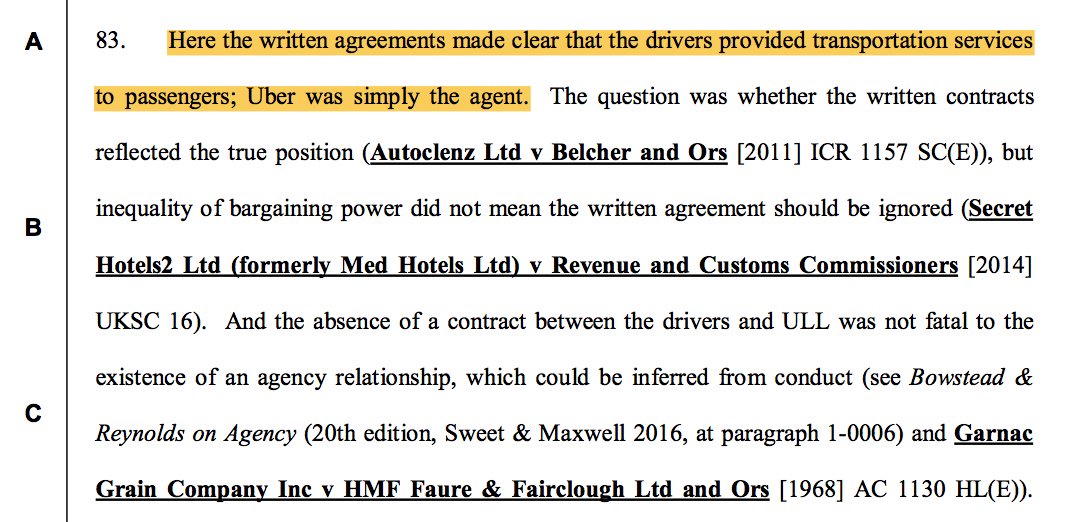 Further challenges include error in relying on regulatory requirements as indicia of employment relationship, and challenges to factual findings 28/n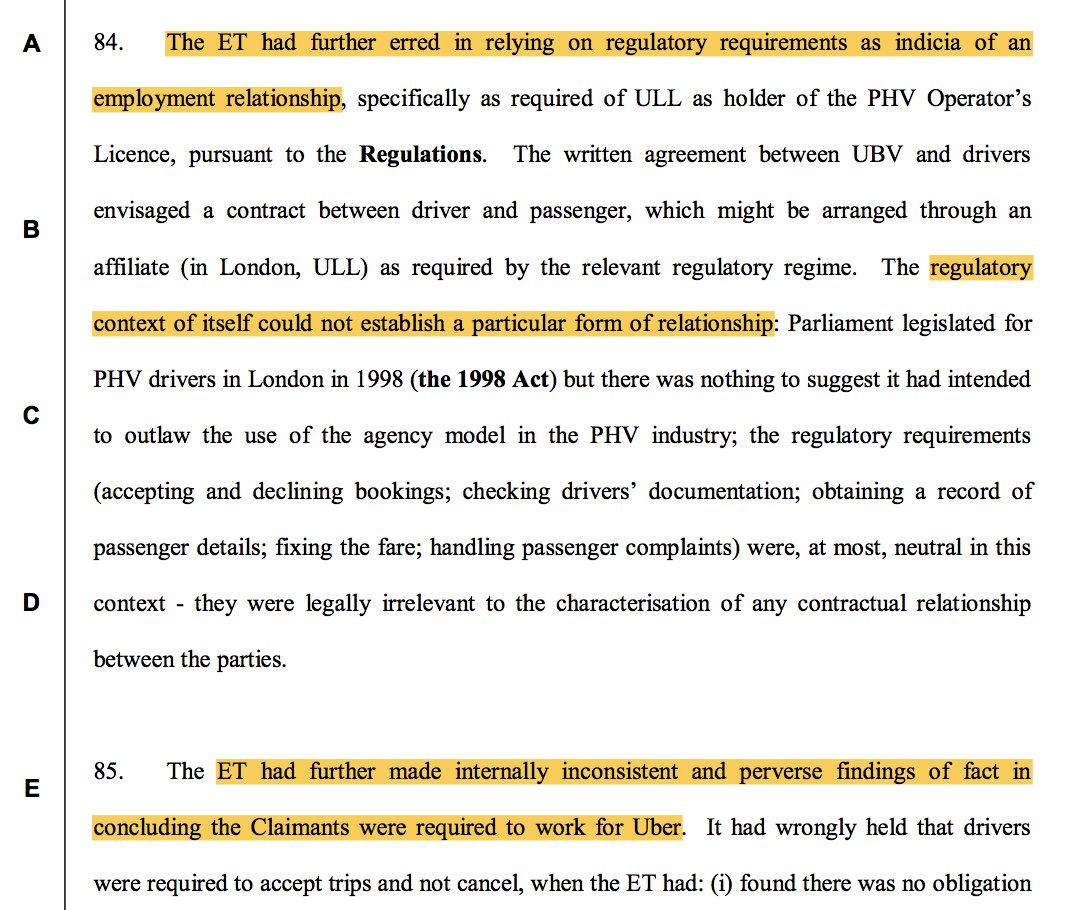 At [103], Her Honour cuts to the chase: 'when the drivers are working, who are they working for?' 29/n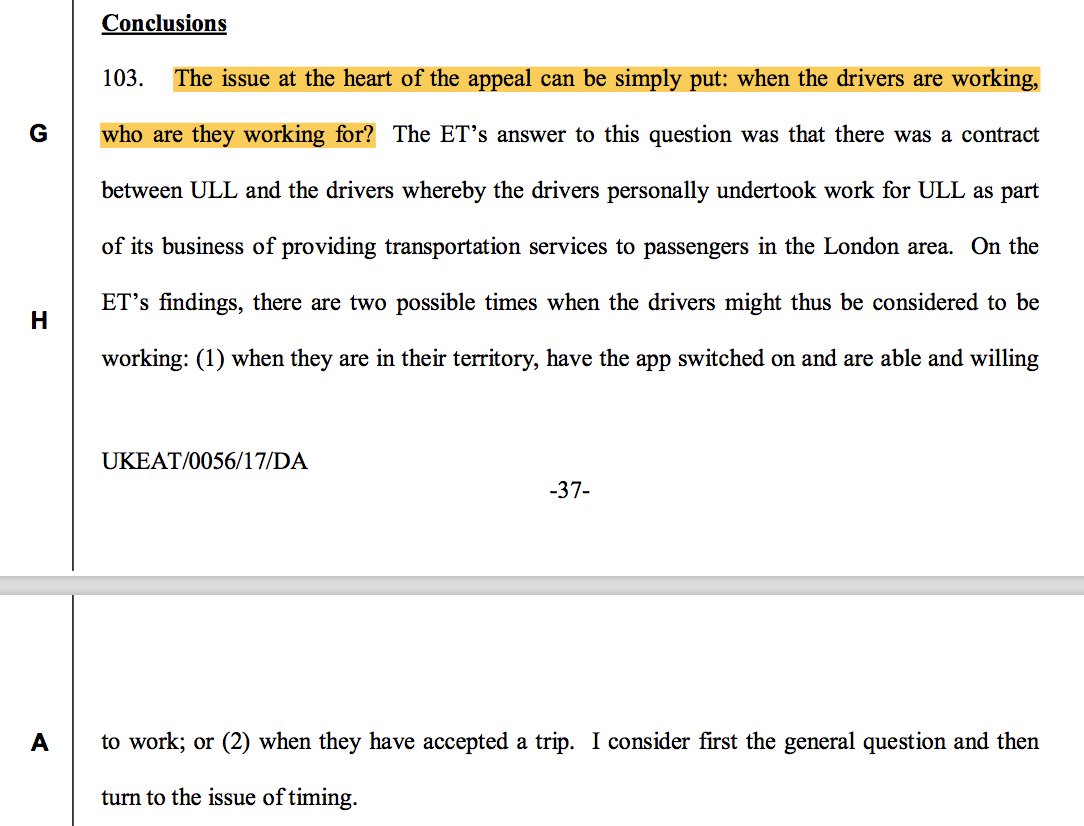 The agency arguments are dismissed as a matter of business reality; 'in part, due to the size of the operation' 30/n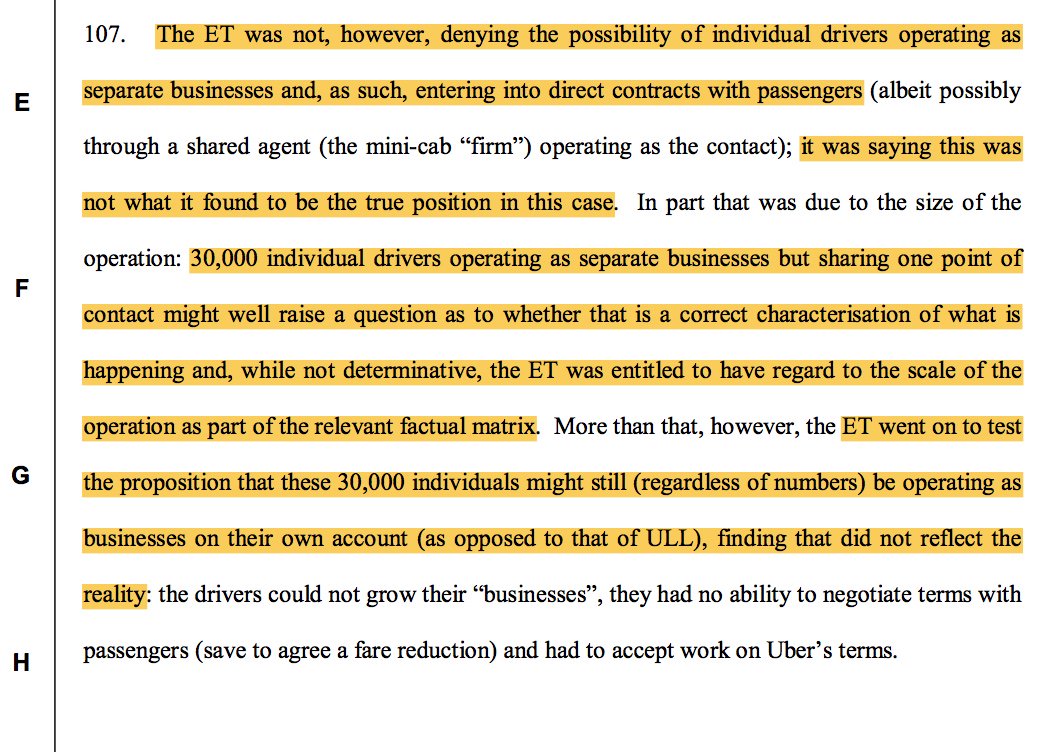 Employment Tribunal not bound by contractual labels: 'concerned to discover the true nature of the relationships' instead 31/n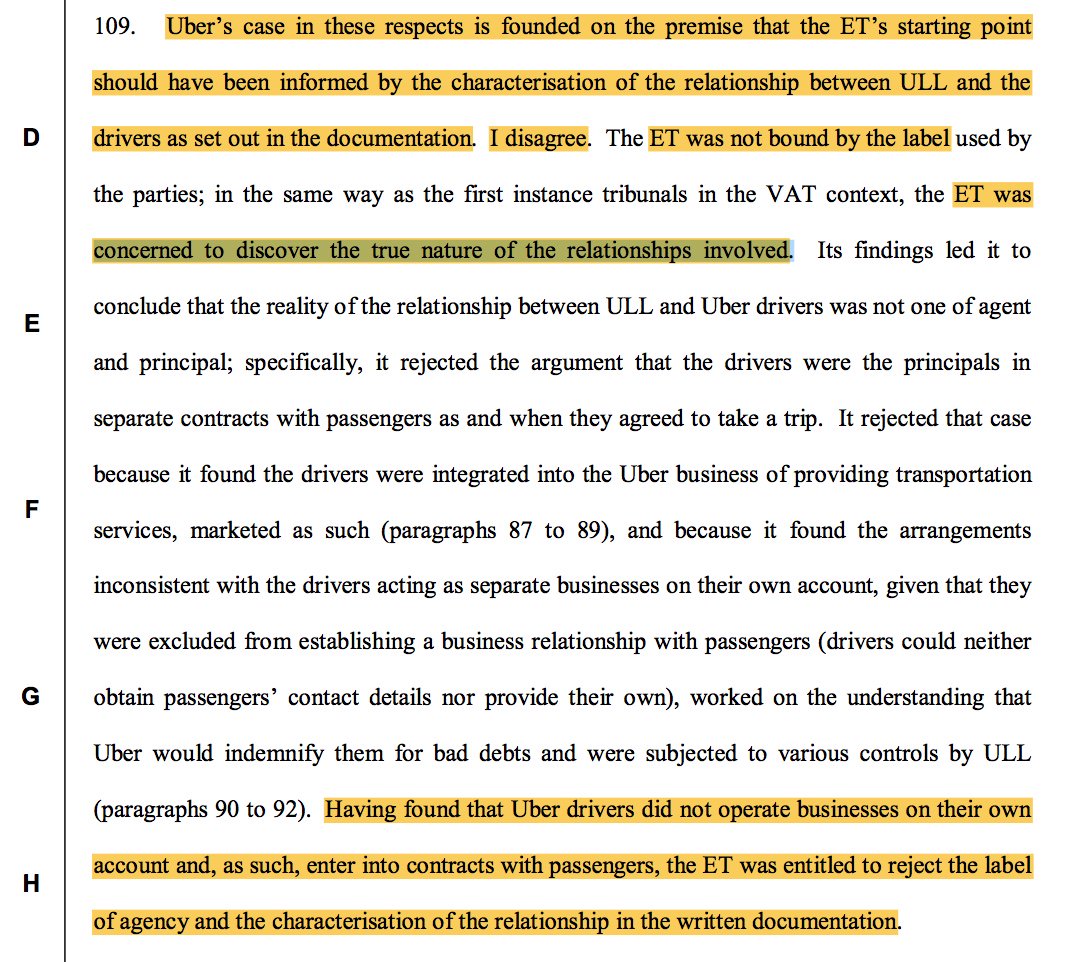 Personal service requirement shouldn't be disregarded 'simply because [of] compliance with a particular regulation' 32/n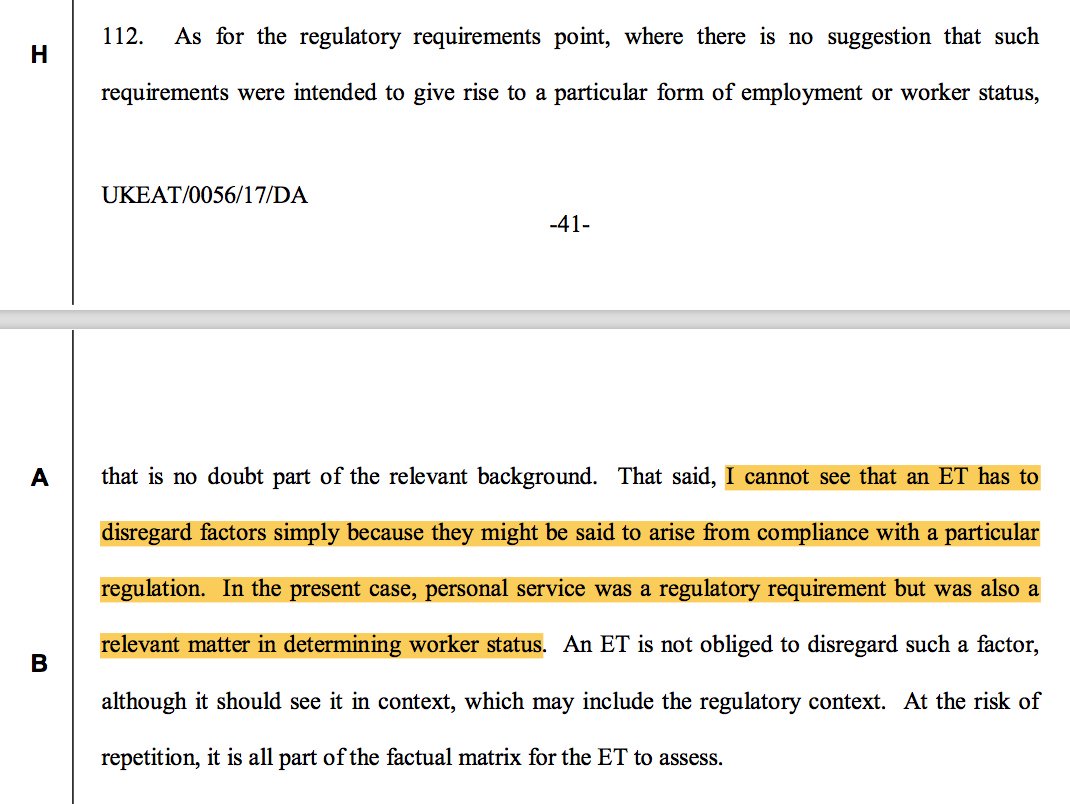 In any event, control in this case not limited to matters arising as a result of regulation 33/n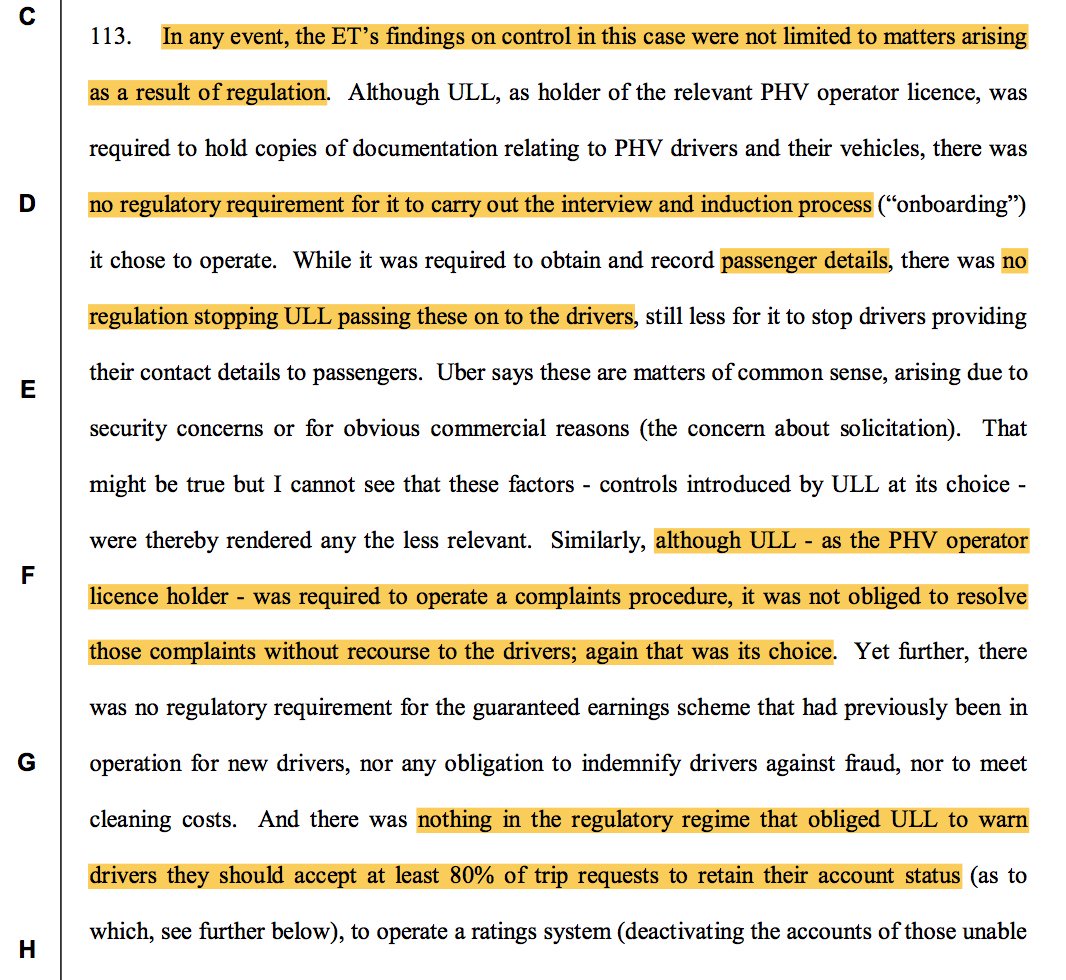 The absence of an obligation to accept trips 'was nuanced by the finding that a driver's account status would be lost if there was a failure to accept at least 80% of trips' 34/n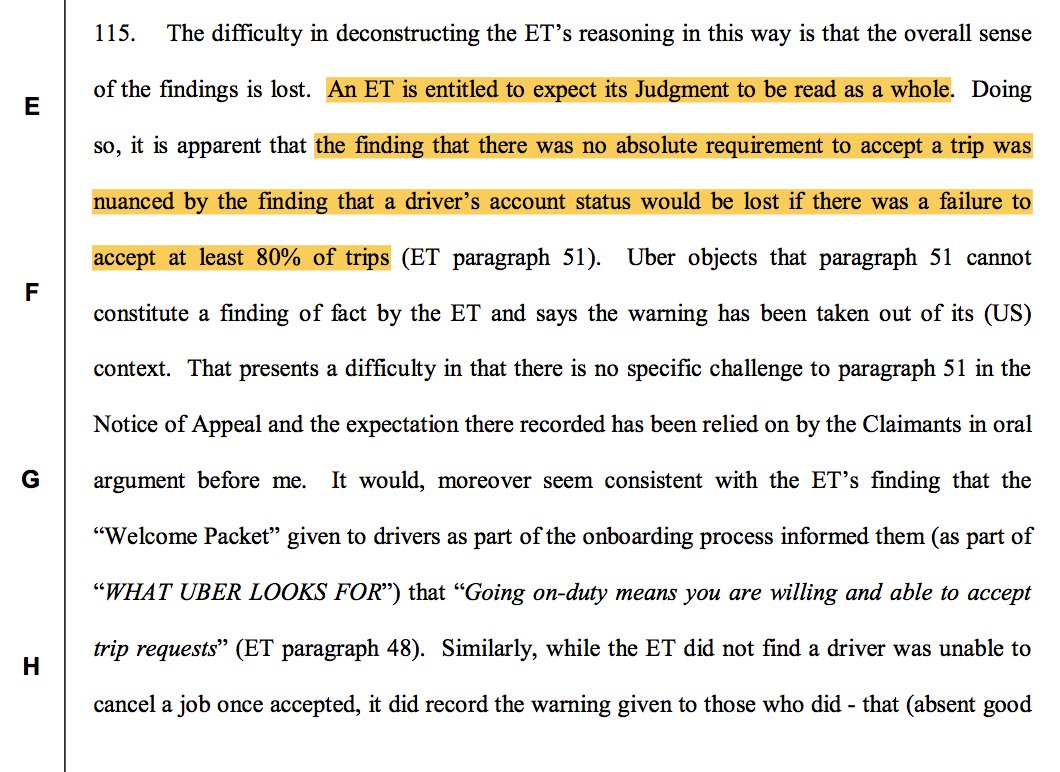 Result: ET correct to conclude that there was a personal service contract between ULL and drivers; workers status upheld. 35/n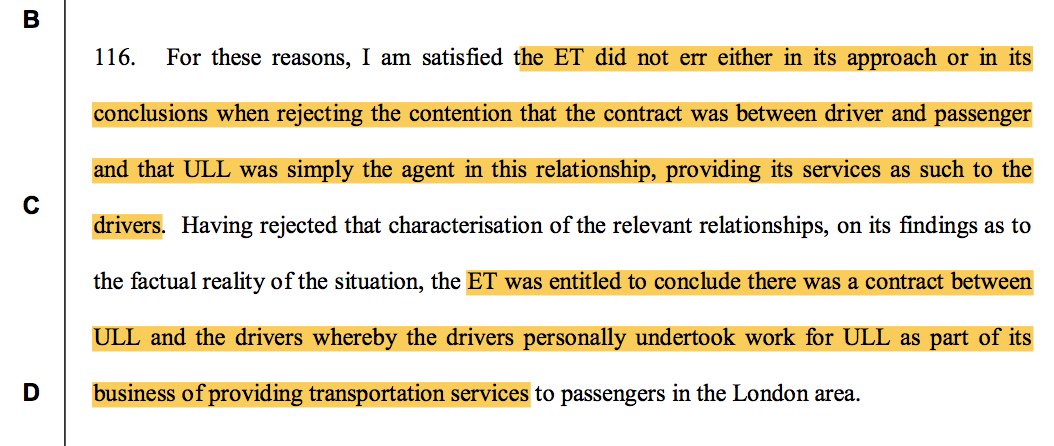 There's more to come on the working time question, but for now: legally, there's not much that's exciting here beyond the rejection of the agency approach. Tribunals look to facts, rather than just contracts. 36/36