2)
January 5th Grassley informs us that his staff (and Graham's) are working with the DOJ to redact and release the unclassified portions of the
#GrassleyMemo
grassley.senate.gov/news/news-rele…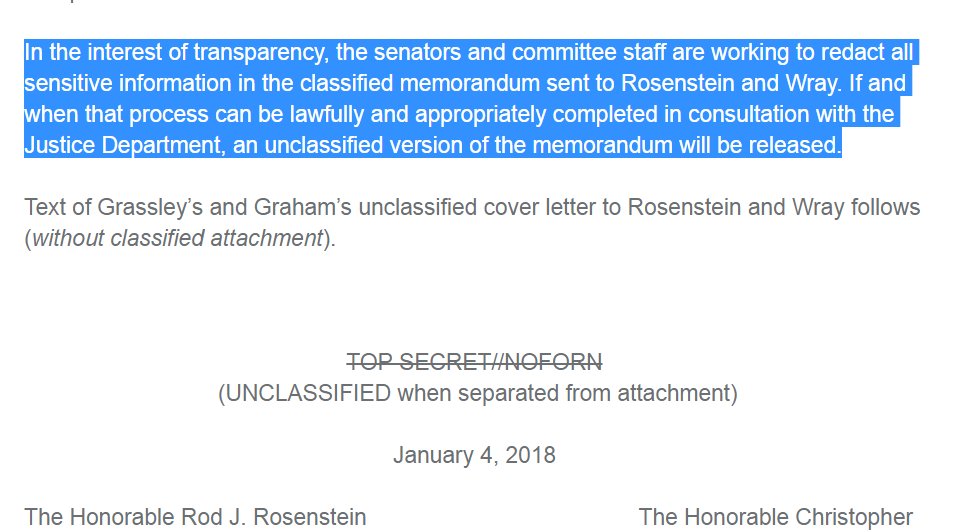 3)
By looking at the bottom of the January 4th memo we can see who has seen the memo and the classified attachment other than Grassley, Graham, Rosenstein, and Wray.
Feinstein
Burr
Warner
Nunes
Schiff
grassley.senate.gov/news/news-rele…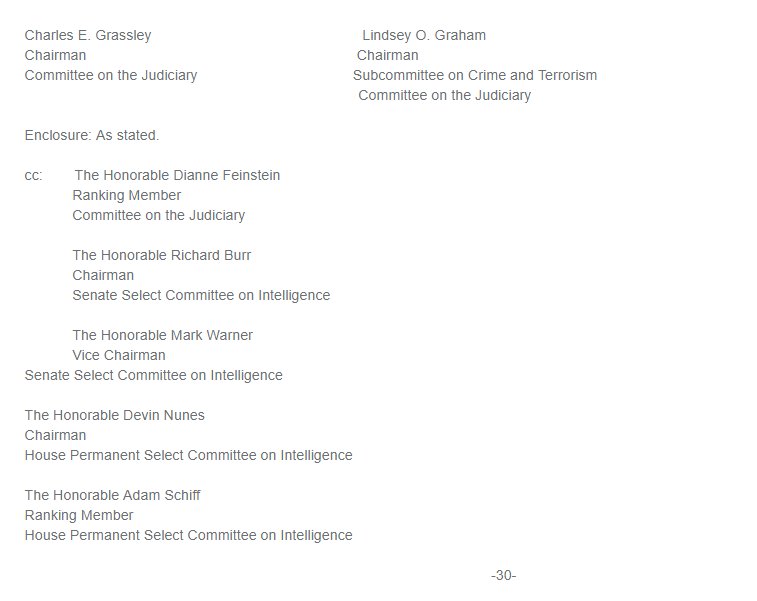 4)
The next update we get is on January 24th. Grassley informs us that the DOJ has agreed to let full committees* review the
#GrassleyMemo
but NOT the underlying classified documentation. He is pushing for more.
*Senate Judiciary and Subcommittee on Crime and Terrorism
5)
Senate members cleared as of the 24th to view the
#GrassleyMemo
but not the underlying documents.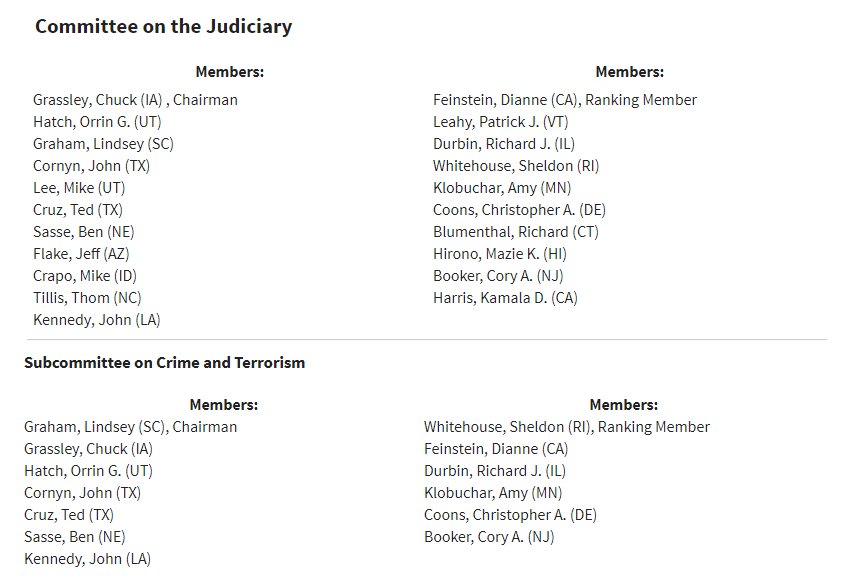 6)
Important to note that just because they have been cleared does not mean that they have views the
#GrassleyMemo
. Dems will avoid seeing it so they can freely criticize it in the media and not be accountable to the facts. (The Schiff maneuver)
7)
Grassley - DOJ and FBI are playing "Hide the Ball."
At issue is a classified detail of the
#GrassleyMemo
that is repeated throughout the memo. DOJ passed the declassification ball to the FBI. Chuck has put the heat on Wray via a hand written letter.
8)
Grassley Ups the Ante!
"I just don't mean the summary memos (Nunes and his) the government should RELEASE THE UNDERLYING DOCUMENTS referenced in those memos after deleting any national security information that needs to be protected...The American people deserve the truth."
9)
Here is where we were at on the 24th.
1.
Grassley/Graham cmtes were cleared to view the memo but not the underlying documentation. (That does not mean that they have viewed it)
2.
DOJ passed the ball to the FBI
3 . Grassley is pressuring Wray to declassify the
#GrassleyMemo
10)
Grassley and Wray are at odds over a specific detail repeated in the memo. Grassley did not concede that this detail is a threat to Nat Sec and made the case that it is not. We will find out soon how this conflict is resolved.
#GrassleyMemo
11)
Speculation and Spin
"Stale, recycled media spin from journalists and pundits who do not have all the facts is not enough. The country is filled with frenzy and speculation, but hungry for facts... I cannot release this information on my own."
12)
By going to the floor on the 24th he publicly shined the spotlight on Wray and started the clock ticking. Now that the
#NunesMemo
has been released that clock is now ticking in earnest.
#GrassleyMemo
. Note the timing.
13)
In the meantime we study what information we have so that we can be equipped to weather the media and pundit speculation. Which is why I ask everyone to RT the information surrounding the
#GrassleyMemo
that I produced here>
14)
In addition to putting the spotlight on Wray Grassley also went to floor to signal us to turn up the heat. This past week the
#NunesMemo
sucked all the oxygen out of the room. Now that it has been released it is GO TIME on the
#GrassleyMemo