Levine:
"Thus, a primary foundation for what became the
#Russiancollusion
narrative did not involve Russia, but arose due to Britain's visions for itself."
#Londongate
Sidenote: Levine also cites the connection between British Intelligence, the CIA and the infamous Collin Powell WMD speech at the UN.
In
#DecipherYou
,
@Suzi3D
and myself noted SIDToday files wherein the NSA brags about influencing this same speech among others.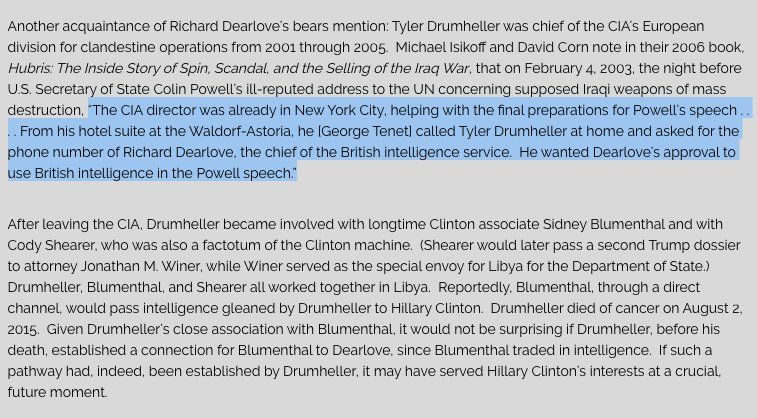 More from Levine: "
#Halper
's national security imperatives according to his statement are risk-aversion, modulation, and predictability. Given these precepts,
#DonaldTrump
represented a grave threat to world order and stability, for he is disruptive of established orders. "
Levine: "Established political entities, such as the British and American intelligence communities... are highly susceptible to constituency erosion if a rival political actor innovates through disruption. This is the paramount threat that Donald Trump posed."
Levine: "It is not too much to state that this threat was met by actions, legal or clandestine, which ironically imperil the political establishments that such actions were designed to defend."
Levine: "Several other former governmental officials with associations to Hakluyt must be considered. Richard Ledgett serves as a senior advisor to
#Hakluyt
Cyber. According to the company's website, "Rick served as Deputy Director of the NSA."
Levine: "Given the sensitivity of
#NSA
's operations, legitimate questions may be asked concerning the wisdom of allowing past senior officials to migrate to positions within foreign firms whose specialty is intelligence."
Levine: "In general, such an exodus of high-ranking personnel increases the potential for the exfiltration of information and methods by other nations...

Louis Susman, President Obama's ambassador to the United Kingdom, serves on Hakluyt and Hakluyt Cyber's advisory boards."
Levine: "The dimension, therefore, of Turkey's actions to subvert the Trump candidacy should be the immediate subject of focused investigations, both public and private."