The decision is by Judge Royce Lamberth, who serves as a federal district court judge, after he was confirmed to that position with the US District Court for the District of Columbia during the Reagan administration.
This particular JW case raises the question whether the State Dep't, Clinton, Obama, & Co. deliberately hid from discovery and disclosure THOUSANDS of emails related to the BUSINESS of the US Government that
@HillaryClinton
sent via her private email server.
Judge Lamberth's opinion begins w/ the now infamous command by the Obama administration that the agencies of the
#fedgov
under Obama's administration would always opt toward openness: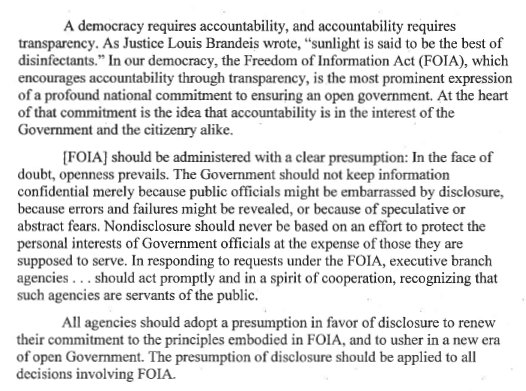 I say "now infamous" because no matter how noble the expressed sentiment seems, the history of Obama's eight year administration of the federal government has been a history of hiding, of occluding, and of lying to the People.
Rather than producing the supposedly desired "openness," the Obama administration set new records in the stymying of, denying of, and slow walking of responses to FOIA requests.
No. That's not from Infowars.

It's not from Fox News.

It's not off the Rush Limbaugh newsletter.

No.
This is a serious charge:

"But in this case, faced with one of the gravest modern offenses to government transparency, his State and Justice Departments fell far short. So far short that the Court questions, even now, whether they are acting in good faith."
One of the GRAVEST MODERN OFFENSES TO GOVERNMENT TRANSPARENCY.
And that is the tale of the tape. In the opinion of the independent judiciary, the Obama administration presided over one of the gravest modern offenses to transparency!
For court watchers,
@JudicialWatch
is now awaiting word from the federal court as to what further discovery the Court will subject the Dep't of State. An order could issue at any time, and may ultimately result in
@HillaryClinton
and her assistant,
#cherylMills
sitting for depos!