In characterizing
@DisobedientNews
as a hard-right news source, a smear lands on not only the writers producing work with this outlet, but also those whose stories this outlet has covered.
The first article cited by Media Bias Fact Check in its report on DM is a clearly-labeled opinion piece authored by this writer, which focused on the multiple unprosecuted felonies committed by former Broward County Elections Supervisor
#BrendaSnipes
disobedientmedia.com/2019/01/opinio…
In MBFC's assessment, an opinion piece which decries documented crimes that have cheated progressives of a voice is an example of hyperbole.
MBFC omits that the article in question and many other opinion pieces penned by this author have shown clear support for progressives & greens, not the right-wing.
In other words, the same articles MBFC finds fault with actually contradict their own verdict on
#DisobedientMedia
's "right-wing bias."
Apparently, anyone who publicly discusses the corruption within the Democratic Party is now an alt-right Putin troll.
Later in the page, Media Bias Fact Check writes:
"DM is a staunch defender of
#JulianAssange
,
@Wikileaks
, and
#Guccifer2
.0. All of which have known and factually proven ties to Russia."
........
MBFC embarrasses themselves further, writing:

"In multiple articles [DM] claims that Guccifer is not a Russian operative, or is being framed as such, when multiple factual sources have verified that not only did the files they shared came from Russian sources, but that.."
"...Guccifer is actually a persona run by GRU, the Russian Intelligence Service."
Nevermind MBFC's lazy error regarding
#Guccifer
vs
#Guccifer2
.0, we can say outright that
#DisobedientMedia
has never "defended" the G2 persona, and we have never published or covered analysis claiming the persona was "framed."
That MBFC would outright lie in this manner might at first seem to be the result of faulty research or lazy editing.
However, the placement of WL in the same sentence as
#Guccifer2
, followed by the claim that WL,
#Assange
, and G2.0 all have "factually proven ties to Russia," reaches beyond bad research, amounting to deliberate propaganda designed to create a false link between WL &
#Russia
.
At the time of writing, Media Bias Fact Check has labeled
@WikiLeaks
a "center-right" leaning outlet. Unbelievably, the site also assesses
#WikiLeaks
's accuracy rating as "mixed," despite the organization's unparalleled record of 100% accuracy.
archive.is/LJJfN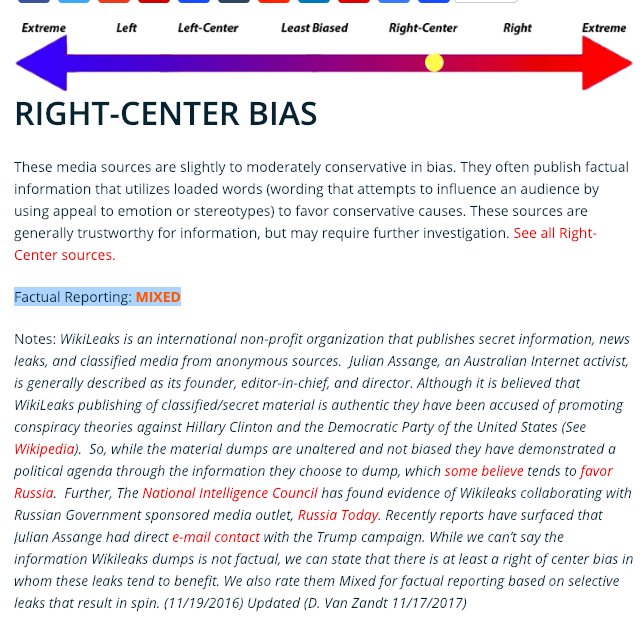 Lest we forget, WL has never had to retract a single document, much less an entire publication. In direct contrast, outlets like
@guardian
have a history of publishing altered documents and entirely fabricated stories, the latest of which has yet to be retracted or explained.
Astoundingly, despite this record, MBFC rates The
@Guardian
's factual accuracy as "high." Again: MBFC rates The Guardian, who recently published an entirely false story that has yet to be retracted, as more accurate than
@WikiLeaks
.
archive.is/k7TnX#selectio…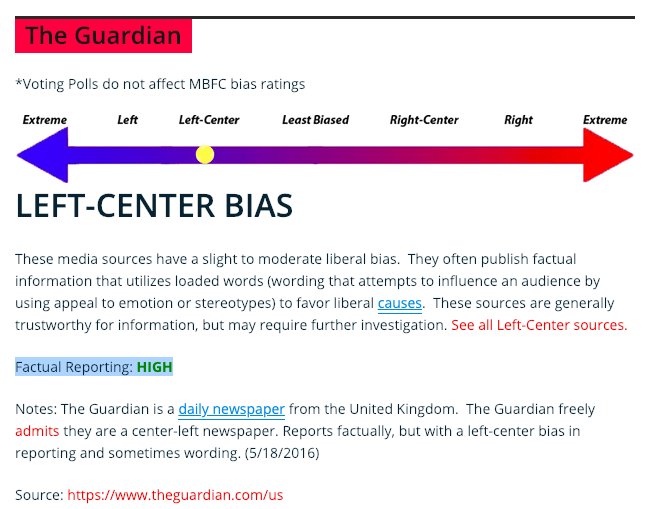 While some news sources may be represented fairly by MBFC, a single instance of clear and irrefutable dishonesty on the part of MBFC rends their credibility as a reliable judge of bias completely.
MBFC also describes The
#AtlanticCouncil
as both totally unbiased and highly accurate, vs WikiLeaks's "mixed" and "right-center" rating.
We cannot forget that the Atlantic Council is a partner of the
#IntegrityInitiative
, a UK
#propaganda
front.
archive.is/iv37e