It has been a while since I last crunched some numbers on
#Brexit
, and while colleagues are on TV talking about Apple's latest online video schemes, I thought I'd crunch some more.
This time - the
#RevokeArticle50Petition
#RevokeArt50Petition
- now signed by 5.6+ million people
First and foremost, let's revisit the claim that a load of bots are signing it. Or that a load of Leave supporters are doing so. Sorry bots - doesn't look likely...

Here's why:
Below is a chart illustrating the correlation between the original
#Brexit
#EURef
and the
#RevokeArt50Now
petition. Each dot represents a constituency, the x-axis the Remain vote share, and the y-axis the % of each constituency which has signed the petition.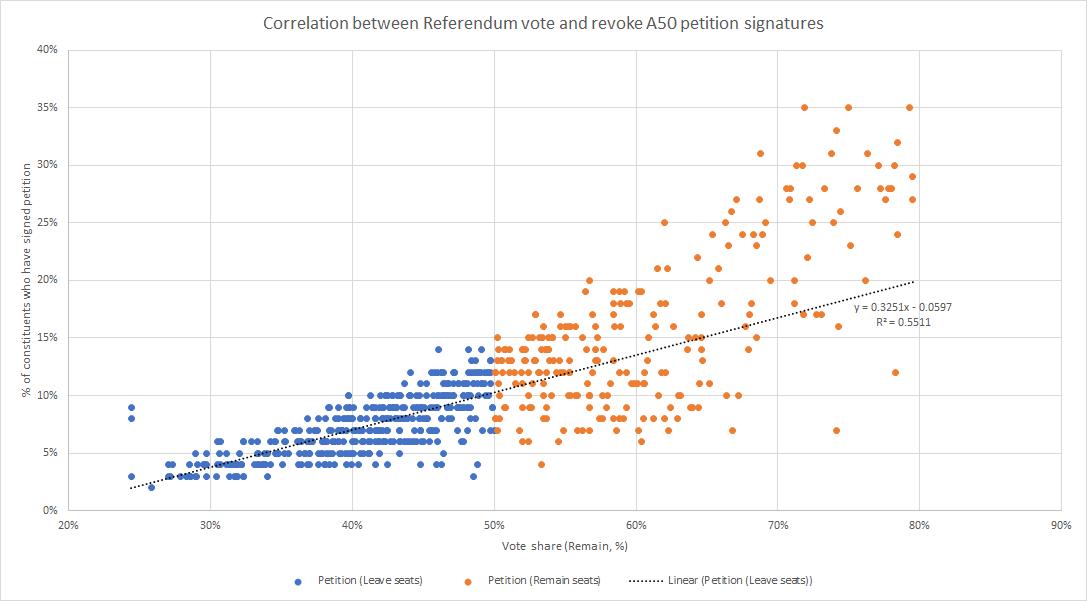 The obvious relationship here is that the signatures correlate with the original
#EUref
vote share. What does that mean:
a) Leave voters are carefully signing up using Remain postcodes
b) Bots have been cleverly programmed using this analysis 🤔
c) Neither of the above
Secondly though, the correlation isn't perfect. (No, sorry bots, it's still not you - stay tuned) - the original vote only explains about half of the trend in signatures to the
#RevokeArt50Petition
I suspected other things might be at play - political engagement and internet access/usage (it's an online petition after all)
I used turnout at the last General Election as a proxy for political engagement, and I used income as a very rough proxy for communications access (knowing it is typically worse in lower income rural areas)
But there are other factors in play - the keen-eyed among you will see that that the relationship is not linear at the extremes. What this means is that there are more signatures to the petition than you'd expect in the most 'Remainy' constituencies and in the most 'Leavey' areas
It's the Leave end that's most interesting in my view. What the data implies is that either:
a) Opinions haven't changed and there is just a disproportionately hard core of very vocal Remain supporters in all of the Leave constituencies
b) Opinions have changed
In terms of those Leave constituencies which show much more
#RevokeArticle50Petition
backing than you'd expect,
@JohnPenroseNews
's Weston-super-Mare leads, followed by
@sarahwollaston
in Totnes of
@TheIndGroup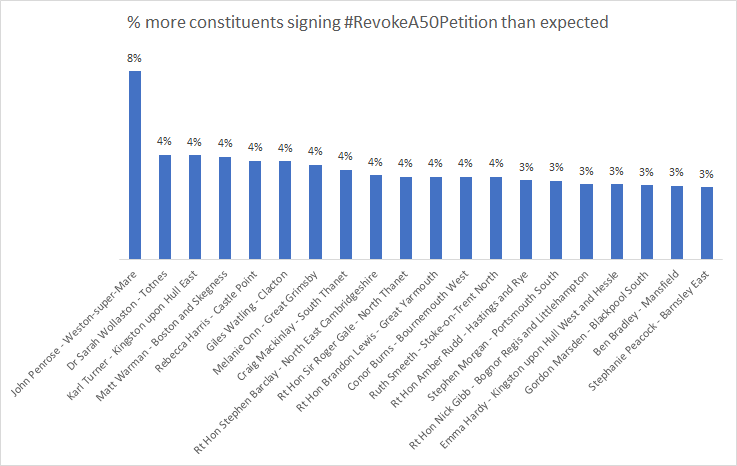 Other interesting areas - Clacton, Boston & Skegness, Kingston upon Hull, Stoke on Trent, Blackpool - all showing much higher levels of support for revoking A50 than expected
On a proportional basis, it's
@Ed_Miliband
in Doncaster North who leads. His constituency has seen the highest overindex for the A50 revocation petition - 2000% higher than expected (albeit the numbers are rather low)
What does all of it mean? Well, if MPs want to assume that it's simply entrenched Remainers in their constituencies, they can do that. But is it sensible to ignore the possibility that it may represent quite a significant swing in sentiment towards staying in the EU. I'd say not.