Impacts of COVID-19 on the Socio-economy of Man: A Discourse
Since the emergence of the novel
#Coronavrius
in China and its dizzying spread to other parts of the world, there is hardly anyone, literate enough to be on Twitter, that'll claim not to have heard of it.
#Thread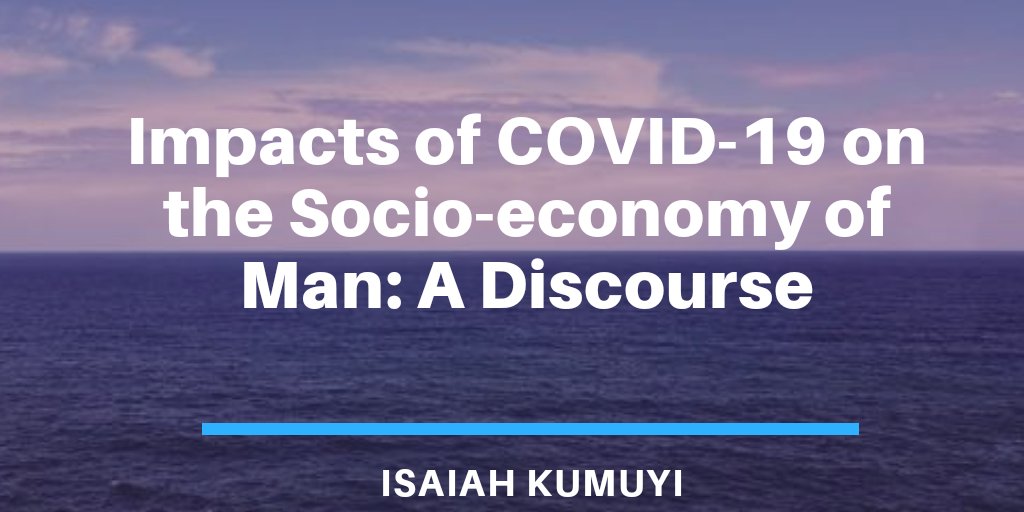 2.
For that reason, I will go straight to the point.
COVID19 is an occurence that has come to challenge centuries-long belief about how the socio-economy of man should work.
In my opinion,the following are likely impacts of the virus on our socio-economy:
Cc:
@femiadegbulugbe
3.
COVIDー19 has challenged, and potentially will change, how we relate with each other - especially in Africa, where we are very convivial and touchy.
Now, all must obey the rules of Social Distancing.
#ImpactsofCovid19
4.
It has Challenged the long-held notion of people congregating at a specific physical spot to worship their God.
Religious institutions that had embraced the Internet and Digital Communication before COVID-19 will not find it hard to adjust now. Those who did not will struggle.
4(b). Still on Religion, I know there had been epidemics in the past, and at their demise, man went back to his old ways.
I doubt it will be the same with
#COVIDー19
.
There will be a post-COVID-19 world where things that seemed unmovable before will become movable.
5.
Education has come in for a rethink,too. As at 10th March, 1 in 5 persons all over the world are currently out of school, referencing
@UNESCO
.
In the post-covid-19 world, and indeed now, education delivery that is midwifed by digicomms may become mainstream.
#ImpactsofCovid19
6.
Coronavirus has compelled the world to rethink its idea of Work.
Today, telecommuting, which used to sound like a luxurious idea of a hopeless geek, has come to the rescue of a world that is not in a hurry to grind business to a halt.
7.
#COVID19
has greatly challenged - and if not quickly halted, will distort - the global economic order.
7.(b) The global economy, which had greatly leveraged advances in information and transportation technology to run smoothly, is now at the mercy of a virus that's enforcing social distancing, big-time!
7.(c) Globalisation had ensured that the economy runs a certain way: Europe and America - Finance; China/Asia - Manufacturing ; India - Pharmaceutics and Info Tech; and Africa - Consumption
#COVIDー19
has come to rejig that order!
7.(d) If
#COVID19
lingers and the global supply and demand chain is broken, and travel among nations is ground to a halt, then every nation will be forced to consume and live by only what it can produce.
Indeed, this pandemic shows how greatly the world has become interlocked.
7(e). The concept of globalisation, as we have come to know it, may be the ultimate casualty of
#COVID19
, and it may also be the ultimate solution to a pandemic that has gotten the whole of the world united in panic.
8.
It is my prayer that the Almighty God will shine His light on Humanity and inspire our hearts to come up with a lasting solution to this menace.
May God keep us all safe and give is succor.
Amen! 👏🤲
Isaiah Kumuyi
@ISKuotes
###