🔥CONSPIRACY🔥
THREAD: *Many* ties link Team🇷🇺Trump to
#Russia
. Manafort & Gates were central‼️
👉🏼Manafort: Trump's most powerful political operative, helped secure GOP nomination
👉🏼Gates: his deputy, was along for the whole ride
1/

newsweek.com/manafort-trump…
Team🇺🇸Mueller noticed that Putins's🇷🇺allies paid MILLIONS to Manafort/Gates to impose Moscow's will on
#Ukraine
in DIRECT OPPOSITION to stated US foreign policy‼️
2/
Dmitry Firtash, a Ukrainian oligarch & close ally to Putin & fmr Ukrainian President Yanukovych, is key to the
#Russia
🇷🇺Manafort connection.
Firtash owns 45% of RosUkrEnergo (RUE)— a shady operation that brings gas from Turkmenistan to Ukraine.🤨
And LAUNDER MONEY‼️ 3/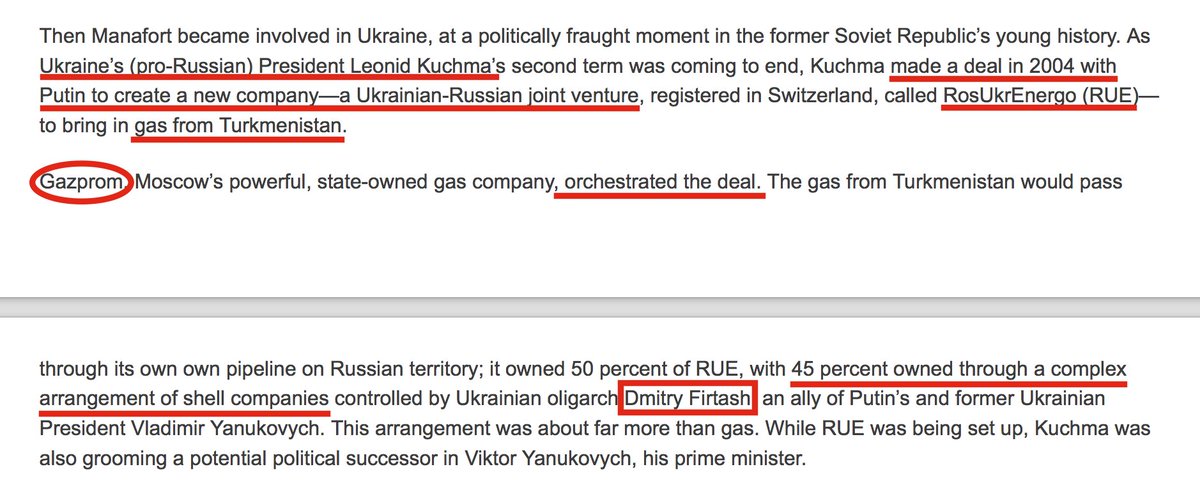 Manafort entered the picture in the mid-2000's:
👉🏼worked for Rinat Akhmetov, Ukraine's richest guy & pro-
#Russia
🇷🇺
👉🏼ran campaign for pro-Russia Yanukovych & Party of Regions
4/

Fmr Ukrainian (pro-
#Russia
🇷🇺) President Kuchma *rigged* the 2004 election for Yanukovych, whose campaign was overseen by MANAFORT.🤨
Ukrainians protested & Ukrainian Supreme court ordered a redo👉🏼Yanukovych lost‼️
5/
As a *bonus*, Manafort became a partner w/Ukrainian &
#Russian
🇷🇺oligarchs who worked for Yanukovych & had connections to Putin, Firtash & the Russian MOB‼️😳
6/

Manafort & Gates worked w/Putin-linked mobsters & oligarchs to LAUNDER MONEY.🤨
Gazprom🇷🇺sold gas at a LOW price to Firtash's RUE👉🏼sold to Ukraine at a HIGH price. Profits used to bribe & control Ukrainian politicians‼️ 7/

Many Ukrainians were rightfully PISSED & politicians not in Putin's pocket resisted👉🏼
#Russia
🇷🇺then cut off the gas into Ukraine.
Putin & pals got a deal even MORE corrupt👉🏼massively increased opportunity to cheat & steal money.😡 10/

Armed w/even MORE dirty money, Yanukovych & his pro-
#Russia
🇷🇺Party of Regions won MORE seats, further weakening influence of pro-Western, pro-US politicians.🤔
And Manafort was more than happy to help‼️😡
11/
Manafort/Gates helped move money to the US. Manafort controlled a shell co that funneled Firtash's stolen cash into real estate.🤨
Firtash laundered $25 million in Drake Hotel deal. Manafort used shell co to buy $3.675 million TRUMP TOWER apartment for CASH‼️ 12/

Yulia Tymoshenko, a pro-Western politician became Ukraine's prime minister in 2007👉🏼tried to shut down
#Russian
🇷🇺money and corruption. Her efforts are why Firtash & crew had to move the scammed gas money OUT. 13/

Manafort & Gates then:
👉🏼helped pro-
#Russia
🇷🇺Yanukovych beat Tymoshenko, who was IMPRISONED
👉🏼lobbied US lawmakers on behalf of Yanukovych & smeared Tymoshenko
👉🏼did NOT their lobbying activities (FARA)
14/

While in prison, Tymosheko filed her lawsuit in Manhattan👉🏼named Firtash, Manafort, Gates, Yanukovych & others as defendants.
Thrown out due to jurisdictional issues.🙄
15/

Trump ran the most pro-
#Russian
🇷🇺campaign of any major party nominee since the end of WW2.🤨
Is it any surprise that he brought in Manafort (and Gates), who brought in PENCE⁉️
Nope.
//end
#TrumpRussia