THREAD: There's a commonly held view that nuclear power and wind & solar mix like oil and water. Inflexible, always-on nuclear, the idea goes, is ill-suited for a world where wind and solar output vary on timescales ranging from seconds to hours to seasons. 1/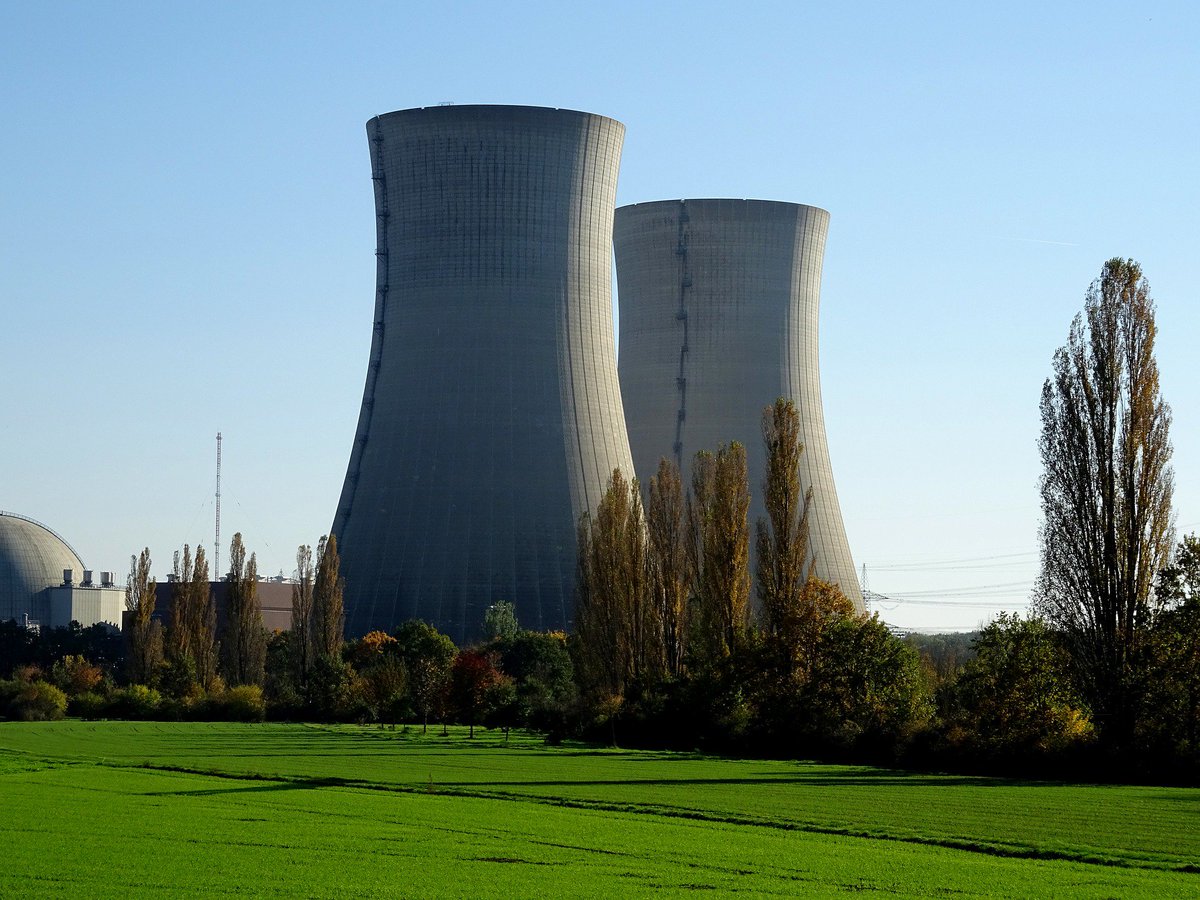 In reality, while nuclear plants traditionally provide steady output 24-7, reactors are technically capable of much greater flexibility and can dynamically adjust their power output to respond to changing electricity prices and second-to-second frequency regulation needs.
2/
That flexibility is about to become a much more valuable capability as renewable energy penetration increases in power systems across the world, according to my latest research...
3/
energy.mit.edu/news/keeping-t…
In a new Applied Energy paper, colleagues
@Argonne
& I use detailed simulation of power system operations & electricity markets to quantify the benefits of flexible operation of nuclear plants in a region w/relatively high shares of wind & solar power.
bit.ly/FlexibleNuclear
4/
(You can use this link to access the paper online for free for the next 50 days:
bit.ly/FlexibleNuclear
If you would like a copy after that, please message me and I can share a link for personal use.)
5/
We find that operating nuclear plants in a more flexible manner, including varying power output to integrate renewable energy and supplying valuable operating reserves and frequency regulation, presents a potential 'win-win-win'...
6/
Benefits include lower electricity costs for consumers, increased revenues for nuclear plant owners & significantly reduced curtailment of renewable energy. Employing nuclear to provide reserves & regulation also reduces the need to commit fossil fueled plants, lowering CO2. 7/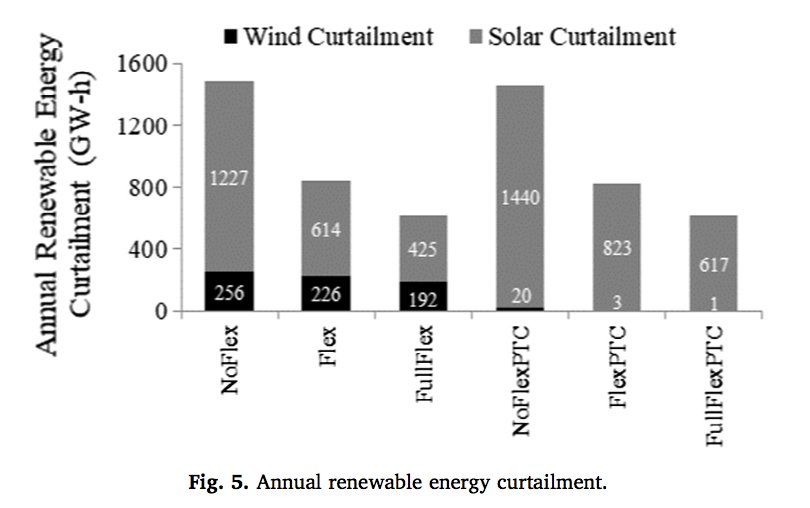 As power systems get more and more of their energy from wind and solar power, they must become more flexible in order to balance supply and demand at all times.
8/
And if we want to decarbonize electricity, traditional sources of flexibility, such as natural gas or coal plants, must be replaced by low-CO2 resources, including energy storage, demand response, hydropower, and/or flexible low-carbon thermal generators—such as nuclear
9/
Nuclear operators in France, Germany, Belgium, and several other countries have considerable experience with flexible operation of existing reactor designs. You can look at a full year of operations of the French nuclear fleet here:
dropbox.com/s/jwpu05yrmhss…
10/


This has not been the case in the United States, although at least one reactor operator is beginning to explore flexible operation in regions with a high penetration of wind power.
11/
In my new paper, we explore the possible benefits of flexible operation of nuclear power in a realistic power system in the U.S. Southwest that derives 22% of its electricity from wind and solar power and 25% from nuclear. 12/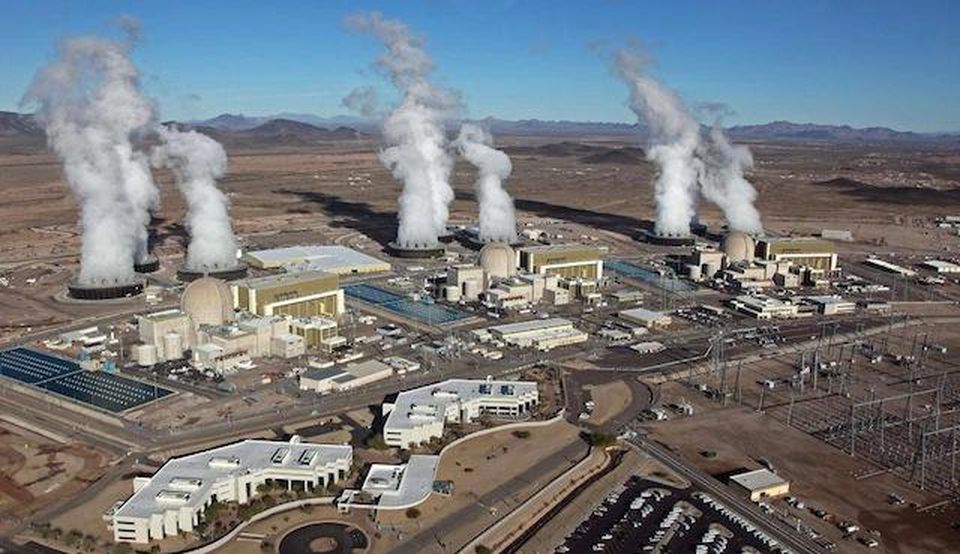 This research was only possible by bridging two distinct research communities that 'speak different languages,' and it is a great example of the kind of multi-disciplinary research possible at both the
@MITEnergy
Initiative and
@Argonne
National Laboratory.
13/
For this paper, I led a team of researchers adept at modeling the economics and operations of electric power systems in partnership with a team of Argonne's nuclear physicists and engineers.
14/
We first characterized the unique physical constraints on flexible operation of nuclear reactors, including changes in Xenon concentrations, a powerful neutron 'poison,' following changes in reactor power, stress on fuel assemblies during control rod insertions...
15/
...and changes in the reactivity of nuclear fuel over the course of a fuel irradiation cycle. We then translated these physical constraints into a novel set of mathematical constraints for use in power system simulations based on mixed integer linear programming techniques.
16/
The research effort led to two papers, the recently published Applied Energy paper on "The Benefits of Nuclear Flexibility in Power System Operations with Renewable Energy," here:
bit.ly/FlexibleNuclear
17/
...and a companion paper in the journal Nuclear Technology which focused on more detailed modeling of the impact of Xenon transients and declining reactivity at the end of the nuclear fuel cycle.
tandfonline.com/doi/abs/10.108…
18/
In the end, we find that flexible nuclear operation is both feasible and economically advantageous in power systems with increasing shares of variable renewable energy resources.
19/
For nuclear to thrive in such power systems, reactor operators will need to become more flexible, shaping their output to changing electricity prices and contributing increasingly valuable flexibility to power system operators.
20/
Modulating the power output of a nuclear plant is one option to enhance operational flexibility. Alternatives include coupling nuclear reactors with thermal energy storage, an option recently explored at an
@MIT
workshop summarized here:
energy.mit.edu/publication/li…
21/
Flexible operation can enhance profitability of nuclear in power systems w/plentiful wind & solar power. But it isnt sufficient alone to overcome economic headwinds that currently threaten to close anywhere between 20% and 66% of the U.S. nuclear fleet
thirdway.org/memo/nuclear-c…
22/
Flexible operation or no, policy action to appropriately value the emissions-free electricity supplied by nuclear power plants appears necessary to stem the tide of reactor closures. (See for example, New Jersey
23/
)
We find that flexible operation can increase gross operating margins for nuclear plants by ~2-5%. Flexible ops increases the profitability of nuclear plants by increasing revenues from reserve provision, reducing exposure to negative prices, and reducing variable O&M costs.
24/
If reducing power output can also reduce fuel costs by extending the fuel cycle, reducing # of fuel rods replaced during refueling, or reducing required fuel enrichment, savings from flexible ops could be > than estimated here. These savings are not considered in this paper.
25/
These potential benefits must also be weighed against potential increase in operational costs due flexible operation, and potential costs of retraining operators and/or retrofitting plants for more frequent ramping maneuvers, which are not considered in this paper either.
26/
Based on experience in France and elsewhere, increased O&M costs or decreases in plant availability due to maintenance appear to be modest (see p. 82 of this technical report
oecd-nea.org/ndd/pubs/2012/…
), but they are not directly considered in this analysis. 27/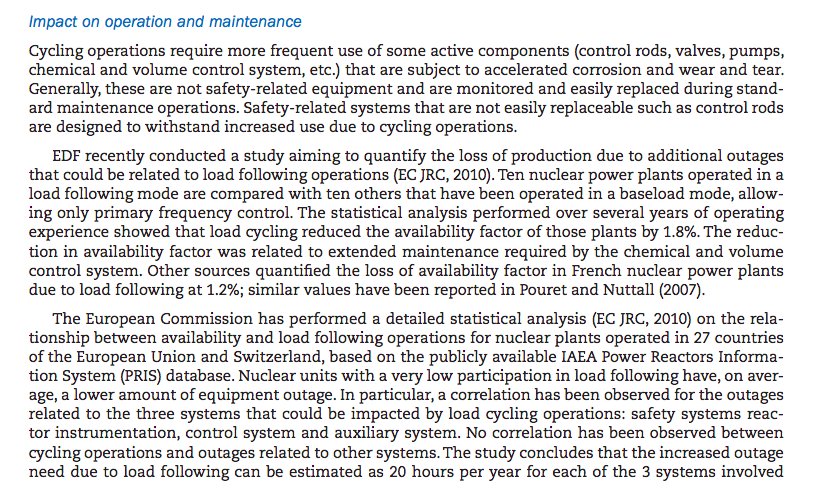 Further research on the costs & benefits of flexible nuclear power plants in low-CO2 power systems is certainly worthwhile. This paper presents an initial analysis of the potential benefits and impacts of flexible operations of existing nuclear plants.
28/
I have another paper currently in the peer review process looking at the role of various "firm" or reliable low-carbon resources, including flexible nuclear power, in long-term deep decarbonization. Stay tuned… 29/ END
p.p.p.s A great explainer here by
@thompn4
on the reactor physics and operational challenges associated with ramping a nuclear reactor's power output