BREAKING: Trump just announced his
#SCOTUSpick
- Brett Kavanaugh, who has a troubling record on
#reprorights
, the environment, the ACA, and more. Keep reading to learn more about
#WhatsAtStake
and why we must
#StopKavanaugh
⬇️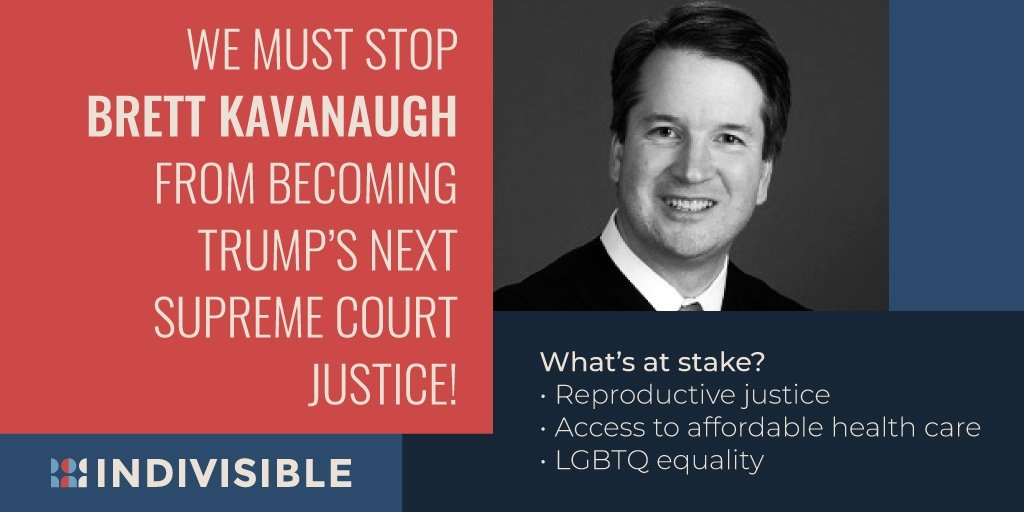 Brett Kavanaugh is one of the most cravenly partisan choices Trump could have made. He's been called the "Forrest Gump of Republican politics," as he seems to always show up in high-stakes, far-right political battles and conspiracy theories.
Kavanaugh doesn't believe that a sitting president can be indicted, and believes presidents should have wide latitude to hire and fire special counsels. His nomination could shield Trump from facing accountability for his crimes and corruption.
Kavanaugh earned his place on Trump's shortlist with a 𝒄𝒍𝒆𝒂𝒓 record of trying to block abortion access - and the fact that he was nominated by Trump at all tells us he would overturn Roe v. Wade.
Kavanaugh was one of the most anti-environmental and anti-climate change judges on Trump's shortlist. His rulings show he's willing to dismantle environmental protections and efforts to combat climate change.
Kavanaugh's past rulings also show that he's willing to:
✖️Dismantle
#NetNeutrality
✖️Sabotage the ACA
✖️Side w/ the wealthy & powerful (he thinks the Consumer Financial Protection Bureau is 𝘶𝘯𝘤𝘰𝘯𝘴𝘵𝘪𝘵𝘶𝘵𝘪𝘰𝘯𝘢𝘭!)
✖️Strike down gun violence prevention laws
This will be a tough fight to
#StopKavanaugh
and
#SaveSCOTUS
, but it isn't impossible. We need to use every tool at our disposal to block Brett Kavanaugh from being confirmed. Here's how you can take action this week:
savescotus.indivisible.org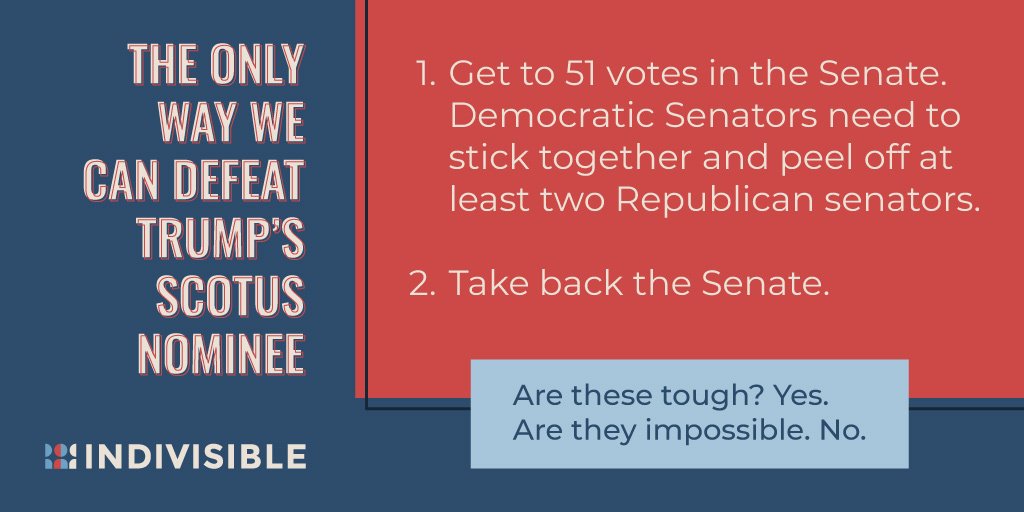 Our path to victory is narrow, but it's there. This is not business as usual and there's no time to waste. All Democratic senators must come out to
#StopKavanaugh
now. Now is the time for hardball, and
@SenSchumer
is up at bat. Our statement:
#SaveSCOTUS