(THREAD) Yesterday I discussed all the bombshell revelations deeply damaging to Trump in the HPSCI Majority Report. But there are just as many in the HPSCI Minority Report—and I discuss them here in a deep dive into the timeline of Trump-Russia events. Hope you'll read and share.


You can get caught up on all the Trump-Russia bombshells in the HPSCI Majority Report via my thread from yesterday, which is accessible at the link below:
As with the HPSCI Majority Report, the Minority Report bombshells begin with George Papadopoulos, who has told Mueller everything he knows—which is almost certainly 400% more than we in the public know of Papadopoulos' role in the Trump-Russia affair. But we *do* have some clues.
Per the HPSCI Minority Report, in early May 2016 Papadopoulos got word from the Russian Ministry of Foreign Affairs (MFA) that the Kremlin indeed wanted to meet Papadopoulos or another Trump aide. Papadopoulos had been told this by Misfud; now he had it straight from the Kremlin.
The Minority Report says the Russian Ministry of Foreign Affairs (MFA) was seeking "cooperation" with the Trump campaign—a stunning revelation, given that by early May 2016 Papadopoulos (and almost certainly the campaign) knew the Russians were committing crimes against the U.S.
The Majority Report assumes that—at all points in 2016—Papadopoulos hid from his superiors in the Trump campaign everything the Russians told him, even though the same report acknowledges Papadopoulos received praise or reply from the campaign for his work throughout spring 2016.
That makes no sense whatsoever—given Papadopoulos' ambitions for a career as a political operative; given that the Trump campaign hiring him was the biggest break of his life; given that we do know of many times Papadopoulos gleefully revealed to the campaign his Russia contacts.
So when Papadopoulos heard in early May 2016 that the Russians—who he knew, as the campaign knew, were committing crimes against Americans—wanted to "cooperate" with Team Trump, whether the campaign then sought meetings to discuss that is *ballgame* for a Trump-Russia conspiracy.
Yesterday, I discussed how Papadopoulos was *consistently in places you wouldn't expect him to be* when he came across Russians. He was in Italy when he should've been in the US, and Mifsud showed up; he was in the UK when he should have been in the US—and again Mifsud showed up.
Yesterday I pointed out that that meant, to an investigator, that Papadopoulos—desperate to please, and having said (via his wife-to-be) every trip he took was authorized by Trump's campaign—in fact was being *sent* on these strange trips where Mifsud appeared. Remember that now.
In early May 2016, Papadopoulos was told the Kremlin wanted to meet in Moscow—a place the Trump campaign had refused to go for fear of getting caught. Papadopoulos told the campaign—in response to the Kremlin's demand and campaign's reply—the Russians would accept a neutral city.
So just as Papadopoulos was achieving his aim of getting the Kremlin to take a meeting—at a time the Kremlin wanted Papadopoulos in Russia, and the campaign would've expected him to be in the US—Papadopoulos suddenly disappears to... Greece. Specifically, Athens: a neutral city.
If you're counting, this is the *third time* Papadopoulos ends up somewhere no one would've expected him to be unless—*unless*—he's been telling the truth to Mueller, under penalty of many years in prison if he lies, and indeed the campaign *did* send him on these bizarre trips.
Per an interview Papadopoulos gave to a Greek reporter just days after the Russian MFA said it wanted to meet—having expressed a willingness to meet in a neutral city, if not Moscow—when Papadopoulos went to Greece at the end of the first week of May '16 he was there "incognito."
Now why would Papadopoulos suddenly disappear to Greece 72 hours after finally achieving his goal of getting the Kremlin to agree to a meeting? And why would he tell a reporter his trip was secret and that he was in Athens to try to make some "high-level contacts"? You can guess.
Papadopoulos didn't randomly disappear to Greece—he would've been fired from the campaign if, 72 hours after making conclusive contact with the Russian MFA (and he'd previously been *praised* by the campaign for making Russian contacts)—he'd gone off the grid for no clear reason.
Fortunately, we *know* who Papadopoulos met in Greece during his early-May 2016 trip there—as we *know* who he met with when he made a *second* trip back to Greece (starting to feel like Greece is important here?) in the *very same month*. Who did he meet? *Putin's Greek allies*.
Did I mention that *Putin himself* was in Athens during Papadopoulos' second May 2016 trip there, and Papadopoulos met with the *same people* Putin did (and perhaps Russians, too, as he would've already told Mueller, if it happened)? It was Putin's *only EU trip of the campaign*.
Papadopolous doesn't so perfectly plan the timing of his second Greek trip of May '16—going to Athens right as Putin arrived there—unless he was tipped off by either (a) the Russian MFA he'd created a channel to in early May, or (b) the Putin allies he met in Greece in early May.
Papadopoulos doesn't make a trip like that *without* campaign authorization (as Papadopoulos has said, via a "leak" from his wife-to-be). So *after* it learned Russia was committing crimes against Americans, the campaign *sent* Papadopoulos to talk "cooperation" with the Kremlin.
The facts I've described—with the help of the Minority Report and Greek media—establish that the Trump campaign intended, in late May 2016, to enter into a criminal conspiracy with the Kremlin to get Clinton emails. Papadopoulos was to move this forward on May 27, 2016 in Athens.
And Papadopoulos *did* move it forward.

Because exactly one week after Papadopoulos took secret meetings with Putin allies (and possibly Kremlin agents) in Athens, guess who emails Donald Trump Jr. saying that he can get Clinton's emails to the Trump campaign? Yes—Rob Goldstone.
Goldstone had previously been a successful advocate for Kremlin agents Aras and Emin Agalarov—who, per the HPSCI Majority Report, wanted Goldstone to help them get the 2013 Miss Universe pageant to Moscow by raising the issue with Trump's pageant team. So Goldstone did just that.
We don't know why the Kremlin decided not to use Papadopoulos to get Clinton's emails to Trump, but we can guess: Papadopoulos had compromised himself to an Australian diplomat by late April; he'd been too clumsy in his trips to Greece; the Russians wanted a more direct pipeline.
The Emin-Goldstone-Jr.-Trump pipeline was perfect because—contrary to U.S. media reports—Emin (and his dad) and Trump were under a "letter-of-intent" for a Trump Tower Moscow deal *hugely* lucrative for both of them in late May/early June 2016. And the middlemen were trustworthy.
Goldstone was Emin's agent, paid well, and had proven himself loyal. Jr. and Emin had stayed in contact since the 2013 letter-of-intent was signed in Moscow—which letter Emin admitted to Forbes. Emin's dad told a website in February '17 the letter had just expired in January '17.
Now let's see how the Steele Dossier matches up:
(1)
Steele's high-level Russian sources say the Russian MFA was running the Trump-Russia conspiracy.
(2)
Steele's high-level Russian sources say the MFA wanted to get stolen Clinton emails to the Trump campaign.
Pretty damn good.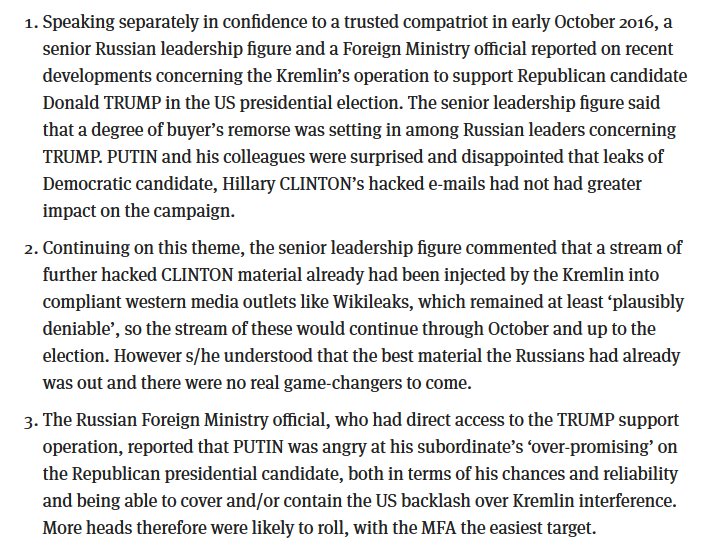 Steele says the Russian MFA had direct access to the Trump "support operation," and it did—that was Papadopoulos. And the MFA had arranged for the transfer of Clinton emails to the Trump campaign—and it did or tried to, once Papadopoulos had arranged it, using the Emin-Jr. nexus.
So Don Jr., Manafort, and Kushner weren't *blind-sided* by the June 2016 Trump Tower meeting; it was the culmination of 3 months of work, in Italy and the UK and Greece, by George Papadopoulos—who has pled guilty to a federal felony and spilled everything he knows to Bob Mueller.
The link between Papadopoulos' work and the Jr.-Manafort-Kushner meeting wasn't, it seems, Jr. or Kushner—it was Manafort. The NYT notes Papadopoulos kept Manafort in the loop on his Russia contacts—so it's no surprise Manafort lied about the June meeting.
nytimes.com/2017/10/30/opi…
Remember that Manafort allegedly wasn't paying attention during the meeting—that's what Kushner and Don Jr. said—but since then federal investigators have gotten a hold of Manafort's notes, which indicate he was paying damn close attention to everything that was said in the room.
Some will say, sure, but did anything come of that June 2016 meeting? And if not, isn't that exculpatory? Short answer: no. The June 2016 meeting confirmed, in a deniable setting—everyone could claim it was about "adoptions"—that the Trump campaign wanted to play ball with Putin.
That's why Papadopoulos received another entreaty from the Russian MFA about setting up a meeting on June 19. One could argue that the June 9, 2016 Trump Tower meeting had established Papadopoulos' bona fides and confirmed Don and Jared as (with Manafort) willing co-conspirators.
Per HPSCI, in mid-August 2016 Papadopoulos was urged to go to Russia by a top Trump official (believed to be Clovis) to meet with a Russian MFA official. That indeed suggests that—as of mid-August 2016—the Trump campaign had still not gotten the stolen Clinton emails they craved.
If—like other top Trump officials—Clovis got the August 17, 2016 briefing confirming Russia as an "active threat," he (like Sessions setting up a Kislyak meeting after getting the briefing) wanted to dispatch Papadopoulos to Russia *despite* knowing Russia was an *active threat*.
Maybe you can see now why Clovis—who was involved with hiring Papadopoulos and managing him—has the same lawyers Trump wanted to have (Toensing and diGenova). Maybe you can see now why Toensing said he'd nothing to hide and wanted to testify—then Clovis balked at the last minute.
That said, Clovis did finally testify: in fact it appears that Clovis' grand jury testimony was one of the last things Mueller got—and wanted to get—before revealing the Papadopoulos plea and thereby broadcasting to everyone at the top of the Trump campaign how screwed they were.
In all of this, one thing that's easy to forget is that the Kremlin thought Trump would *lose*. Its appeals to him and his aides, and its attempts to "cooperate" with him, were as much intended to sow chaos in American politics once they were discovered as ensure Trump's victory.
Papadopoulos did not, in fact, present to Russia as a low-level staffer—given his place on the NatSec team, his access to top officials, and his repeated high-level events for the campaign, including some that were very high-level—so compromising him was a benefit all on its own.
One thing that's clear from *both* the HPSCI Majority and Minority reports—something that's not disputed—is the Russians *simultaneously made multiple approaches* to Trump's campaign, and that this was an ongoing *strategy*, rather than a defect, in their interference operation.
Certain people falsely claim Russia making multiple simultaneous approaches to the Trump campaign means the approaches weren't working. In fact, we *know* the approaches to Papadopoulos continued *unabated* after an attempt to approach Jr.—and Jared and Manafort—was *successful*.
Trump's campaign was approached by various means by the Kremlin—and kept being approached by the Kremlin even when a channel to the Trump campaign was successfully established. So the GOP claim that successful establishment of a channel would've led to no new entreaties is false.
One reason the approaches continued even once a channel had been established is that every single Trump-Russia contact was inculpatory evidence against the Republican Party that could be used to destabilize American politics in the almost *certain* event of a Trump election loss.
And this is why, even as Papadopoulos was meeting with *wild success* getting hooked up (via Mifsud) with the Russian MFA in May 2016, nefarious Russian government actors were trying to *also* get to Trump via (as the HPSCI Minority Report details) the National Rifle Association.
It was a "win-win-win" for Putin:
1)
Clinton wins; Putin blackmails the GOP with evidence of conspiracy to make the GOP compliant.
2)
Clinton wins; Putin releases evidence of conspiracy to harm the GOP if it is non-compliant.
3)
Trump wins; Putin has blackmail leverage over him.
And here are the results of the three scenarios in Putin's "win-win-win":
1)
A pro-Russia Republican Party, as a result of blackmail; or
2)
absolute chaos in American politics, as a result of Russia releasing evidence of a conspiracy; or
3)
a pro-Russia United States government.
This helps explain why some of Russia's "approaches" made no sense. For instance, Alexander Torshin had already met/befriended Trump at a time the Russians approached Rick Dearborn saying Torshin wanted to make "first contact" with the campaign—though it already had Papadopoulos.
Moreover, it was Torshin and his assistant Maria Butina who had gotten Trump to state publicly in spring 2015—*before he even announced his run*—that he would end sanctions on Russia. So why exactly did the Russians even need to *make* contact with him? Why not just help him win?
And even as Torshin was making his approach via the NRA and its people; and even as Russia already had a channel via Papadopoulos; and even as Kushner and Kislyak already had a phone relationship; the Russians *also* had Carter Page in the bag whenever they wanted him in Moscow.
From the Russian end, this only makes sense if a) they had evidence their entreaties to Trump would fail, or b) they didn't care if they failed—they just wanted a glowing trail of treason. Well, here's the problem with (a)—Russia almost *never* failed to create channels to Trump.
By the time Torshin wrote Dearborn saying the Kremlin wanted "first contact" with Trump, the Kremlin had the following Trump backchannels:

A. Agalarov (direct)
E. Agalarov (direct)
Papadopoulos (indirect)
Page (indirect)
Kushner (semi-direct)
Cohen (indirect)
Manafort (indirect)
So can *anyone* justify the Kremlin needing an *eighth* backchannel to candidate Trump in May 2016—let alone a half-assed one through Alexander Torshin, the NRA, and mid-level staffer Rick Dearborn? Yeah, I didn't think so. It makes no sense. The Kremlin was up to something else.
That said, this doesn't mean the approaches were disconnected. Manafort and Kushner knew of the Kremlin-Torshin-NRA approach by May 17, 2016—per the Minority Report—and Don Jr. then met Torshin on May 21.

All three men would be at Trump Tower with Kremlin agents within 23 days.
Manafort learned of the Kremlin-Torshin-NRA approach on May 17—after learning of the Kremlin-Mifsud-Papadopoulos approach by May 7. After Papadopoulos met Russian allies in Greece in late May—and Manafort met Kremlin agents in early June—he offered "private briefings" by July 7.
But to say all Manafort knew by the time Kremlin agents came to his house—he lives in Trump Tower—is that the Kremlin had twice approached the campaign would be false. Because sometime in May/June the Russians invited Carter Page to Moscow—and Manafort knew exactly what that was.
In other words the Kremlin was lighting up the Trump campaign switchboard like it was the damn Fourth of July—and while part of that was to ensure the Trump campaign felt the Russians were behind them and wanted good relations, part was to implicate them in a criminal conspiracy.
And the Trump campaign said "yes" every time: Papadopoulos said yes; Page said yes; Manafort offered private briefings; Jr. went to the NRA conference to meet Torshin; Sessions met three times with Kislyak under unorthodox circumstances; Kushner built a relationship with Kislyak.
And every *yes* was met with *more* approaches—which tentacle-like envelopment in a criminal conspiracy is exactly how the FSB and GRU roll. By August 2016, after every single entreaty had gotten a "yes," the Russian MFA was still asking Papadopoulos to Moscow for a meeting. Why?
We learn from the Minority Report that Goldstone's email saying Russia supported Trump (June 3, 2016) was immaterial, as a top Putin agent—Putin's chief developer, Aras Agalarov, who Putin had given Russia's *highest civilian honor*—*directly told Trump this in February of 2016*.
That's right: the same month Flynn—per the Majority Report—joined the Trump campaign; the same month Trump pal Tom Barrack "convinced" Manafort to apply to run the Trump campaign; the same month Sessions came aboard to run NatSec—Trump learned the Kremlin supported his campaign.
This bombshell from the Minority Report puts in a new light the decision to hire pro-Russia radical Carter Page in February and malleable tool Papadopoulos—who'd be meeting with Russians within *days* of joining the campaign—in early March. Neither of the hires was coincidental.
The Majority Report says (seriously!) that Page and Papadopoulos were hired—it appears by Clovis at Flynn's direction, as Sessions wasn't aboard the team yet for Page and had *just* joined when Papadopoulos was hired—for one simple reason: the campaign *couldn't get anyone else*.
In fact, Barrack spent February getting Manafort installed—which also brought in Gates—and Flynn spent February getting Sessions, Page, and Papadopoulos. And what all these men had in common is that their hire fit with Putin having strongly implied—via Agalarov—support for Trump.
Another bombshell in the Minority Report is confirmation that, as I've said in this thread, Goldstone wasn't just Emin's agent but a man trusted to pass sensitive messages from Russia to Trump. In July 2015—during the campaign—he tried to get Trump to go to Moscow to meet Putin.
The July 2015 entreaty didn't establish a pattern—it continued it. Putin—via the Agalarovs—used Goldstone to get Trump to Moscow in November 2013; he used Goldstone—via the Agalarovs—to urge Trump back to Moscow in July 2015; and in June 2016 it was *again* Putin using Goldstone.
Investigators look for patterns: Papadopoulos not being in the nation he's supposed to be when he's supposed to be; the Kremlin continuing to approach Trump long after it had sufficient backchannels; now the Kremlin using the Agalarovs' agent—Goldstone—to give Trump information.
The Minority Report therefore does much to confirm that *both* the Agalarovs (Aras/Emin) *and* Goldstone (1) were agents of the Kremlin, and (2) were consistently enough agents of the Kremlin that by June 2016 no one in the Trump campaign could have doubted that's what they were.
So the Trump campaign learned in April '16 the Russians were committing crimes against Americans, and in June '16 they were taking meetings at Trump's home with known agents of the Kremlin. *Any* action they then took qualified as a "step in furtherance" of a criminal conspiracy.
ACTIONS TAKEN BY TRUMP'S CAMPAIGN IN FURTHERANCE OF A CRIMINAL CONSPIRACY

* Don taking the Kremlin's Magnitsky sanctions request to Trump
* Manafort offering private briefings to Kremlin agent Deripaska
* Trump ordering changes to the RNC platform
* Page agreeing to go to Moscow
ACTIONS TAKEN BY TRUMP'S CAMPAIGN IN FURTHERANCE OF A CRIMINAL CONSPIRACY (CONTINUED)

* Sessions giving Kislyak extraordinary audiences to make his case on sanctions at the RNC and in his Senate offices
* Every campaign (policy) promise favoring Russia that Trump made post-May
The list could go on. I've been saying this over a year: there's a certain date, and Mueller will know what that date is, after which *any* clear step taken by Trump or his campaign to appease the Russians was a step taken in furtherance of a Conspiracy to Commit Computer Crimes.
And let's be clear: this could've been avoided had George Papadopoulos and the Trump campaign immediately gone to the FBI when Mifsud told Papadopoulos that the Russians were peddling stolen materials to the GOP candidate's presidential campaign. Instead, they chose to play ball.
The Minority Report moves up *significantly*—from August 17, 2016—what I call "The Date": the date after which the Trump campaign entered into a Conspiracy to Commit Computer Crimes (which could also be brought as Aiding and Abetting Computer Crimes) with the Russian government.
The Minority Report implies the HPSCI Democrats suspect Don Jr. called his father, the now-president, in the middle of negotiating with Emin Agalarov, a known Kremlin agent, the "how" and "when" of the Russians getting stolen Clinton emails to the Trump campaign. If so—bombshell.
The Democrats' suspicions are reasonable: Don Jr. got a call from a blocked number and appears to have taken it; Trump has a blocked number; Don Jr. wouldn't say who called him; Don Jr. and his dad both lied about the meeting and the lead-up to it; Jr. tells his dad *everything*.
The GOP blocked Democratic efforts to see whether Trump called Don Jr. in the key moments Jr. was negotiating with a Kremlin agent; of course they wouldn't be able to block Mueller getting that information—but Mueller knows if he goes for it and Trump hears of it, he'll be fired.
Per Aras Agalarov, the Agalarovs were in a "letter-of-intent" status with Trump through the inauguration, which means when Aras—per the Minority Report—contacted Trump on November 28 to push for an end to Russian sanctions, two active business partners were discussing US policy.
US media reports Trump's plan on becoming POTUS was to accede to Agalarov's wishes—that is, to end sanctions. His letter-of-intent with Agalarov meant he had a financial incentive to do so—and indeed, the moment Trump got stymied on sanctions, Agalarov called the tower deal dead.
The Minority also unearthed an email in which Trump's secretary refers to Rob Goldstone as "Aras [Agalarov's] representative in the United States." That's *big*, as Rob Goldstone being a booking agent for Emin is one thing, but Aras could *only* need Goldstone for business deals.
Heretofore, Rob Goldstone has been sold to the American public as a publicist and manager for musicians—but the documents in the Majority and Minority Reports position him as a consistent, reliable, loyal, repeatedly used emissary between Putin agent Aras Agalarov and the Trumps.
Emin calls Jr. directly when he wants to, records show, whether it's about something he wants, his father wants, or both of them want—and he uses Rob Goldstone when he's doing something involving Putin and needs a little extra distance from it. Case-in-point: December 13, 2016.
On the same day Kushner meets secretly with Putin's banker at Trump Tower; about 10 days after Kushner secretly meets Russia's ambassador; and just two weeks after Aras Agalarov lobbies Trump on sanctions—Emin Agalarov writes Jr. with a lucrative business proposal. I mean, c'mon.
That Manafort was involved in these email chains and meetings means he understood what was going on when WikiLeaks announced—5 days after the June Trump-Russia Trump Tower meeting—that it had stolen materials. Within 23 days Manafort was offering private briefings to a Putin pal.
In sum, the Kremlin made advances to the Trump campaign; the Trump campaign expressed a willingness to talk; a meeting was held at which the Trump campaign confirmed it would look at sanctions post-election; the Kremlin began helping Trump; Trump offered help back.

A conspiracy.
(PS) Certain things we can't know yet. For instance, does the fact that Kislyak yelled at Sessions on September 8, 2016 have anything to do with Trump ceasing to say the Russians were behind the hacking less than 3 weeks later? In July he'd been attributing everything to Russia.
(PS) To what extent did Don Jr. telling his father that WikiLeaks was (per WikiLeaks' emails to Jr.) supporting the Trump campaign cause Trump to begin lavishly praising WikiLeaks—aiding their brand and helping them fund-raise—immediately thereafter? That too is a quid pro quo.
(PS) We long ago left in the rear-view mirror whether the Trump campaign tried to conspire with Russia. It did—over and over. And I'd even say we've left behind whether Conspiracy to Commit Computer Crimes charges can be brought. It's just a question of the strength of the case.
(PS)
September 8, '16: Kislyak yells at Sessions in secret sanctions meeting. Trump had accepted Russia's role in the hacks.
September 14: WikiLeaks emails Jr. about supporting Trump.
September 26: Trump retreats from claims Russia hacked—and starts talking up WikiLeaks instead.
(PS) On September 21, WikiLeaks had given Jr. a password to a website it thought could help the campaign—an attempt to materially aid Trump. So in just 18 days, Trump's dangerous rhetoric linking Russia to the hacks is replaced by a touting of Russia's plausibly-deniable partner.
(PS) There's so much in the Majority and Minority reports I haven't covered in these two threads. But I'll say this: when I consider that Mueller has (say) 400%+ more information than we do, it boggles the mind how anyone involved in the Trump Administration sleeps at night. /end