NEW REPORT:
#Russia
's massive 2016
#disinformation
warfare operation used every major social media platform to deliver words, images & videos targeted to voter interests to help elect Trump—AND worked even harder after the election to support him in office
washingtonpost.com/technology/201…
NEW Report to Senate #2: Russian influence campaign made extraordinary effort to target African-Americans, used an array of tactics to suppress Democratic turnout, unleashed a blizzard of posts on Instagram that rivaled or exceeded its Facebook operations
nytimes.com/2018/12/17/us/…
#Russia
's "disproportionate pursuit": "The most prolific I.R.A. efforts on Facebook and Instagram specifically targeted black American communities and appear to have been focused on developing black audiences and recruiting black Americans as assets."
#disinformation
#propaganda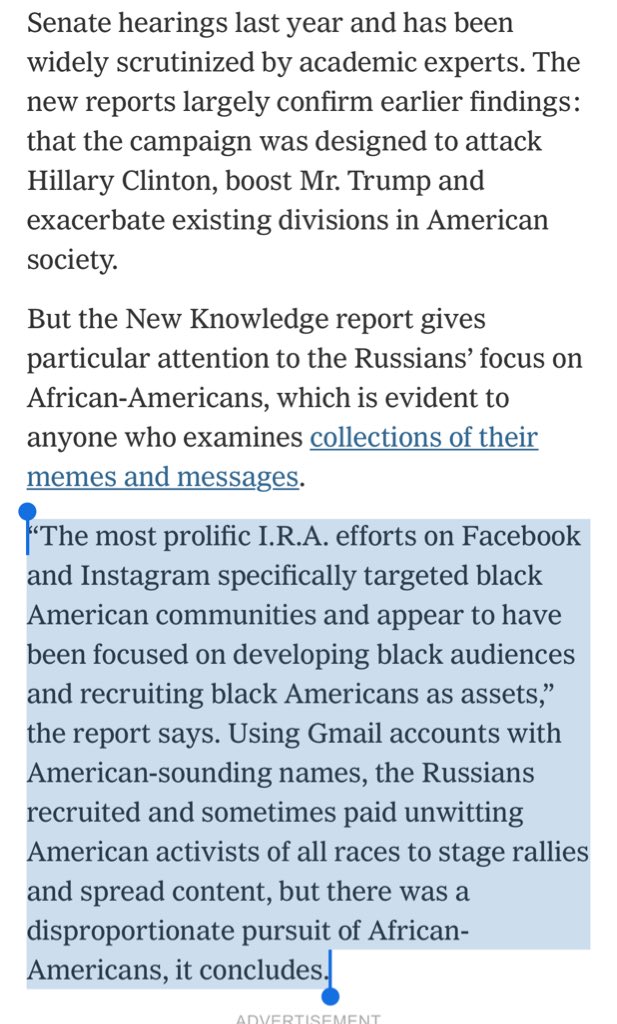 🚨These reports should refocus us on Russia's election attack & the fact that the sitting POTUS stills covers it up. He's led NO govt effort against the ongoing threat. Instead he poisons Americans against the investigators—FBI, DOJ, Mueller. Innocent people don't hide the truth.
Russian disinformation in 2016 was worse than you thought. Nearly 1/2 of Russia's info warfare campaign went into suppressing the Black vote. And in fact, the African American vote declined in 2016.
msnbc.com/ali-velshi/wat…