I still don't know if I will get my "backpay" bc I self-reported my previous Gofundme.
In Trump's America you are punished for doing the right thing while the rich get richer.
I am freaking out and my heart is shattered. 💔
I am disposable.
I've worked my entire life, always trying to help ppl & make the world a little better.
ONE DAY in 2011 utterly changed my life 4ever.
I must still raise $198/mo for the RX that allows me to digest food, although at 50 cents/day for food, Idk what to do.
#Lyme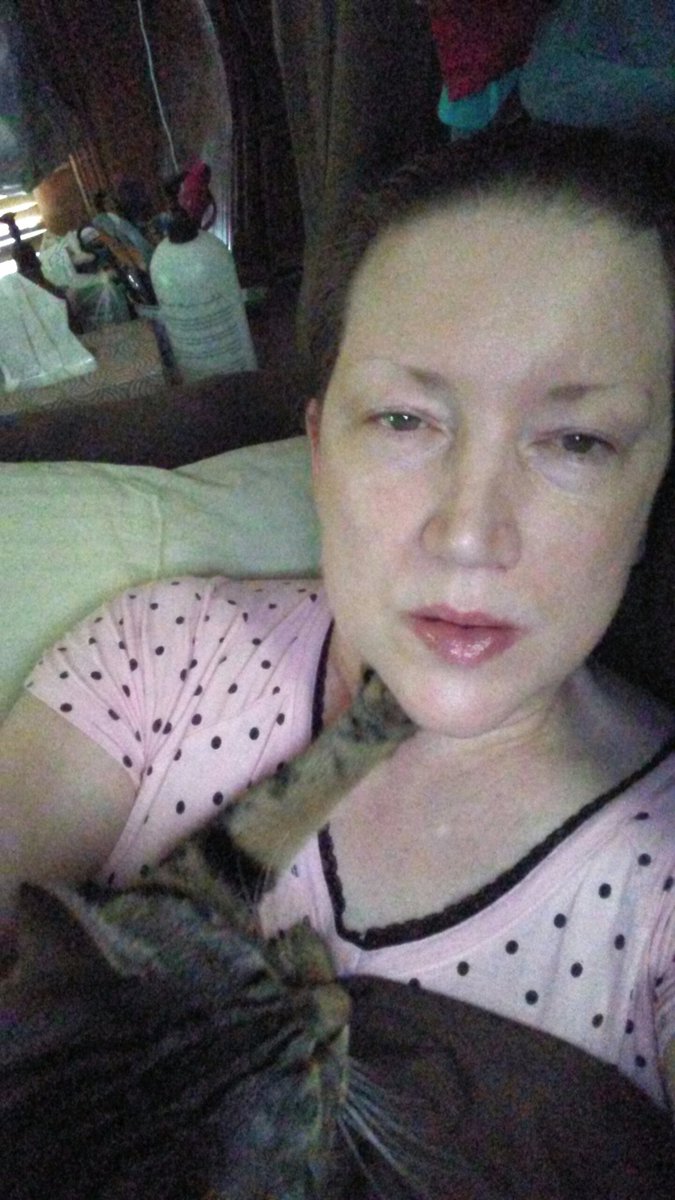 Goodnight my Twitter family. Too much tonight. 😭🌌😴🌛💕 Julie
@threadunrap please unroll
I have slept on this news and I am still devastated.
There is no way I can pay the mortgage on my family home without my Mom. She's 77 & we are barely holding on now.
We can't even afford the RX @$198/mo that's necessary for me to digest food.
$15/mo foodstamps means Rx vs food
In
#TrumpsAmerica
,
#disabled
/poor people must choose between food & RX.
@senatemajldr
is 'my' Senator. He called himself
#TheGrimReaper
.
He is trying to destroy our safety nets.
The GOP is KILLING me & many others.
No one should have to choose between food & RX.
Idk what to do.
@senatemajldr
I have a brain tumor/IIH & such severe intestinal damage from a 3.5 yr battle w/Vanc-resistant C. Diff.
I had 2 FM transplants.
My 77-year-old mom is my caregiver.
We can't afford the RX @$198/mo that allows me to digest food.
I will DIE w/out it. 😭
#LymeDisease
#ChronicPain
@senatemajldr
Please find it in your hearts to help us.
My 77-year-old mom worked until she was 75 so we wouldn't be a burden.
She finally had to quit bc I continued to decline.
She's my driver to all my Dr appts. I had 3 last wk & 2 this wk.
She helps bathe/dress me.
We need help! 💔 Plz RT
@senatemajldr
While the top 1% & corporations got tax breaks, my 77-year-old mom, Carolyn, & I had to file an extension bc we can't afford our taxes.
This is
#TrumpsAmerica
Good, decent ppl who've worked their entire lives must
#crowdfund
to pay for RX @$198/mo needed to digest food.
#help
@senatemajldr
I had a troll ask me why we are asking for help with food & RX while the photo of us is at a restaurant.
Evidently, poor people aren't allowed to have a life.
The photo is my Mom, my goddaughter, & her grandmother.
It was her 10th birthday & her mom treated us to dinner.
😭
@senatemajldr
Here's a photo of me & Mom (
@DemForLife3
).
A friend sent us some food but it was over a yr ago.
We are only able to pay bills/buy food w/all the help you all provide.
Idk what I would do without my Twitter family.
You all keep me going.
I try to stay upbeat & positive but 😭