UK economy in worst spell since 2009 as all-sector
#PMI
signals further contraction. PMI rose from 48.8 in Sep to 49.5 in Oct, but declines have now been recorded in four of the past five months 1/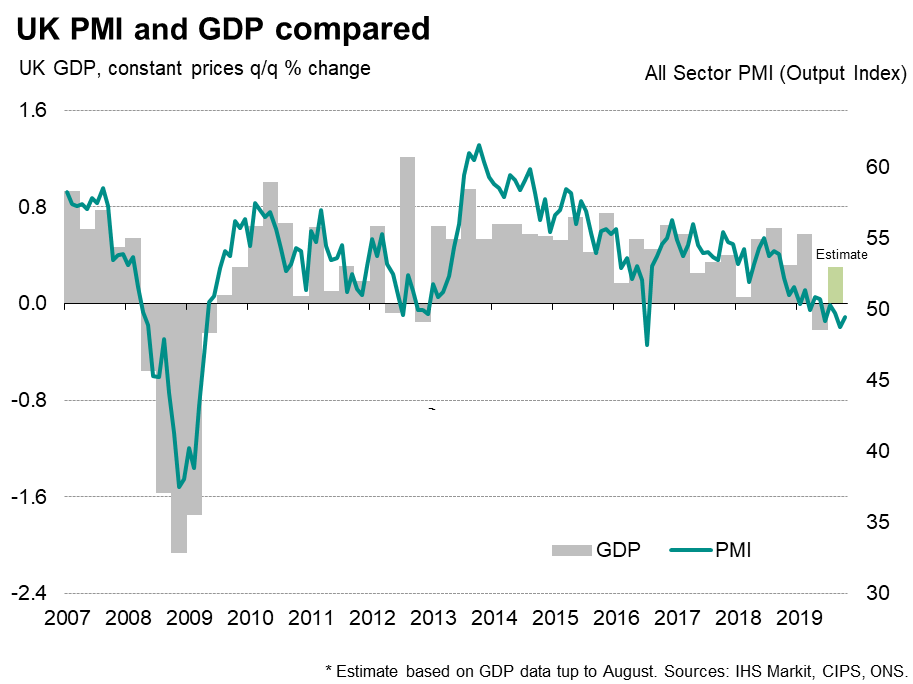 The Oct PMI indicates GDP q/q rate of fall of -0.1%, similar that signalled by in Q3. Official data are likely to have indicated more robust growth in Q3, the PMI warns that some of this strength reflects a pay-back from a steeper decline than signalled by the surveys in Q2
2/
More encouragingly, survey responses collected later in the month – after the risk of a no-deal exit from the EU on October 31 had receded – generally came in stronger than earlier in the month, suggesting some of the paralysis from immediate Brexit-related worries had lifted.
5/
Likewise, business confidence about the next 12 months also improved, rising in October to the highest since July.
6/
Average prices charged for goods and services meanwhile showed the second-smallest monthly increase since July 2016, the rate of increase rising only modestly from September's recent low to hint at weak
#CPI
inflation in coming months. 9/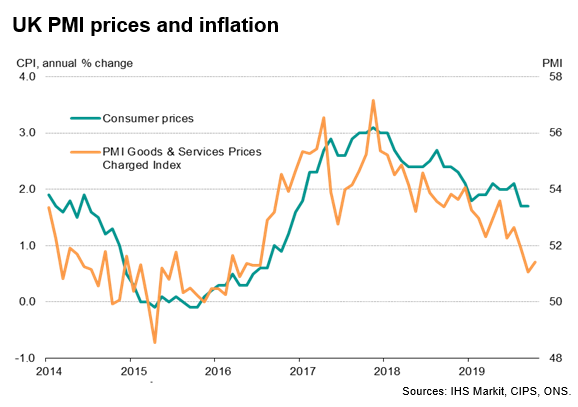 The ongoing decline signalled by the three surveys leaves the main PMI gauge of output deep in territory that would normally be associated with looser policy from the Bank of England, suggesting a greater likelihood of the next move in interest rates being a cut.
#BOE
10/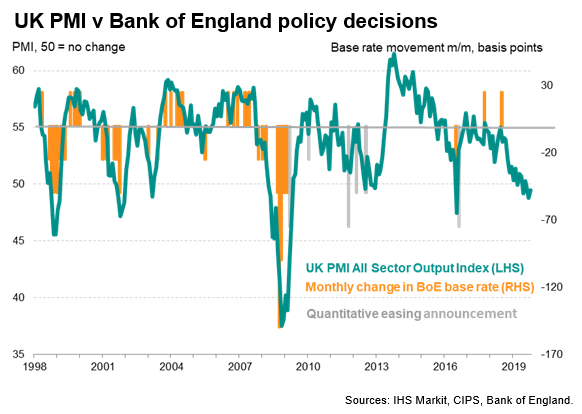 Our expectation is though that
#BOE
policymakers will once again sit on their hands at the next MPC meeting, choosing to delay any policy decisions amid the heightened political uncertainty emanating from the upcoming general election and the consequences for Brexit.
11/
However, the weak PMI readings suggest that the UK economy is deteriorating markedly as the Bank of England sits and waits for the Brexit fog to clear. 12/12