Kicking off day 3 in Rosario. Today we are looking at issues of waste management in Rosario & developing our research strategy for
urbanisinginplace.org
exploring
#urban
#agroecology
in London, Rosario, Riga & Brussels. Follow this
#thread
to find out about today's
activities!
In Rosario there is a source separated municipal waste system. But the organic waste fraction is often contaminated and not to produce compost fit for agroecological farmers
They are therefore focusing on identifying and securing appropriate waste resources and capturing them before they enter the waste stream
These include the waste from craft beer brewers, chicken manure, abattoir waste (cattle guts high in microbes), street tree leaves and wood chips.
Some of these materials are considered legally as waste products - making their collection expensive and regulated. They are working with the municipality to get these materials reclassified as agroecological inputs.
They are focusing on producing a compost that improves the health of the soil - not on delivering nutrients to the crops. The objective is improving soil health which will in turn deliver sustainable increases in yields.
"Here in Argentina we are told by the US and the west whether we are rich or poor. But not everything that matters can be measured. From an aboriginal understanding we also consider our relationship with nature and our spiritual life"
#pachamama
After the 2001 crisis academics and NGOs - who had previously been supporting agroecologcal farming in rural areas - looked at the potential for
#urban
#agroecology
to provide employment food and resources to the people of Rosario and engaged the municipality in the idea.
At this point over 50% of the population of Rosario were living in poverty.
The Rosario
#urban
#agroecology
project developed food growing gardens in parks and disused land. It also established markets to sell
#agroecological
produce at comparable prices to standard produce available at grocers.
They identified land that would not be suitable for house building. These often had poor quality soils so needed work to generate a living topsoil.
"Growers give us everything. We need food everyday but don't celebrate our growers"
The project has now started developing degraded peri urban areas into farms, providing new food growing spaces, improving environmental quality, managing multiple resources such as waste water and energy, and providing housing and livelihoods for marginalised people.
Food is cheap because it is based on the exploitation of migrant workers, and the costs to health, the environment and climate are externalised
Agroecoloical growing is having to compete with cheap unsustainable and exploitative food production. For
#urban
#agroecology
to succeed we need more cooperative, solidarity and community supported models to take food out of the market.
In 1970s soya bean was introduced and in 1990s GMO soya was allowed - today 99% of soya is GMO grown as a monocrop and reliant on high chemical and pesticide use.
The number of vegetable growers and the area of land supporting vegetable production has declined significantly due to displacement by urban sprawl and soya production.
The city of Rosario has a
#greenbelt
(shown in blue) and a protected strip (shown in green) where the use of agrochemicals is forbidden. 1276 Ha of
#greenbelt
is in agricultural production of which 244 Ha is horticultural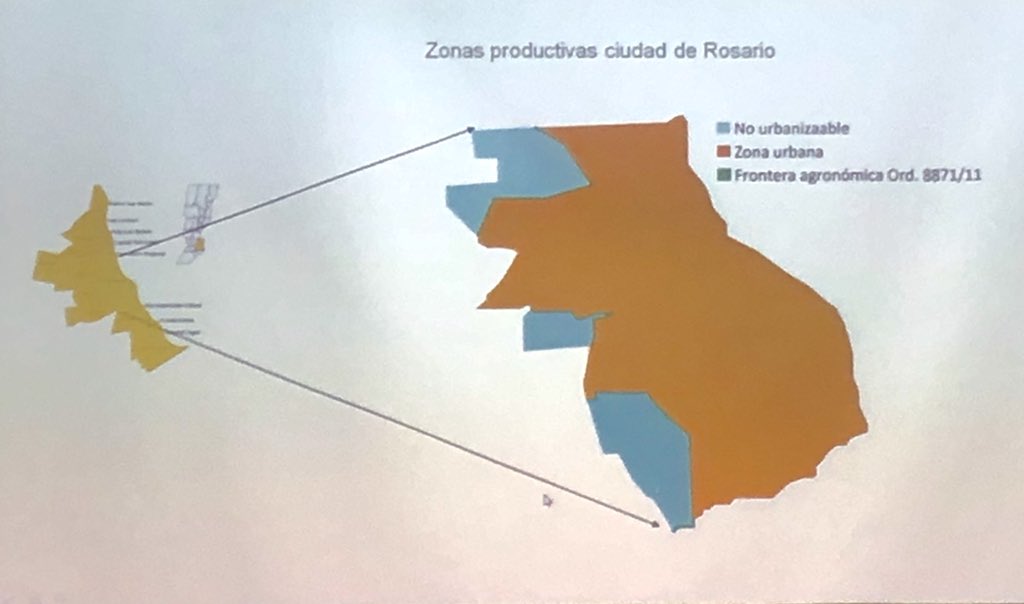 There are currently 10
#agroecoloical
producers in Rosario on 55Ha of which 20Ha are horticultural. 10 additional horticultural farmers (50Ha) & 8 additional extensive farmers (80Ha) are transforming to agroecological approaches and reducing their use of chemicals.