Any
#Brexit
would be a total
#Catastrophuc
for UK! Reasons will follow in this 12 part thread, to be developed over coming days. If you know of any NET benefits from
#Brexit
, please feed them in. They'd need to be good to match the >£1bn pw this mess is ALREADY costing US! 1/12.
Easiest one first! Full
#EU
membership (as NOW) gives the UK unrestricted tariff-free & frictionless trade access to an enlarged & well developed HOME market of 550+ million people in 27 fellow member states, being SO much MORE than our own UK of 4 much smaller parts. 2/12.
Brexiteers discount EU's relentless progress in terms of comprehensive trade deals with international markets. While UK has been a busy fool, chasing Brexit and getting nowhere! EU has signed Canada, Korea, Japan and (recently) Brazil & Argentina! All OURS to access NOW! 3/12.
In addition to
#EU27
, UK exporters already have access to around 70 'rest of world' countries, with this recent period including those heavyweight signings. No future deal with (eg) USA could ever compensate for the instant loss of over 100 other markets available via EU! 4/12.
UK has long been dogged by a visible trade deficit which sees goods imported running circa 7% ahead of our goods exported. This G20-lagging under-performance makes Brexiteer claims of 'going global' look fanciful! With what? To where? IF we lose SM/CU + all EU signed FTA's? 5/12.
And UK's productivity levels also lag paradigm
#G20
performance. Unless corrected (by improved
#Education
&
#Investment
and much better
#Management
) - Going global (ex-EU) is unlikely to work well! 6/12.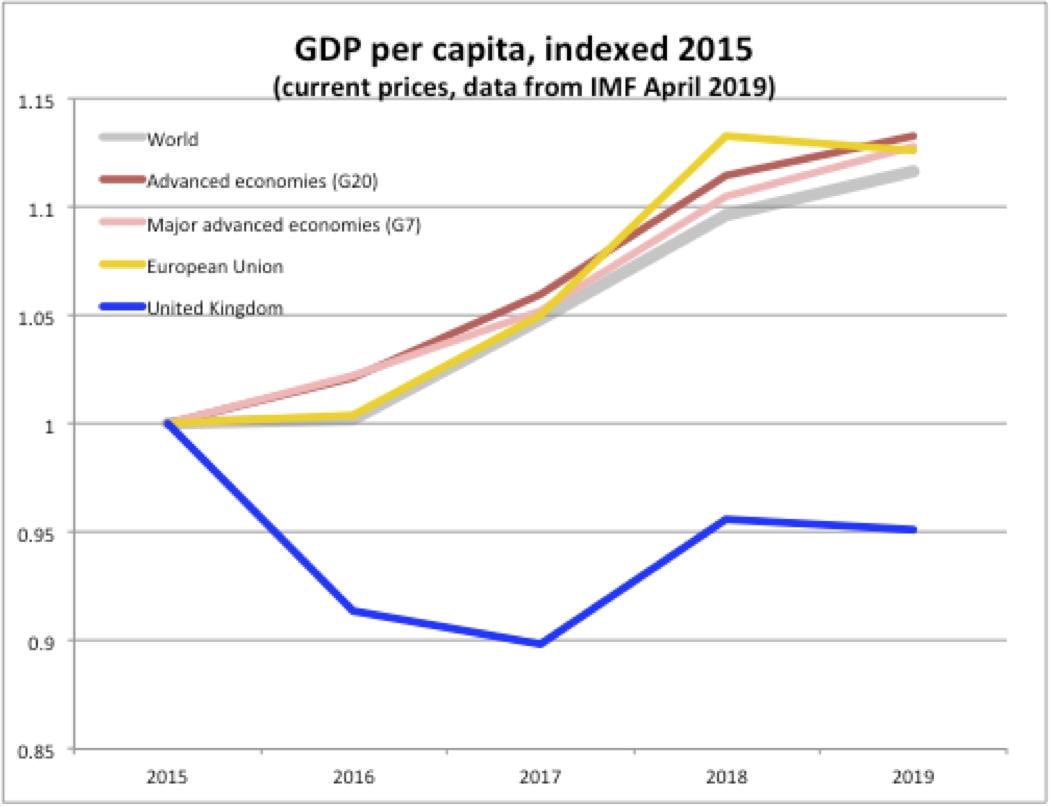 UK's
#GDP
%growth rate is underperforming (admittedly soggy) global performance. We've left 2014 far behind, as Brexit & Brexodus bite. In fact we're in slow steady decline on this key measure. Any Brexit would make this worse! 7/12.

While on scary numbers, take a look at UK's ever-growing debt pile! We're now borrowing in the region of 85%-90% of UK's annual £GDP (c£2.2 trillion) and this at a time when interest costs are relatively low. So, every 1% rate hike would take about £20bn MORE to service. 9/12.
UK's national debt more than doubled during the Blair/Brown era (13 years) and has more than doubled AGAIN since Cameron became PM (in 9 ruinous years). So, more than quadrupling OUR debt in just 22 years! is highly unusual - for peacetime! 10/12.
Regular readers may recall, I've been very worried about
#Brexodus
(+ it's knock-on impact) for 3 yrs. Not all instances hit the headlines, but they're hitting tax-take, GDP & confidence! Edwin's
@uk_domain_names
mega thread refers! Brexit is economically ruinous for UK! 11/12.
@uk_domain_names
As someone who's worked through 1970-present, incl. in Europe, I know there's NO good time to leave EU! But NOW! (see ALL above) is a hugely challenging point in far too many cycles. I don't believe we'll do it, but IF we do? it'll be a self-inflicted
#Catastrophuc
! 12/12. Ends.
@uk_domain_names
ps. From an amalgam of issues/factors referenced above + the insanely irrational 'preparation' costs being incurred by
#HMG
,
#Brexit
is ALREADY 'opportunity costing' UK well north of £1bn weekly, or c£60+bn pa! IF we leave on 31oct19, that 'cost burden' will double or triple!
@uk_domain_names
pps. Unless we
#StopBrexitSaveBritain
I fear that we'll suffer: further £'devaluation; higher inflation (nb food); more
#Brexodus
closures & unemployment; asset value hits (stocks/houses etc) & UK sovereign debt crisis! State Debt would be downgraded & borrowing costs forced up.
Quick note
@joswinson
@EdwardJDavey
. I need you BOTH to absorb my latest short thread and tell me straight if you believe I've exaggerated anything? Whichever one of you wins (good luck both!) needs to be 110% aware of the macro-economic context for UK, so NOT great IF we Brexit!
@uk_domain_names
final pps - no views to the contrary have been received? so NO new NET benefits of
#Brexit
have yet been notified? Should I continue to believe that there are NONE? and that this entire INSANITY will be cancelled? Also asking
@joswinson
@EdwardJDavey
in whom I trust re
@LibDems
.