2)
On January 12, 2017 the DOJ Inspector General announced his investigation.
Part of his investigation is into the FBI Vault dump that occurred on October 30th, through November 1st 2016. A little over a week before the election.
oig.justice.gov/press/2017/201…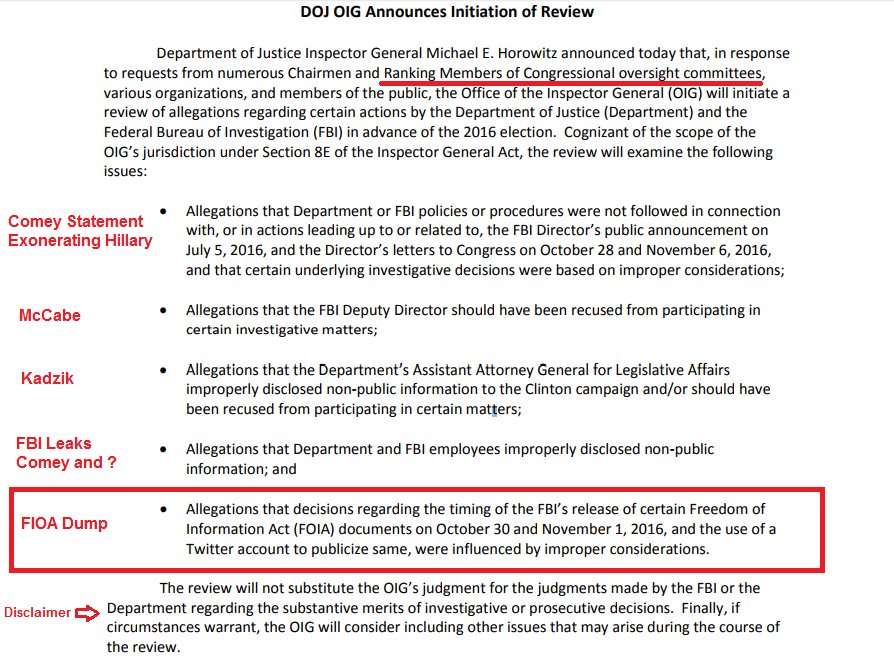 3)
Clinton Campaign press secretary Brian Fallon reacted immediately. He is currently a CNN political contributor.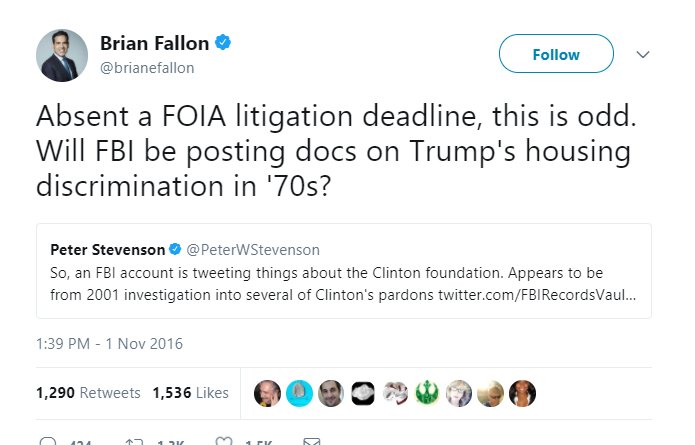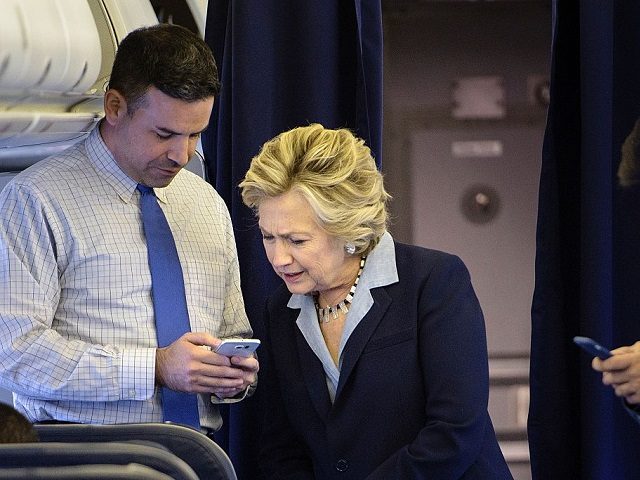 4)
Hours later Clinton surrogates in the media sprung into action with multiple outlets protesting the timing and the content of the release. Here is CNN's reaction
cnn.it/2eaIG6G
6)
Clinton Foundation Investigation (638 pages highly redacted )
Part one 129 pages
vault.fbi.gov/william-j.-cli…
Part two 509 pages
vault.fbi.gov/william-j.-cli…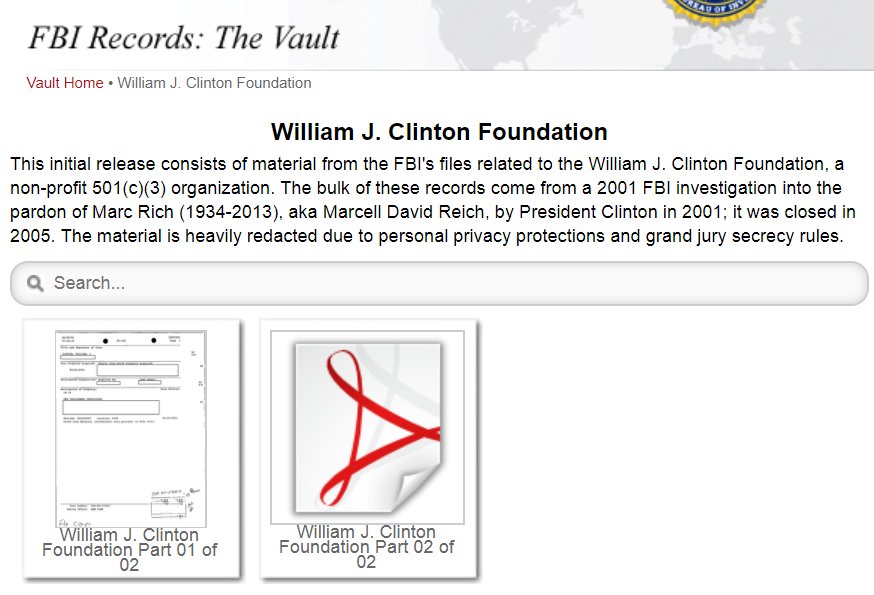 7)
This document is page 501 of 509 of part two. It shows that the FBI obtained evidence that Marc Rich paid for the pardon he received from Bill Clinton on his last day in office.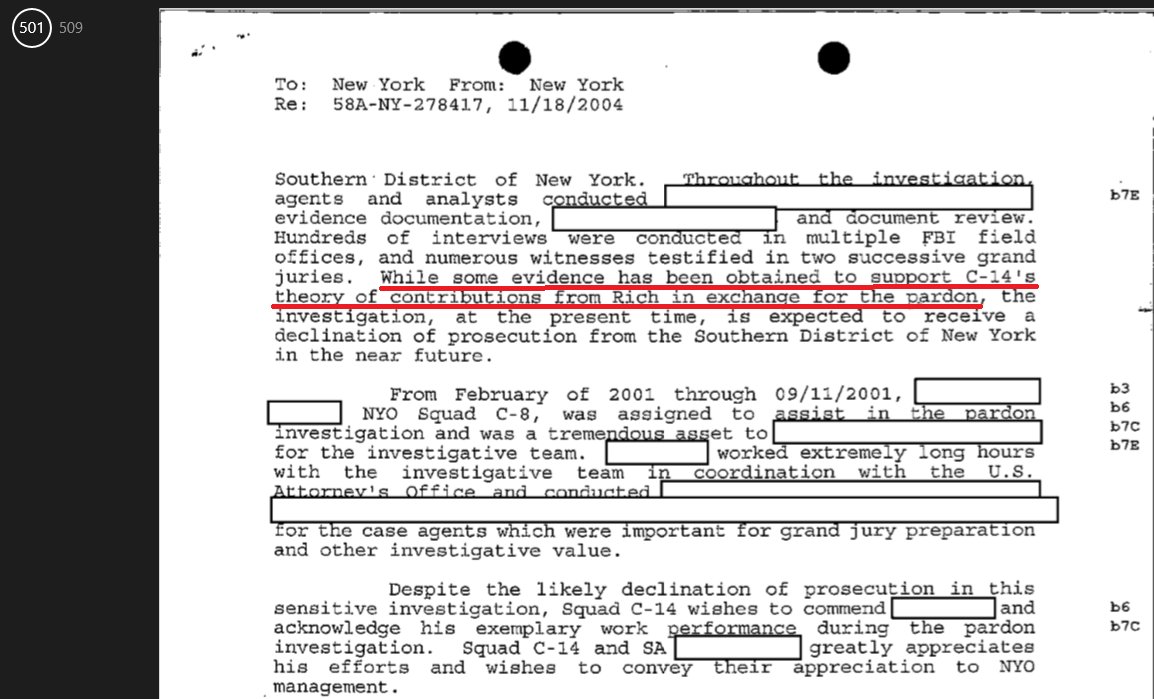 8)
There were also upset about this one
9)
This was part one of the Hillary Clinton Email investigation. The Clinton Campaign was really sore about this as it came after the wikileaks release that forced Comey to "re examine" the case on October 28th a case he conveniently closed again 2 days before the election.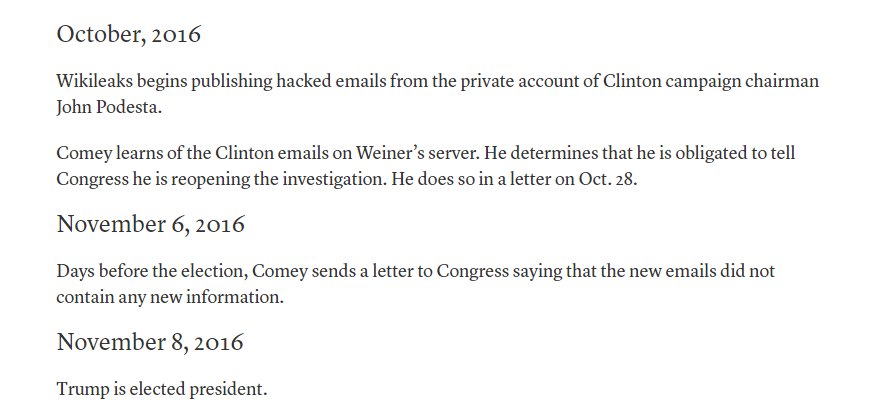 10)
We are now up to part 17. Well sort of. When you click the PDF link for part 17 you get "this page does not exist"
vault.fbi.gov/hillary-r.-cli…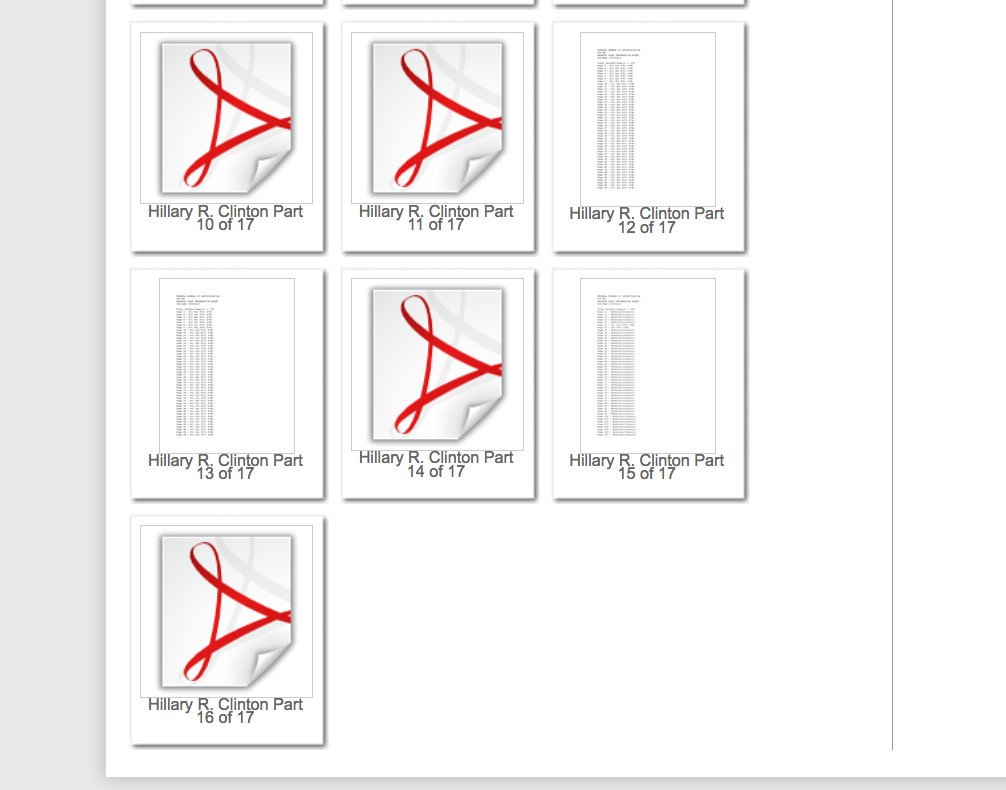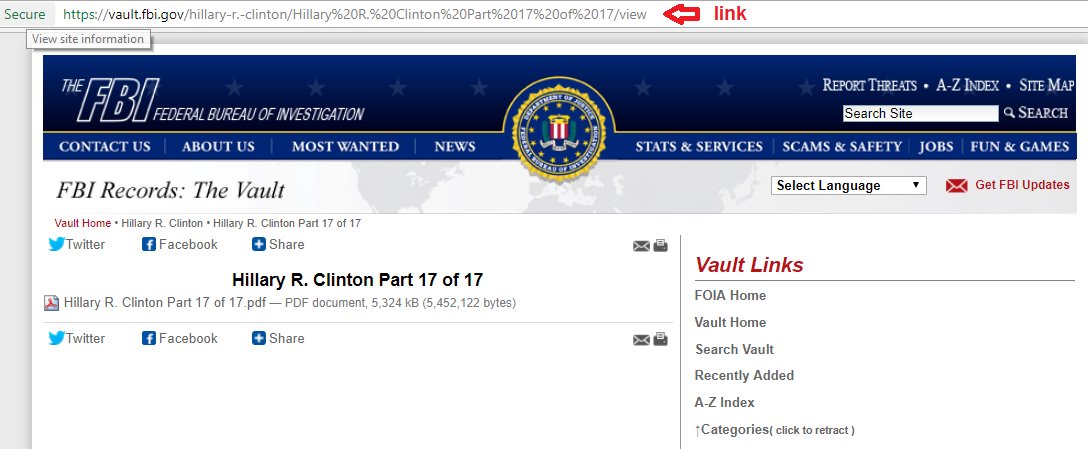 11)
@GOPPollAnalyst
is monitoring the situation. Keep an eye on her feed for when it is uploaded and operational.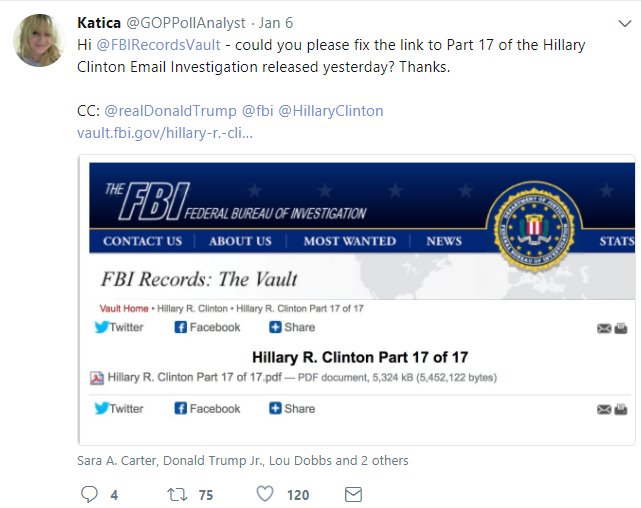 12)
These releases caused the surrogates in the media to claim once again that the
#FBI
was sabotaging her campaign. I find it interesting that if you study the overall reaction to the dump it is clear that they were not as upset about the email investigation as the CF.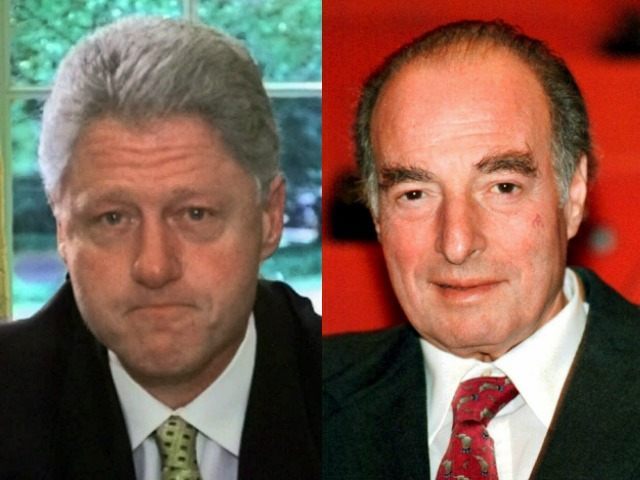 13)
The IG let us know that his review is in response to requests from Chairmen AND Ranking members of oversight committees. Ranking member denotes the senior member of the minority within the committee. Feinstein and Nadler are ranking members of the cmtes that oversee the DOJ.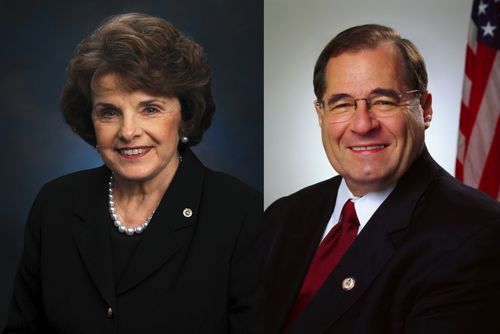 14)
Now that we examined the specific FBI releases that caused angst for the Clinton Machine that led to the IG review, we are going to do a brief over view of the FBI vault twitter account that allegedly "went rogue".
15)
Allegations of a "rogue agent" within the
#FBI
were due to the content and AND timing. The account was inactive for over a year and then suddenly sprang to life just before the election to damage Hillary Clinton's campaign!!!!
Note the lead tweet that starts the sequence...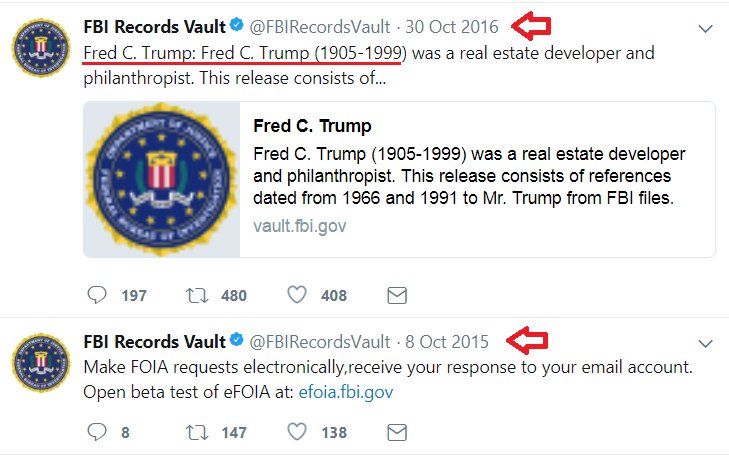 17)
Hold on it gets better. Look at the last tweet in the "rogue" sequence under investigation. It came a full 2 days after the October 30th batch that they had calmed down from after brushing it off as "more email stuff". They went from mild outrage to red alert panic mode!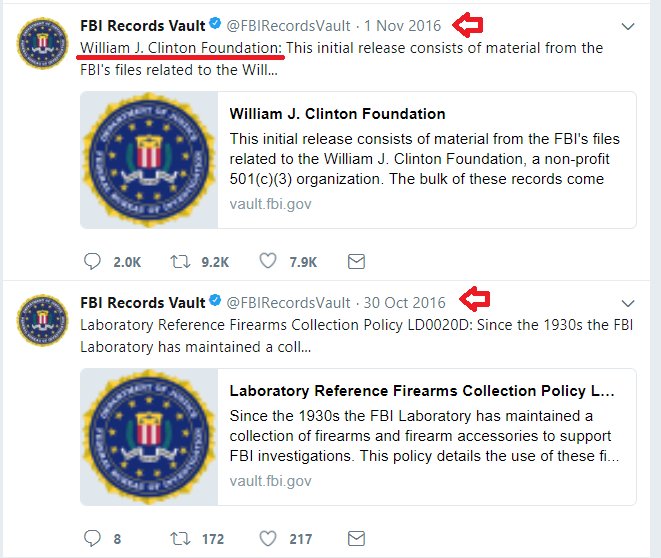 18)
Here is the full sequence of tweets in order from first to last.
RED = Releases related to the election
(3)
Purple = Those that people found interesting.
(2)
Freddie Gray riots
(2)
FBI Policies and Procedures
(14)
Link to full sequence:
twitter.com/search?f=tweet…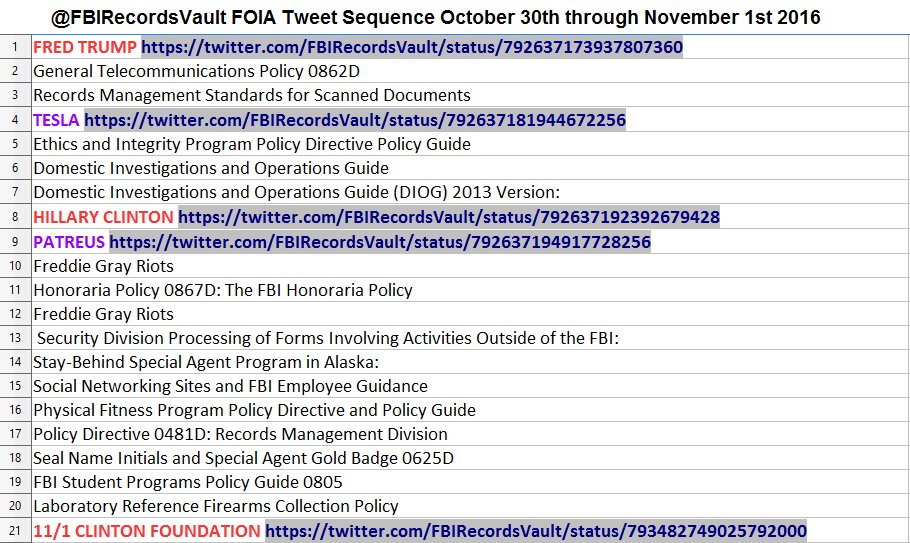 20)
The FBI Vault twitter account became operational on November 8th, 2011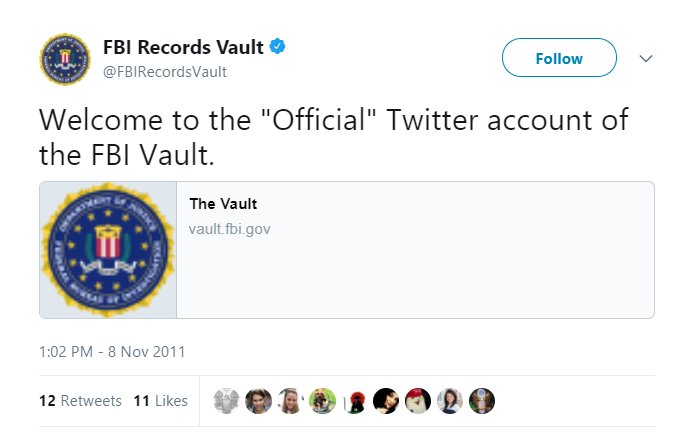 21)
FBI Vault Release tweet volume by year (222 tweets in total)
Note: 2011 and 2018 omitted from chart for not being a full years
Year and number of tweets in parenthesis:
2011 (6)
2012
(53)
2013
(14)
2014
(14)
2015
(23)
2016
(23)
2017
(88)
2018 (1)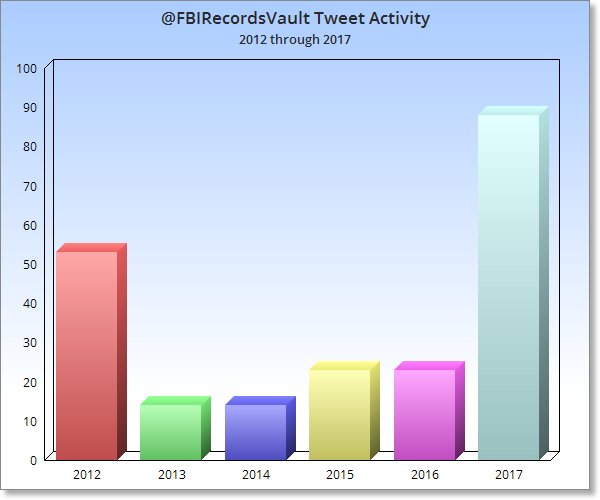 22)
The significance in the pattern is the drop after 2012 and the sharp increase in 2017. What is interesting is the fact that if those 21 tweets were not released before the end of the year 2016 would have closed out the year with ONLY 2!
23)
Let's look to see if there is anything abnormal about such a high number of releases on one day. Not really.
Here are the 5 highest days:
6/3/12
(17)
8/18/12
(20)
6/12/15
(20)
OCTOBER 30th, 2016
(20)
8/10/17
(17)
Note: June and August both appear twice.
24)
With 2 months left in the year we only had 2 releases. If anything was odd about a large release is that it came late in the year, not that it came on one day. Did something delay the releases that should have happened in June and August?
25)
FBI: It was just a "glitch"
"According to an FBI official, the flood of tweets occurred because of a backlog of updates dating to JUNE. The logjam finally broke when a content management system software patch was installed last week."
arstechnica.com/information-te…
26)
The Guardian was not happy at all! They wanted to know why the "glitch" was fixed!!! Why now??? They wanted to know if a human was involved in the process, and after being told "yes and no" they get left hanging! Read the entire exchange. It's great!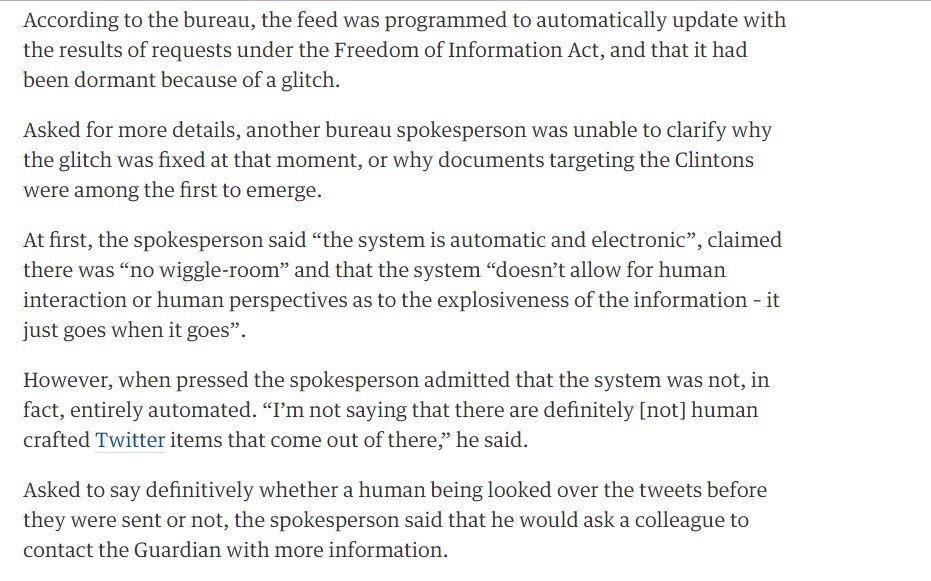 27)
Questions for Mr. Horowitz!
What or who caused the "glitch"?
Was it human "error" or computer error??
Was it on accident or on purpose?
Why did the "glitch" take so long to be noticed??
Who fixed the "glitch" and why not until after the election??
What about the sequence??
28)
Was it a white hat agent, a random computer error, or a combination of the two? My guess is that we will never know....

29)
Policy Directive: FBI Seal Name Initials and Special Agent Gold Badge
(Tweet 18)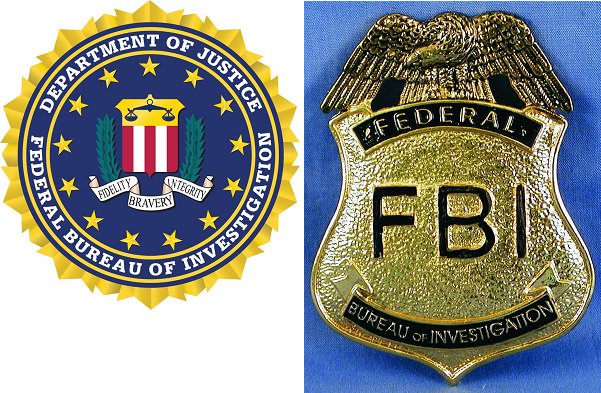 30)
The Purpose of the Directive is detailed in numbers 7, 7.1, and 7.2. (Page 1)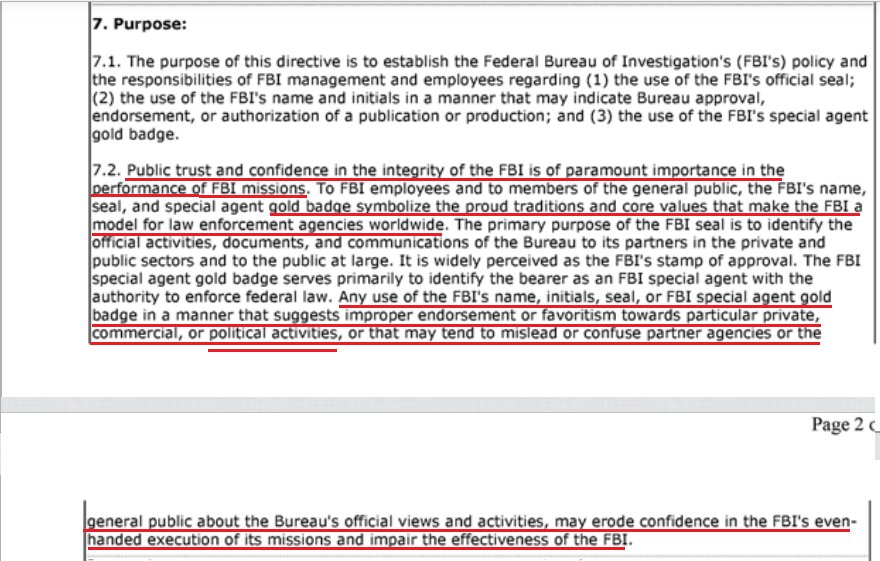 31)
Policy Directive 0481D details actions taken by the
#FBI
's Records Management Division, Record/Information Dissemination Section, and other components in responding to requests under federal open records laws like Freedom of Information Act. (Tweet 17)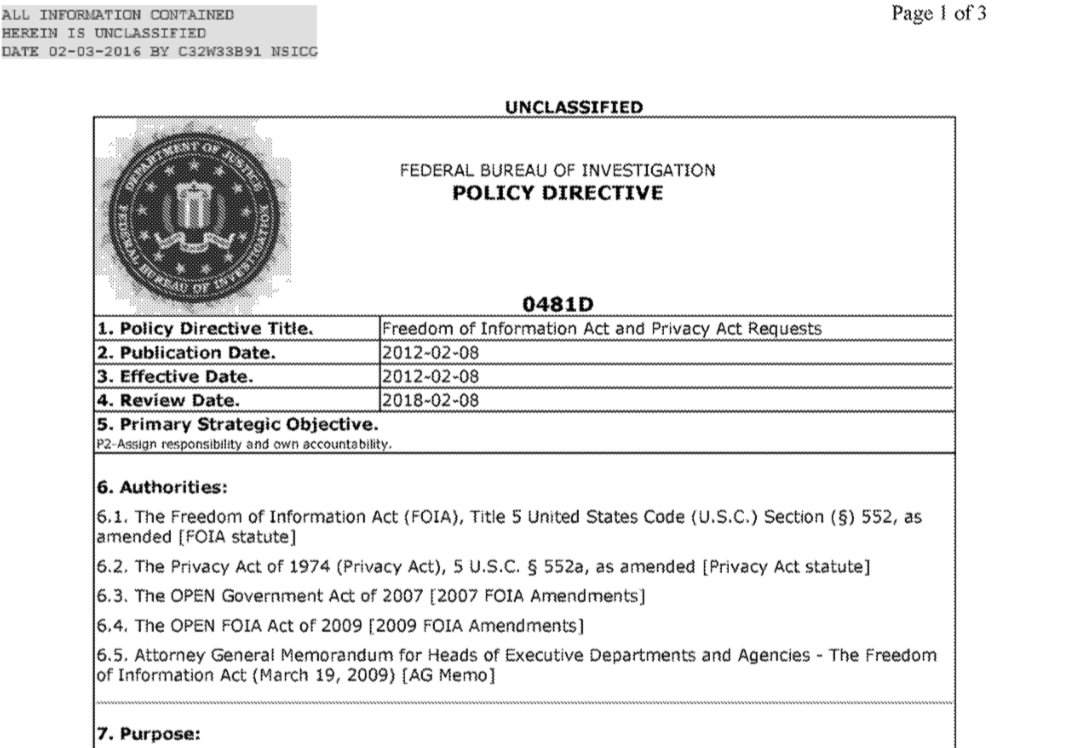 32)
We really do not know what the Inspector General and his investigators will find when they investigate this amazingly interesting dump. They may just focus on the "glitch" and the circumstances of the release and not the content as I have.
33)
Conclusion: I found in my research that this dump had a story to tell, a message if you will. I wanted to share that with you.
34)
OOOPS! I forgot to insert the David Howard Patreus Investigation. (tweet
9)
A decorated general that got ruined for mishandling classified material.
What an odd "coincidence".