BREAKING: All indications are that Trump—via agents in Congress—has forced the retirement of a key witness against him in an Obstruction case that could lead to impeachment. Worse, it's part of a coordinated, illegal effort to intimidate, punish, and discredit adverse witnesses.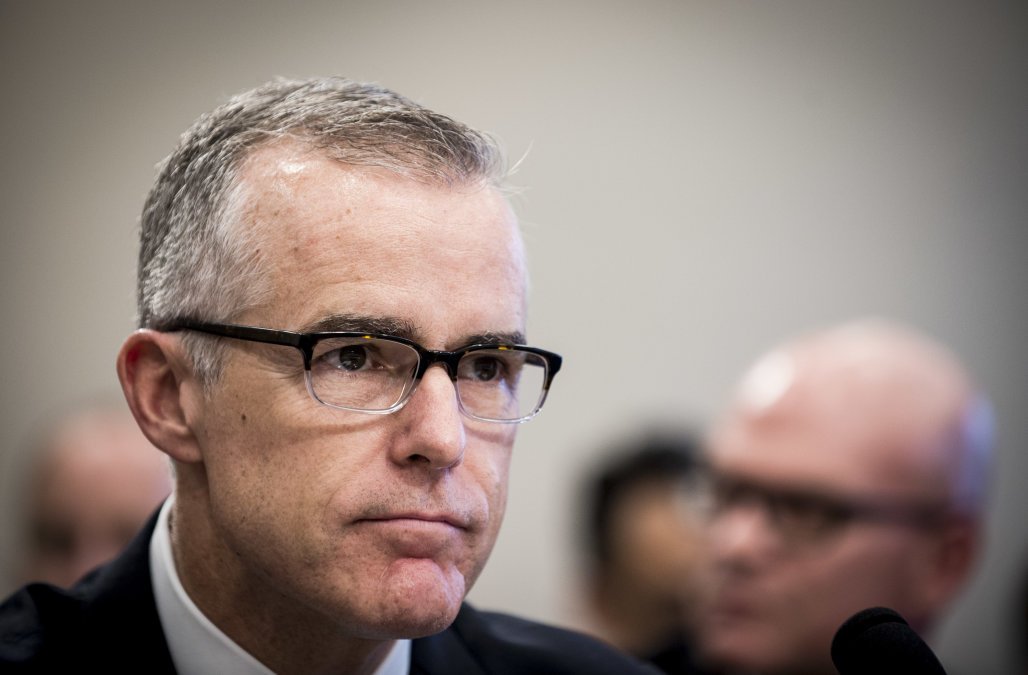 1/
I first wrote about this effort a week ago:
2/
Then, a few days ago, Foreign Policy confirmed a wider, Trump-driven effort to illegally intimidate, punish, and discredit a small subset of FBI witnesses against Trump:
foreignpolicy.com/2018/01/26/tru…
3/
Now, today, Trump has won his first major victory in his ongoing and illegal campaign to intimidate, punish, and discredit witnesses against him in a pending criminal investigation and possible impeachment inquiry:
cnn.com/2018/01/29/pol…
4/
It's already been established that Nunes—the instrument of Trump's illegal campaign to destroy witnesses against him in a pending criminal investigation—is a Trump agent who coordinates his maneuvers with the White House generally and Trump specifically:
fresnobee.com/opinion/editor…
5/
Today's forcing out of McCabe should be seen as an act of criminal obstruction—the product of a carefully coordinated conspiracy to obstruct justice that includes Devin Nunes and Donald Trump—every bit as significant as the ongoing plot to fire Rod Rosenstein and Bob Mueller.
6/
People forget that Rod Rosenstein is a key witness in the Obstruction case against Trump—just as McCabe is. So the secret Trump- and Nunes-led effort to fire Rosenstein via the so-called "Nunes Memo" is part and parcel of the effort to intimidate, punish, and discredit McCabe.
7/
This type of conduct caused Nixon to resign and would've gotten him impeached had he not resigned. Trump has identified witnesses against him in an Obstruction investigation that could get him impeached—Comey, McCabe, Rosenstein, others—and is executing a plan to destroy them.
8/
Trump allies have pushed for Comey to be charged with crimes; pushed McCabe out at the FBI; pushed through the criminal referral of a Comey sources (Steele); are now pushing for Rosenstein's firing; and have worked for months to discredit Sessions—another Obstruction witness.
9/
Criminal conspiracies are banal, not exciting. What America is seeing now is a run-of-the-mill criminal conspiracy to intimidate, punish, and discredit key witnesses in a federal investigation into High Crimes that could impeach a president and—perhaps, eventually—convict him.
10/
This criminal conspiracy is ongoing and won't end anytime soon. Its next target is the Acting Attorney General, Rod Rosenstein. Then the Attorney General, Jeff Sessions. And the effort against Comey and Baker is ongoing. All key witnesses. Congress must act to stop this. /end
PS/ Reports indicate McCabe planned to retire in March and had *no* plans to step back from the FBI early. This news is apparently a shock to those in the Bureau, and looks to be directly related to Trump allies' threats to release the so-called "Nunes Memo" to discredit the FBI.
PS2/ McCabe *can* still testify against Trump, and *will* should Trump face impeachment.

Trump's plan is to tarnish McCabe's value as a witness by being able to say he left the FBI due to pro-Clinton, anti-Trump bias. Wray was—until today—blocking that. Then something happened.
PS3/ McCabe is still retiring in March; he has enough accumulated leave that he can resign his position now and—per CNN—still retire with a full pension. But Trump and his allies will now be able to claim—in future proceedings—that McCabe had to leave early due to "controversy."
PS4/ There can be no doubt that, if not for the pressure from Trump (tweets attacking him, a promise to release the Nunes Memo even without DOJ approval or oversight) McCabe would *not* be resigning his position—as he'd told his subordinates he'd be staying on through March 2018.
PS5/ The NEW YORK TIMES is now confirming that, with FBI Deputy Director Andrew McCabe out of the way, the next Obstruction witness that Trump and his stooges in Congress plan to terrorize and discredit is Acting Attorney General Rod Rosenstein:
nytimes.com/2018/01/28/us/…