To the unfortunate souls drowning in the war of the acronyms, realize that in 2011, Nigeria had 65,000 internally displaced people (IDPs). Today in 2019 there are an estimated 3.75m IDPs literally & figuratively over 100million IDPs under this admin's weaponized poverty.
#BeWise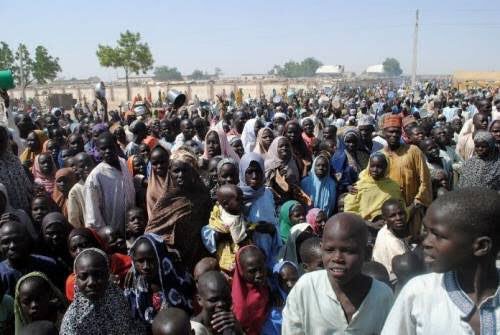 In a country where the truth is seen as a poisonous hate speech, there is no telling how deep the plunge into the abyss would be. But should this be a legacy to our children and unborn generations? Millions trapped in these camps & abused by known VIPs stealing from them...
...would one day break out in their numbers into your beloved streets and make your sheltered kids pay for a crime they never committed. Those plunged into economic hardship & job losses will justify their transmogrification by living a life of crime. Shame has lost its meaning.
Before you join the train of emotive zombies think of your loved ones if you are yet to Procreate with dependents. Our efforts in the past decade is really not to change anyone but create a brighter future for those innocent generation who didn't ask to be born.
Leadership is about responsibility but no one wants to be responsible thus we generally cede responsibility to political leaders we have elevated to the pedestal of unquestionable monarchs. Forgetting that they are humans too and could choose to be irresponsible unconscionably.
We're not doing anyone a favor but securing the future of our children by showing leadership from where we stand. We're raising argumentation without being argumentative. Defend your chains as much as U want but keep this out of my mention. If U can't contribute, don't distract.
For your information, we must be concerned about the plight of IDP's fleeing Rann to cameroun. Nothing demonstrates the loss of trust in Buhari-Osinbajo than this otherwise they'd take refuge in safer parts on Nigeria. If IDPs can feel the pangs of hopelessness you should too.
Have we known peace as a nation since Boko Haram nominated GMB as their spokesman in 2011? For those immune to the strain you will put this into the right context. Leaders raise more leaders. I won't engage people who see themselves as my adversary so it is right to delineate.
Over 10years ago I employed close to 100 young people. Most of whom I had to train for the job. Some didn't even have BSc. The will to learn & unlearn was enough. I didn't even know them from Adam. But on the job they mostly found purpose. Got their degrees & landed on their feet
Today they are fathers, protectors and providers across firms within the media sector. They were not my enemies nor adversary and I guess we can call them friends. Safe to say that I enriched them, not via any corrupt means as against hiring my family with bigoted arrogance.
Go to most media outfits out there and you'll find at least 5 competent professionals, who have gone through me. Beyond this, it is more about impact and influence beyond elitism and cronyism. Nigerians will never allow another leader repeat the blunders of the aberration of now.
In the past decade on Twitter, I have referred thousands of people I haven't even met. All you need to say is that Mr SEGA sent you and that influence and goodwill will favor you with your competence once confirmed to be true. It's about legacy. What is your Discipline? 🤔
We have seen enough evidence that shows a copious dearth of integrity yet pretend to be blind just to avoid ruffling feathers. I've said many times that people don't do what you expect but that which you inspect. 👉🏽
bbc.com/news/av/world-…
Since he said he would not talk to Boko Haram - despite their appointing him as their spokesman in 2011 - he has authorised several ransom negotiations with Boko Haram & paid them unknown sums as ransom. Many were even released as repentant extremists & allegedly recruited.
Some networks reported $42k per girl - and girls shown as allegedly returned number over 114 add that to the allegedly released supposedly "repentant" Boko Haram terrorists in hundreds and thousands.

All without lists or registers, so communities have no warning systems.
In civilised democracies, even repentant sex offenders are placed on public registers not to mention bloodthirsty extreme terrorists. While won't the efforts of our patriotic soldiers be compromised? Would you rather trust a man void of integrity that puts your lives in danger?
Especially when there are viable options out there. This is no time for petty politics. Nigerians are not asking for too much. This admin has failed in all the core areas of heir campaign. Security, Economy, Jobs etc. you are not safer & have been made poorer.
#Think
Boko Haram has been richer by $4.7m since 2015 courtesy of the folks sharing N10k to buy votes in the market square, while the presumed messiah dictate with Executive Orders on the seat of power without an iota of Responsibility. Do you really want the next level of this?! 🤔