THREAD: On how I got the exclusive interview yesterday with Canadian ambassador to China
#JohnMcCallum
at a dim sum restaurant. He resigned today at the request of the prime minister.
thestar.com/news/canada/20…
A friend had told me about this charity dim sum lunch in downtown Vancouver's Victoria restaurant. The organizer initially was open to me coming but then disinvited me because McCallum's comments on
#MengWanzhou
were so controversial. He was a guest of honour. I went anyways.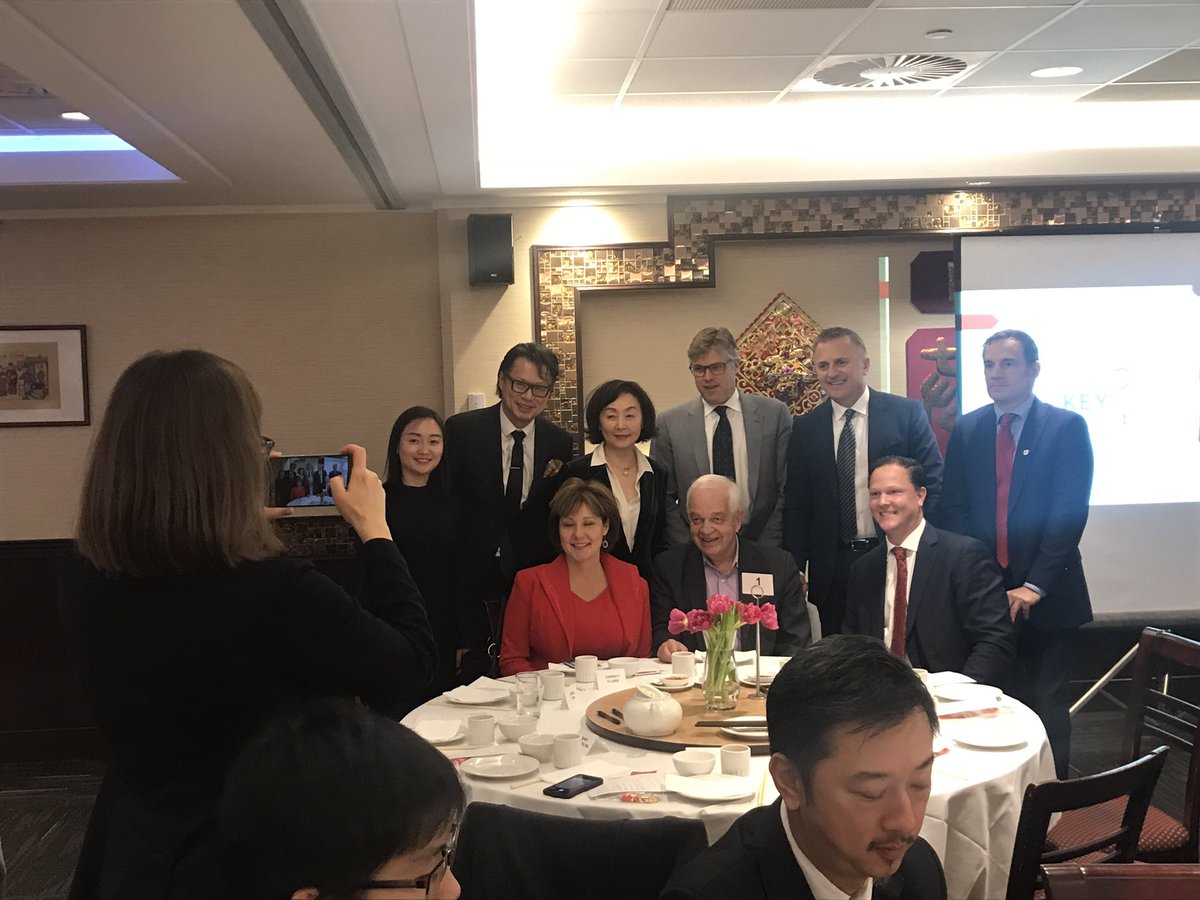 After McCallum gave a brief speech, everyone settled down to wait for the dim sum to come. I hovered awkwardly for a bit before introducing myself to him as a journalist formerly working in Beijing and said now I'm a managing editor of the
@starvancouver
@TorontoStar
.
McCallum was very friendly and stood up to speak with me. I told him I know one of the detained Canadians Michael
#Kovrig
and started by asking about his condition (as a friend I needed to know this first). My essay on when I found out about arrest:
thestar.com/opinion/2018/1…
I made sure he could see I had TWO recorders in front of me and I asked about how Canada was working to push for the detainees' release. Unprompted, McCallum said it would be "great" for Canada if US dropped extradition processes against
#MengWanzhou
:
thestar.com/vancouver/2019…
Here's the first lines of our story. I spoke with McCallum for 8 minutes (I left just when the shrimp dumplings arrived) then rushed out and emailed the recording to
@wanyeelii
. She transcribed it at lighting speed and started writing while I cabbed back to the office.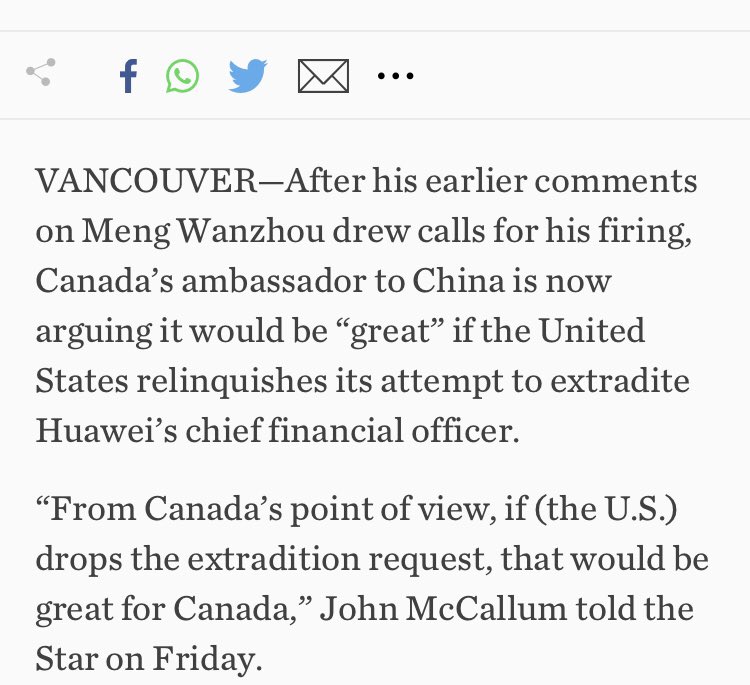 His comments to me were remarkable bc people were already calling for his firing after he said
#MengWanzhou
had a strong case to fight extradition. This contradicted Canada line that matter is for the courts. He said any US "deal" with China should involve release of detainees.
Near the end of interview, McCallum may have realized he said too much and tried to ask for off-the-record. I didn't agree and pushed the convo forward. I later got him to agree that everything he said "before" he requested off record was reportable. This is called doing my job.
.
@wanyeelii
and I rushed to write story then our editors and web team in Toronto made sure everything looked good. Wanyee re-listened to recording to check quotes were correct 3 times. Meanwhile
@Mui24hours
called top experts for reax. We knew this was big
thestar.com/vancouver/2019…
I was previously scheduled to be a speaker on CBC's
@PnPCBC
panel at 2:30 pm. In back of my mind I had thought it'd be great if I broke a big story at lunch then jumped on national TV to talk about it... I ended up doing that. Video clip here:
After breaking such a big story I was fully confident about leaving office for the TV hit because my colleagues are absolutely amazing.
@wanyeelii
and
@Mui24hours
kept updating the story w details and context. The whole
@starvancouver
knows the Huawei MengWanzhou saga in and out.
I don't really know what else to say besides read our stories and follow our reporters. I've worked in newsrooms internationally and loved everywhere I worked but what we have at
@starvancouver
@TorontoStar
is really special. If you can, please subscribe:
thestar.com/subscribe
Adding a last appeal for people to separate the horrifying and baffling actions of the Chinese gov't (arbitrary detentions, Xinjiang camps) and the Chinese people. Canadians including myself face racism daily. Canada is better than that. Kovrig and Spavor worked to build bridges.