The real importance of France & Germany going to Turkey to meet Putin & Erdogan is that they are effectively hiving off from the US by joining the Astana process. They are breaking boycott of
#Syria
, while preserving the "need for elections" talking point. (see thread)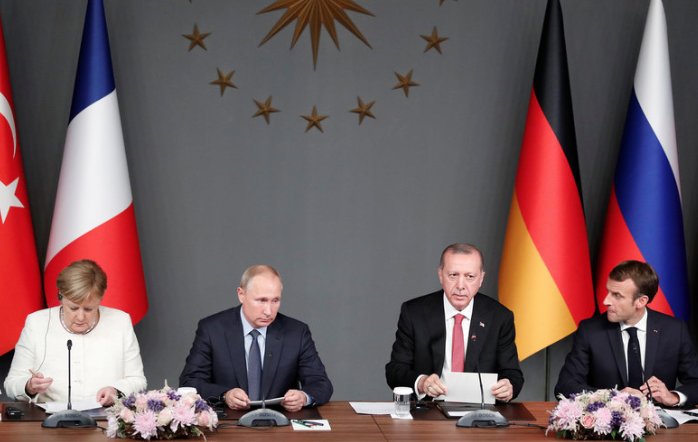 We may safely conclude that Assad will not permit any "political process" or constitutional committee to dislodge him or bring members of the opposition to power in Damascus. He has won the war.
Europe is frightened for its security. It does not want the refugee situation nor the Jihadi situation in Europe to be made worse by an Idlib invasion. This is why Europe is in Istanbul. As Macron said, the Idlib deal my be sustained.
Russia has reiterated that the Idlib deal is temporary. The jihadists must be killed or arrested. But Russia wants the EU to engage and commit to reconstruction aid for Syria, which can help refugees return.
Europe is angry at the U.S. for unilaterally scuttling the Iran deal and possibly crushing the Iranian economy, which could further destabilize the region and lead to an even greater refugee flow toward Europe. The US policy is very bad for Europe.
Turkey, Syria, Iran and Russia want to drive the US out of North Syria and end its alliance with the YPG.
There are many competing agendas among the different sides in Istanbul, but this is an important step forward, breaking with America's stated goal of boycotting Syria so long as Assad remains in power.
In some respects, the Istanbul summit is simply reality asserting itself after Assad's military victory. All Syria's neighbors have an interest in reestablishing a stable region, taking care of jihadists and security, and improving economic & pol conditions for refugee return.
In other respects, it is a response to the US's skewed foreign policy. The U.S. policy of arming KSA & crushing Iran is bad for stability in the Middle East & Europe. The Khashoggi Affair highlights the weakness of US policy. It provides Europe an incentive to step out alone.