BREAKING (thread). Yesterday was the date for RSI/CIG to file their response to the devastating lawsuit Crytek filed against them.
Instead, Skadden, no doubt acting on new info, filed an amendment, thus giving them an additional 14 days to Jan 17th.
threadreaderapp.com/thread/9485442…
There were two key parts to the amendment which I think Skadden felt were pertinent enough to give them an additional 14 days to sweat it out, this despite their filing a fast track case.
1)
their generous sprinkling of "intentionally" in key parts of the complaint.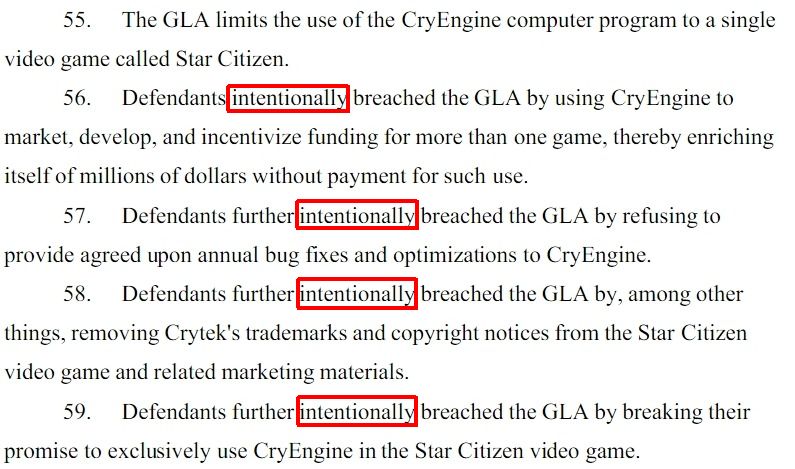 2)
The allegation that Ortwin had a conflict of interest which he never resolved while negotiating the terms of the GLA obo Crytek and RSI/CIG
This wasn't removed, but changed. As I mentioned in my prior thread, this is probably due to their being a waiver of sorts.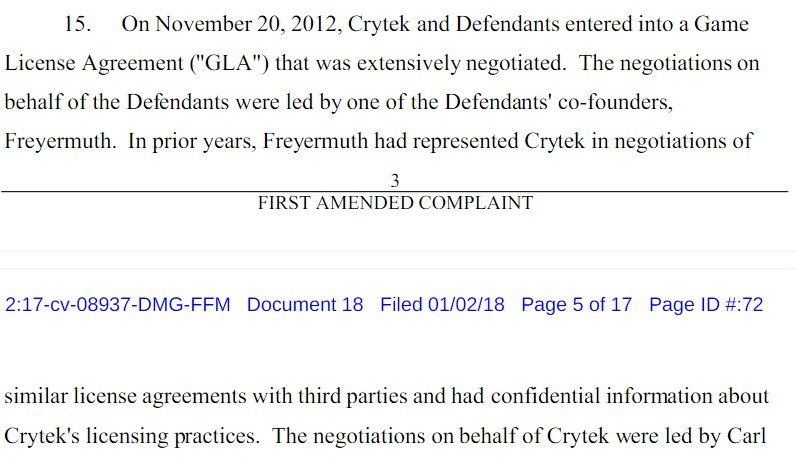 What's interesting is that when you look at the revisions in the amendment, you have to wonder what new information Skadden came across since the Dec 12th filing, that they felt were pertinent enough to give RSI/CIG another 14 days of breathing space.
Sure, it could be that a separate contract waiver allowed Ortwin to negotiate the GLA.

However, legally, such a waiver (if you have actually seen some, like I have) doesn't actually RESOLVE a conflict of interest issue if one does arise down the road.
It's the sort of thing that Bar Association complaints are made of. Even if you signed such a waiver, and you feel that the attorney still acted improperly, you still have legal recourse, including filing a Bar complaint, and letting them deal with it.
It's not the sort of thing that would be litigated in a law suit, as it would just be tantamount to a distraction.

Ortwin would have needed to respond to it in the complaint, thus also giving their attorney a card to play if they decide to file a motion to dismiss the case.
Setting aside the allegation which no longer needs to be answered now that it has been removed in the amendment, we come back to the fact that the amended complaint now has specific language geared toward Crytek alleging that RSI/CIG knew the rules but INTENTIONALLY broke them
Why is this key?

Because Ortwin, being an entertainment attorney who negotiated the GLA for BOTH parties, would have had a CLEAR KNOWLEDGE & UNDERSTANDING of the GLA, and that ANY breaches of same, could be regarded as WILLFUL INTENT to breach it.
To the layman, it's one of those "You ought to know better because you're an attorney" sort of things.

This is why my opinion is that Skadden using this new language in the amendment, isn't happenstance. They know where they're going with it.
Ortwin also being one of the co-creators also named in the lawsuit, is in the unique position of being both a witness and a target of this lawsuit.

As I said yesterday, I have NO doubt in my mind that there is going to be a Bar complaint arising from this at some point.
We all rail on Chris Roberts for being an incompetent developer and experienced charlatan, but I have NO reason to believe that he would have knowingly breached the GLA. I just don't see it.

Sure, he's been gone awhile, but he knows the SERIOUS implications of IP infringement
Yes, people change, but unless and until I see evidence that he did in fact know, but, as per the allegations, did it anyway, I am going to stand firm on my belief that he didn't do it intentionally.

Which brings us back to Ortwin who WOULD & SHOULD know, either way.
Now, if in their response or through discovery we see evidence that they knew they were breaching it, but did it anyway, then all bets are off.

Or it could be that they have evidence that the GLA allowed them to develop more than one title, that they could switch engines etc.
Key is going to be in the response, which we hopefully don't have to wait 14 days to read.
As I did back on Dec 13th with this pre-filing thread, I was hoping to chime in on RSI/CIG choice of attorney.
threadreaderapp.com/thread/9409477…
But as they never filed, and there is no longer an incentive to keep it under wraps, this is who I am hearing they have hired to respond to the law suit.
Frankfurt Kurnit Klein + Selz
fkks.com
Though a ranked firm, they are relatively "unknown" in areas of IP litigation.
No offense to them, I have to say RSI/CIG hiring them instead of Cooley LLP who Ortwin was threatening The Escapist, to go up against Skadden, tells me all I need to know.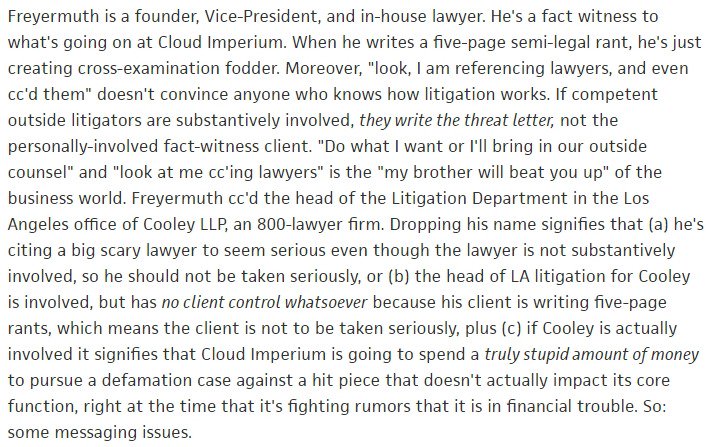 This all goes back to what I was saying earlier that they already had legal representation, but it was interesting that their answer to the complaint, notwithstanding the holidays, wasn't forthcoming. Then the amendment happened, thus giving them more time.
Whatever their response is, my guess (as I wrote back on Dec 13th) is that they're probably going to limp out the door with a motion to dismiss that Skadden are going shred without breaking a sweat.

It's going to be hilarious to see them try that, given the allegations.
The ONLY thing they need to produce which will give the motion to dismiss ANY chance at survival, is a GLA that allows them to:
1)
develop more than 1 title
2)
change engines
And if they had that, they would have filed it by now.
And when you look at the scary list of what Crytek is asking the court for, it will be clear that without such a GLA, I can safely say that RSI/CIG are well and truly screwed.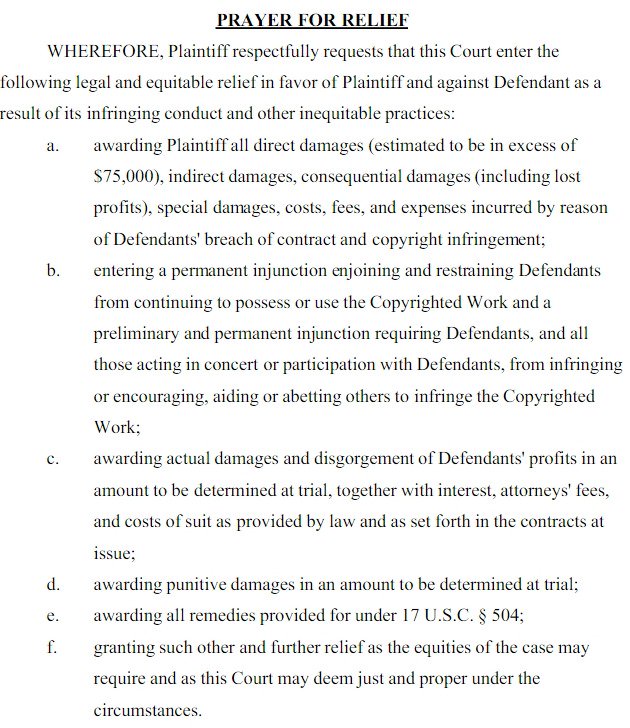 Let me put this into context.
Back in 2015, Amazon paid Crytek a rumored $50-70M for CryEngine.
This allowed AMZ to build AND license their own derivative engine, which later became known as Lumberyard.
ign.com/articles/2015/…
Note that this was back in the day when devs like us were actually PAYING for engine licenses.

Imagine if AMZ didn't have the rights to build a new engine, let alone license it AND provide the source code to licensees. They would be sued by Crytek.

AMZ paid big bugs to do that.
All things considered, the fact that they didn't settle during this whole time, thus it ending up in court, tells me all I need to know about the amount of damages that Crytek is seeking.

Which also explains why there is NO amount in the complaint. They're going for the MAX.
Regardless of what is going on, I have to believe that their attorneys are already taking up the mantle of discussing a settlement where the parties previously failed on their own to reach.

Here's the thing: RSI/CIG simply does NOT have the kind of money nor assets to settle.
Whether or not they settle or keep fighting and wasting backer money on legal fees, the long term ramifications are here.

Crytek aren't dumb enough to believe that any long term settlement is a good deal, when all signs point to the project collapsing anyway.
My sole selfish reason to see this go forward and into discovery is so that backers can get the financial accountability they were PROMISED, and which I have been unable to crack thus far.
dereksmart.com/2017/07/july-b…
Aside from that, everything else is just the usual videogame drama.
I remember when we were following the Silicon Knights v Epic Games drama. Remember how that ended?
Go compare Epic's claims in that lawsuit.
giantbomb.com/articles/why-s…