I am a Romanian PhD student, teaching assistant & researcher. One of
@theresa_may
's praised "brightest and the best" whose "contributions are welcome".
This
#TuesdayThoughts
I want to share my story. Until I got to this point, I was in many ways an "undesirable migrant" ⬇️
My first experience in the UK was in 1997. My father got a temporary
#NHS
contract as there was a skill shortage. I attended the hospital's nursery for 7 months but my family chose to return to Romania. My mum was unemployed and my father had limited rights to work.
Meanwhile my parents got divorced. I attended a free school and skipped many classes in the last college years. Grew up mainly with "working class kids" sometimes doing dangerous things. But I achieved the highest grade in the Romanian Baccalaurate and this opened many doors.
I returned to the UK at 18 to study. I passed an IELTS exam but this was not enough to understand even half of what my British colleagues were saying. Should I have been "sent back" then as I could not properly engage in English conversations in my first few months?
Three years later I graduated with a first class degree from
@sussexsociology
. It was a fun but difficult time. My mum came looking for work when I was in my second year and we shared a studio room at some point. I worked various part time jobs. Met my British partner.
In 2015 I received offers from both
@Cambridge_Uni
and
@UniofOxford
to do my Masters. In the summer I worked as an intern in London to save money. We had no savings and definitely not enough to pay the 10K tuition fee. Should I have given up my dreams?
I borrowed money from the bank for my fee and accepted my MPhil offer at Cambridge. I had barely enough to cover the first term of college accommodation and no idea what to do next. My mum was made redundant and things were not going well.
Meanwhile one of my colleagues was shocked to hear my experience of college - "So you did not have prep classes for Oxbridge interviews???". Nope. This is maybe why I failed my Oxford interview for undegrad despite passing the written test. Oh, also my poor English.
I read my MPhil handbook saying we should not do any paid work. I did paid work throughout my MPhil and finished with 72% overall. Meanwhile mum got a job and things got back to normal around graduation time, after a year of familiarising myself with Sainsbury's Basic.
Should me and my mum have been deported due to insufficient resources in those times? "If you do not make a net contribution you should be sent home", some claim. Life is not a tickbox as the immigration categories are.
In 2016 after a summer of work on a temp contract I accepted my fully funded PhD at
@UCLSSEES
. This was the best thing that happened to me. I was sad to leave Cambridge uni but I could not have afforded a PhD with no funding. Funding is v competitive in social sciences.
My mum's job was again subject to restructuring in 2017. After a few months of job searching she decided to leave to Germany. She also was concerned about
#CitizensRights
after Brexit. They are not guaranteed yet. She is working in Germany now, the UK lost a skilled professional.
In the mind of many people rudely commenting on
#CitizensRights
posts such as the stories shared in
@cliodiaspora
's articles, we should be sent back home unless we are a constantly producing tax payment machine. It is important to realise the complexity of migrant stories.
According to these people's logic, my mum should have been deported every time she lost her job and I should not have been allowed in with little English or "insufficient resources". We have not claimed a single benefit all these years, not even jobseeker's allowance.
To everyone that tells me to stop criticising settled status because "I will be fine, cos I am a PhD student and skilled migrant", I am saying: no. I will not close the gate behind me just because I managed to become a "desirable migrant".
#CitizensRights
were promised for all.
We need a solution to protect all
#CitizensRights
, just as promised by Vote Leave. No more "bad migrant"-"good migrant" division games. People's lives do not fit in a tickbox. Politicians should listen to more real migrant stories to understand.
#peopleb4politics
Clarification: Here is a reference in case anyone wondered what was promised in the referendum. The migration debate was about future migration, not the rights of those already here, or British people in EU27. In fact, all those were promised no changes in their existing rights.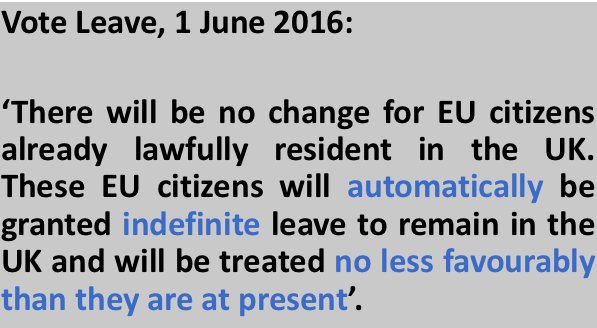 The full statement from which this extract comes from is issued by Johnson, Gove, Patel, and Stuart and can be found in full in the Internet Archive here (it also mentions no change to NI situation in case you are following that too)
web.archive.org/web/2016060622…