(THREAD) This thread includes all you need to know—including key context others aren't reporting—about today's breaking news: Rick Gates' guilty plea.
This is the third guilty plea by a major Trump campaign figure—putting Mueller on Trump's doorstep. Hope you'll read and share.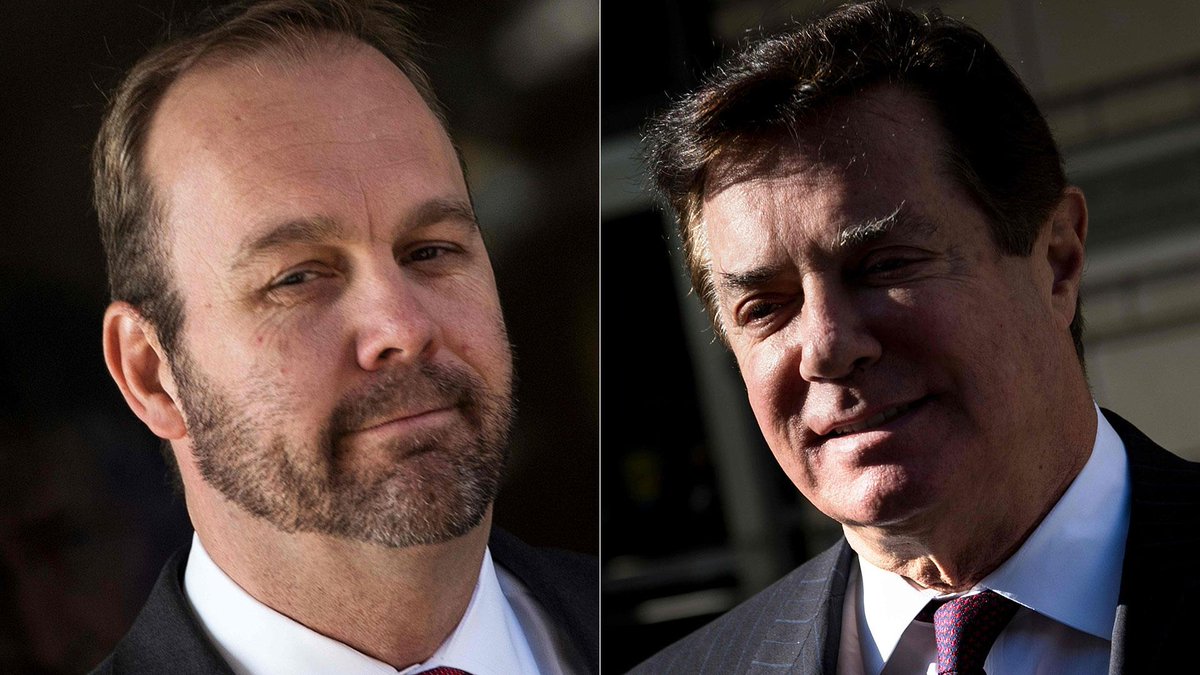 1/
Today, Trump's former Deputy Campaign Manager Rick Gates pleaded guilty to one count of Conspiracy Against the United States and one count of Making False Statements (the latter the same charge two members of Trump's national security team pleaded to).
cnbc.com/2018/02/23/for…
2/
Rick Gates is an indicted co-conspirator with Trump's former Campaign Manager, Paul Manafort. The two were accused of being (for years) unregistered foreign agents advocating for a pro-Putin Ukrainian politician—and committing frauds and tax crimes in the course of their work.
3/
Per NBC, Trump has privately told friends he could be in serious legal jeopardy if Paul Manafort flips on him—implying Manafort knows of crimes committed by Trump.
With his co-conspirator now aiding Mueller, Manafort, 68, is looking at an unwinnable trial and life in prison.
4/
It's clear Manafort is a primary target in the Trump-Russia probe, but it's also clear—from Trump's ill-advised confession to friends, which friends immediately leaked the confession to the press—that Manafort can bring down Trump and Gates can be used to get Manafort to flip.
5/
Unless Paul Manafort really relishes the idea of dying in prison—as no legal experts see him having any hope of beating two separate federal felony cases (multiple counts in each case) in D.C. and Virginia—he has two options: (1) pray for a pardon or (2) flip on the president.
6/
None of the evidence in the Trump-Russia probe exculpates Trump—all of it either inculpates him (i.e., points toward him having criminal liability) or inculpates his aides and family. So Manafort would be a fool to think Trump will be in a position to pardon him down the line.
7/
Americans should assume, therefore, that tomorrow is the first day of serious, sustained plea negotiations between the Special Counsel investigating Donald Trump and Trump's former Campaign Manager—with the goal of the former being to get the latter to flip on the president.
8/
The invariable result of a negotiation between Manafort and Mueller is a cooperation deal in which Manafort agrees to give Mueller the incriminating evidence on Trump that Trump himself has privately told friends Manafort has. So the endgame of the Mueller probe is now known.
9/
There are only two ways this could play out differently:
1.
Manafort fights his case in the hope of making it drag out years—until his death—with him on bail during any appeals.
2.
Mueller refuses to offer Manafort a deal that keeps him out of prison for the rest of his life.
10/
The only reason Mueller would refuse to offer Manafort a deal short of life in prison is if he knows—post-Gates' "Queen for a Day" Q&A with the FBI, in which, as a plea proffer, Gates was free to discuss any crimes he participated in or saw—that Gates alone can get him Trump.
11/
Here's the reason Mueller won't go that route: even if Gates could, by himself, nab Trump—or do so in conjunction with other, non-Manafort witnesses Mueller can flip—this case is so politicized already that Mueller will need to have *overwhelming, airtight evidence* on Trump.
12/
In other words, Mueller can't afford to exclude any witness [he can access] with incriminating information about the president (a list that excludes, presumably, Trump's family members, if we imagine that none of them would flip on him). So he'll likely offer Manafort a deal.
13/
Defense attorneys consider a client's age, health, and potential quality-of-life post-release in offering advice about lengthy prison bids.
In Manafort's case, I'd say—based on my experience with major felonies—that Manafort would be willing to take up to 5 years in prison.
14/
Keep in mind, prison takes a tremendous toll on the body; Manafort isn't a man likely to feel any real loyalty to Trump; Manafort can't win his case, or at least it appears that way; Mueller could still roll out new indictments; and Manafort has to win in D.C. *and* Virginia.
15/
Having said this, the Mueller-Manafort negotiation may well take time—as it's going to be hard to establish terms, and indeed hard to even get Manafort to the point at which he makes a proffer and lets Mueller see what he has. Mueller may have to show his hand further, first.
16/
What the White House will do as the Mueller-Manafort negotiations unfold in secret—and likely without leaks, given Mueller's professionalism and Manafort's self-interest—is what it's always done: pretend that something not having happened yet means that it'll *never* happen.
17/
So expect Donald Trump and his allies to say that the Gates case has nothing to do with Russia or Trump and that Gates was a peripheral figure in the Trump campaign. Be aware that all of those statements are lies—and they are statements the White House is well aware are lies.
18/
Here's Reuters, one of the world's most reliable news sources, saying that "Rick Gates essentially functioned as Trump's campaign manager for more than two months, all while not collecting a paycheck."
That latter fact is going to be *critical* here.
reuters.com/article/us-usa…
19/
Both Manafort and Gates worked for Trump *for free* despite their services being worth hundreds of thousands of dollars (or much more than that—given Manafort's going rate, the fact he was with the campaign for 6 months, and the fact Gates worked for Trump for twice as long).
20/
Manafort and Gates aren't philanthropists—they worked for Trump for free because they anticipated they'd find profit in it at some point. Their lengthy history of criminal conspiracies suggests that they received nearly all their paydays from pro-Putin politicians in Ukraine.
21/
Gates' role in Trump's campaign included work at the RNC in July 2016: one of his main jobs was to change the RNC platform to benefit Putin, a change Trump ordered at the same March 2016 meeting at which George Papadopoulos told Trump that Putin wanted to negotiate with him.
22/
Gates was also responsible for brutally crushing the "Never Trump" movement at the Republican National Convention, which movement was spearheaded by the mainstream conservatives who—until Trump switched parties and pretended to be a Republican—had made up the core of the GOP.
23/
But Gates was also a Manafort confident who was—for the entirety of the 2016 presidential campaign—in the midst of an ongoing criminal conspiracy with him (specifically, the coverup phase) so the chance Manafort didn't confide in him about nefarious misdeeds is close to zero.
24/
This means Gates was involved, alongside Manafort, in rolling out Trump's Russia policy at the Mayflower Hotel on April 27, 2016, in a speech in which Trump promised a "good deal" to Russia on sanctions. How did Manafort/Gates' profit motive and ties to Russia play into that?
25/
We must consider, too, that even the bare allegations against Manafort and Gates were and are closely linked to Russian interests and schemes, so any claim these are mere financial crimes that are not related to the Kremlin's geopolitics is *nonsense*.
justsecurity.org/46491/manafort…
26/
The list of other Gates campaign duties is long and will grow longer as media focuses more on him. For instance, did you know he had final sign-off on all speeches that were given at the RNC, including—per reports—Melania's plagiarized speech? But there's much more than that.
27/
More seriously, did you know that Rick Gates has directly lobbied the Kremlin, specifically to allow Putin to more readily spy on people?
nypost.com/2016/10/23/ex-…
28/
Or did you know Gates was once on the run from Putin pal Oleg Deripaska because he owed him money? Per a filing, Manafort and Gates went to ground and "disappeared." During the campaign, Manafort reestablished contact to offer Deripaska campaign intel.
washingtonpost.com/politics/in-bu…
29/
So if Manafort and Gates were both at one point on the run from Deripaska, and then Manafort, via an intermediary, offered campaign intel to Deripaska—the intel having a monetary value and thus constituting coordination with a foreign national—why would he hide it from Gates?
30/
The Guardian reported in April 2016 that Gates' hire by Trump was puzzling because, unlike Manafort, he had "little campaign experience." What would've *motivated* Gates to take on a role so outside his purview? Do events since suggest it was patriotism, or a secret venality?
31/
In September 2016, CNN noted Trump gave Gates a promotion right after Manafort was "fired" (a fake firing for appearances' sake; Manafort kept advising Trump). What motivated Trump to reward Manafort's deputy as he fake-distanced himself from Manafort?
cnn.com/2016/09/01/pol…
32/
Specifically, Trump made Rick Gates his liaison to the RNC—a critical role in the campaign's stretch run—after Manafort left the campaign. CNN wrote at the time, "it's unclear why Gates was named the campaign's liaison to the RNC under those circumstances [Manafort leaving]."
33/
It's worth noting, here, Trump's conspicuous habit of rewarding men he knew would be witnesses in the Russia case. He gave Papadopoulos a blank-check job offer; stayed in touch with Manafort; told Flynn to "stay strong" and said he wanted to offer him his job back; and so on.
34/
Moreover, the Washington Post noted in mid-2016 that Rick Gates was part of a suspiciously long list of Trump advisors who had *known* Russian connections at the time Trump, er, "hired" them—for free. So Gates has been a Trump-Russia figure all along.
washingtonpost.com/blogs/right-tu…
35/
When the Manafort-Lewandowski schism arose in Trump's campaign in April 2016—with Trump's non-Russia-linked aides on Lewandowski's side, and Russia-linked aides on Manafort's side—Gates joined Roger Stone (he of the Guccifer contacts) on Team Manafort.
nymag.com/daily/intellig…
37/
And it's with that in mind that the White House's inevitable claim Gates wasn't important to Trump must be cut off at the pass with quotes like these (Business Insider): "Rick Gates took over functional control of managing the Trump campaign in June."
businessinsider.com/ap-questions-l…
38/
Note, too, Trump-Russia figure Michael Caputo—who spent the last day trying to convince media Gates would never plead guilty—had to resign from Trump's campaign after an ill-advised email sent while taking Gates' side in the Lewandowski-Manafort tilt.
cnn.com/2016/06/20/pol…
39/
So Gates was a bizarre hire for Trump; his motives were questionable at the start and remained questionable; he was part of a cadre of Russia-connected aides in the campaign; he played a key role in Trump campaign strategy, including Russia policy; and Mueller *owns* him now.
40/
So to say Mueller has been circling Trump for some time—especially in his aggressive investigation of Jared Kushner, Trump's son-in-law—is accurate. To go further, now, and say the Gates plea puts Mueller on Trump's doorstep is inarguable. How long can Manafort hold out? /end
PS/ Keep in mind Manafort will publicly maintain his innocence right up until the very second he signs a plea deal. He has to do that to get the best possible deal.