The
#Conservatives
are experiencing what looks to me rather like damage ERM crisis did to them in autumn 1992. Have lost 13 points (!) with
@YouGov
in just six weeks. Bear in mind that experience shows that such falls get worse for some time - could be headed v low.
The moment MV3 failed to pass was a clarifying one, and therefore welcome here - had been wondering for years what was keeping the CON score so high. It was
#Brexit
. We're now at 50/50 whether it even happens. They will struggle to recover.
This is fairly likely to shred their coalition. All the Leave-y voters in safe N England seats they attracted at
#GE2017
? Gone. All the Remainer-y voters in Putney? Gone. Who would vote for We Love Brexit But We Couldn't Manage It? No-one.
I'll probably blog about this soon, but a GE electorate is not the referendum electorate, demographics are against them, time is against them, they don't have a single domestic policy I could name. They're a shell.
This has been fairly obvious since November 2017, when I switched my call on 'Next GE' to Lean Labour:
publicpolicypast.blogspot.com/2017/11/jeremy…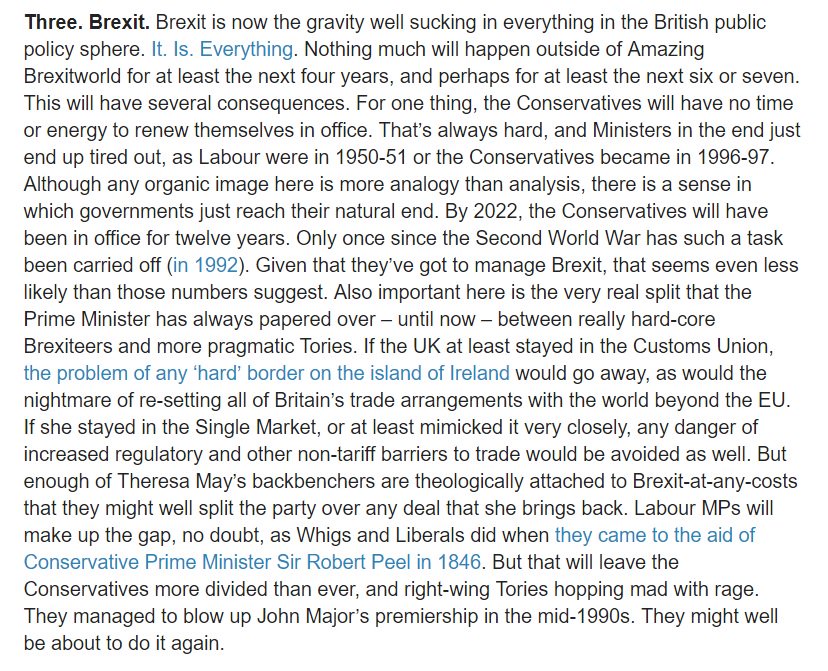 They knew - and this is what normatively-based pro-Europeans don't like to see -that all they had to do was block and block and block
#Brexit
, and eventually the ERG Ultras and the Remainers would tear themselves apart. They're the Opposition, that's their job.
This strategy has delivered. There's nowhere for Cons to go now except a Ref or a GE. Likely GE under a new PM - that gives Lab a good chance to win. Better than 50/50 *on the evidence*, because we've been here before. We've run this simulation once.
Any Brexit election will be about the NHS, Universal Credit, homelessness, the retreat of the physical public sphere. My local bank, Argos, butcher have all closed in the last year. Funnily enough, people don't like it. Laser-focused 'Towns' Labour PPB best thing for years.
#BrexitParty
and
#UKIP
will now take lumps out of Tories without coming close to winning seats. That will give
#Labour
an easier pass. They are IMHO *way* too long on the betting markets. Hello,
@LadPolitics
!
They will be assisted in this by the
#EuropeanElections2019
, and by Farage, who is - much as you and I don't like him - a highly effective communicator. Everything's coming up roses for Nige - he might get angry backlash he always wanted from
#EUref
.
Anyway, I could go on for ages. You should hear one of my lectures! I'll start a new thread now. /END