1/This awesome map by
@kennethfield
has rightfully gotten a lot of attention.
It's gotten me thinking about urban development (and race) in the United States, and this weird pattern we've created since the 1960s.
2/As
@alexburnsNYT
pointed out, the map shows that the densely populated Republican heartlands are in Appalachia, East Texas, Southern Ohio, Western Pennsylvania, etc.
But these (mostly white) Republican population agglomerations are hard to identify on a map.
3/Draw some circles around the solid red clumps on the map.
Can you name a city that corresponds to any of those places? I'm struggling to do so.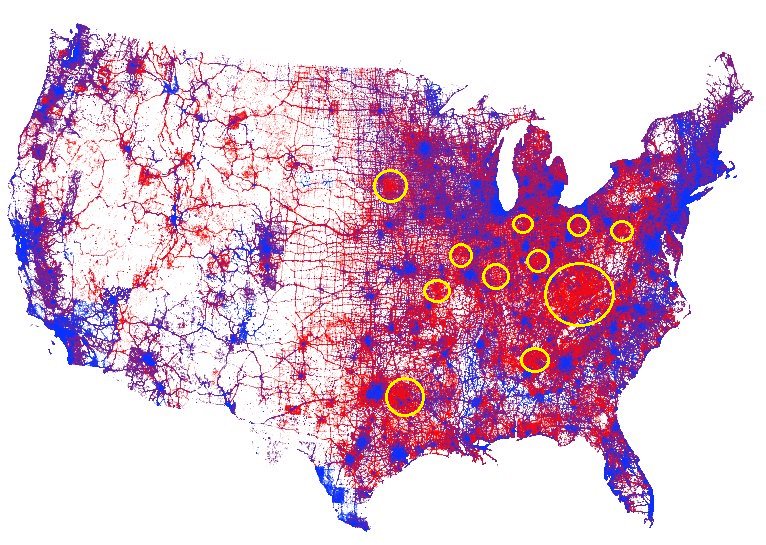 4/These dense Republican bastions aren't really *cities*. They're not as dense as places with famous names, like "Dallas" or "Detroit" or "Atlanta".

They're vast agglomerations of suburban-style development, divided into a bunch of different small municipalities.
5/They're only loosely "suburbs", because most of the people in these dense red areas probably don't commute in to city centers.

They're not small towns, because they're not really that isolated.

And they're definitely not rural.

What are they?
6/My guess - and I'll have to check this with friends like
@JedKolko
,
@Richard_Florida
, and
@conorsen
who know American geography better than I do - is that these dense red areas are the remnants of mid-20th-century white flight.
7/These dense red areas offered mid-20th-century white Americans everything they wanted - car-centric development, nice lawns, big houses, but enough density that there was good shopping and restaurants.

And, most importantly, very few black people.
8/But there's a big problem with these non-suburbs.

It has to do with the very reason cities exist in the first place.

Economically, medium-dense sprawls like this just have very little *to do*.
9/These sprawls aren't rural, so you can't farm or mine.

They're not concentrated enough to have tech clusters or clusters of management expertise, like cities do.

You can do some low-value manufacturing, but A) it doesn't pay that well, and B) it's in decline.
10/And now we come - inevitably - to Enrico Moretti's book.
amazon.com/New-Geography-…
Moretti shows in detail how big cities, college towns, and tech hubs are rising economically - and most of the other towns in America are in decline, economically and socially.
11/The vast white-flight refugee camps we created in the 60s and 70s might have started out looking nice, because of all the money we poured into their construction - nice houses, lawns, strip-malls, roads.

But many don't generate the economic prosperity needed to sustain that.
12/The evidence seems to indicate that vast, uncaring economic forces are slowly crushing the life out of these sprawling, medium-dense non-suburbs.

I speculate that this is why a lot of these places are seeing declining marriage rates, opiate epidemics, and general anger.
13/One reason that people who take a bird's-eye view of thing have been slow to recognize this trend is that we don't have a good way of *categorizing* these places. Our traditional categories - "urban", "suburban", and "rural" - do a terrible job of identifying these sprawls.
14/There is a vast, mostly-white, medium-density Middle America in the center-East part of the country that we just don't really have a good name for, or good ways of picking out on the map.

And it's this other America that elected Trump.
15/But this sprawling, non-suburban white America is under extreme strain. Its decline is not the result of policy, but of huge, impersonal economic forces.

The future of America is not here. It's in thriving big cities and their increasingly diverse true-suburbs.
16/White flight created huge legacy costs - economic, geographic, social and political - that America will continue to pay for decades to come.

(end)
Addendum: Some ppl are pointing out that some of these areas are old farming/mining places, rather than places where white people fled from cities. Yep. But it's important to think about why the people in those areas coalesced into sprawling non-urbs, instead of moving to cities.